Page 2 of 8
Practical information for using the library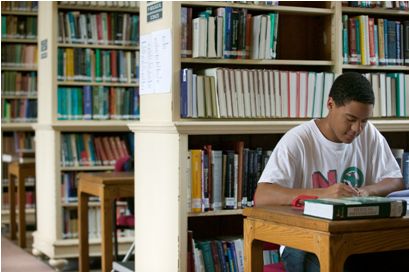 BNC Library is open to members 24 hours a day. It is a pleasing, friendly and supportive place in which to study. It is intended exclusively for the use of college members therefore guests are not allowed without the College Librarian's approval in advance of any visit.
The library is staffed between 9am and 5pm, Monday to Friday most weeks of the year although this is subject to change during vacation periods. Please note that as part of the library's collection requires staff assistance for retrieval, certain books and periodicals are only available during working hours.
The Librarian aims to meet the needs of library users and attaches particular importance to buying books and making them available as quickly as possible, often within 24 hours, in response to students' requests. In this way the College library compliments the many and varied library resources in available in Oxford
The following information should help orientation and navigation around the library and answer questions about how to use it but please do not hesitate to ask should you have any queries.
The Brasenose College Library is comprised of two named libraries:
The Greenland Library and The Stallybrass Library.
Within the Greenland Library there are three primary areas:
The History Library holds the modern history, politics collections and is located upstairs from the Del Favero Reading Room.
The Del Favero Reading Room contains the majority of the College's collection of "modern" books.
The Smith Reading Room holds the physics, chemistry, maths and computing, engineering, geography, biological sciences (including medicine), music and art and is located below the Del Favero Reading Room in the old cloister.
Every subject is held within these areas with the exception of law books.
The Stallybrass Library located in New Quad contains the law collection.