Introduction
Brasenose has two excellent libraries which members can access 24 hours a day. There are collections in all subject areas covered by the College. The Library holds more than 60,000 books and periodicals. It is also just a short distance from the University's Bodleian Library and many of the faculty and departmental libraries.
The Greenland Library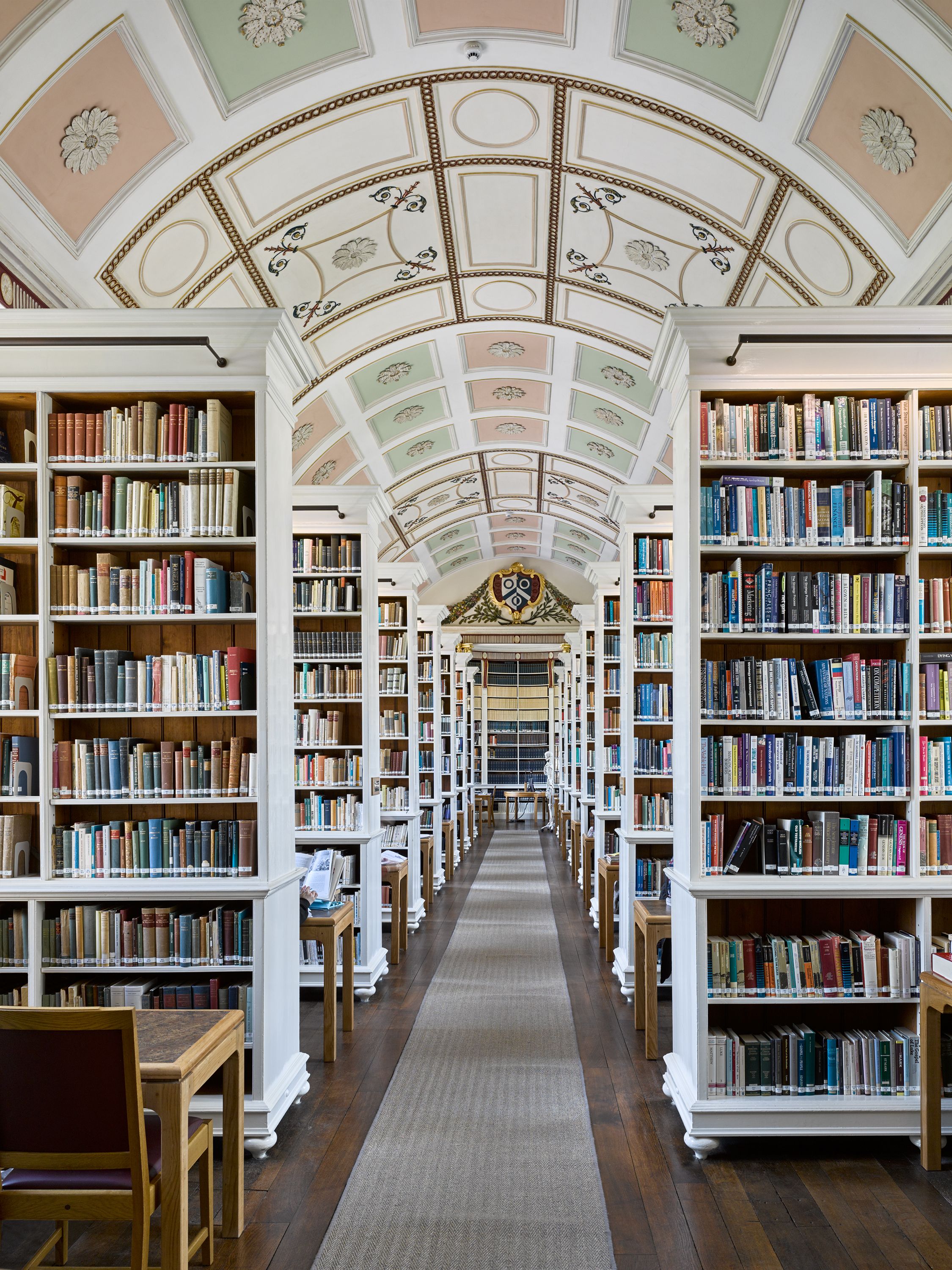 The upper floor of the Greenland Library, known for many years as the Main Library and recently renamed the Del Favero Reading Room, was opened in 1664, although it was restricted to use by Fellows of the College until 1897. It is on the first floor above a former cloister and is an impressive room with a painted barrel-vaulted ceiling and expansive views of the Radcliffe Camera and All Souls College.
The library is an excellent place to study with the light and airy space divided into sixteen bays, each with connections for laptops in addition to the wireless network.
The History Library
The History Library holds the modern history and politics collections and is reached by a short staircase leading from the Del Favero Reading Room. It was opened in 1951 and features two Tudor chimneys which were uncovered in a fire in 1950.

The Smith Reading Room

Beneath the Del Favero Reading Room, and linked with a spiral staircase, sits the recently completed Smith Reading Room. In addition to the books shelved in this amazing old cloister there are desks (some height adjustable) equipped with power and USB ports, a cosy casual seating area and a collaborative study room containing a large iBoard tablet for student use. The Smith Reading Room holds the physics, chemistry, maths and computing, engineering, geography, biological sciences (including medicine), music and art collections.
The Law Library
The Stallybrass Memorial Library, named after a former Principal, houses the College's law collections.
Collaborative Study Room
Located at the Chapel end of the Smith Reading Room this is a flexible space that contains an iBoard Touch; white board; foldup tables; and chairs. Configurations may be a desk format for collaboration and general study or cinema layout to view a film or presentation if the screen is in use. It may be booked on a first come first served basis by students. When not pre-booked the space is available to anybody as regular study space.
A brief history of the library buildings can be found in the College buildings section.
Antiquarian books and ma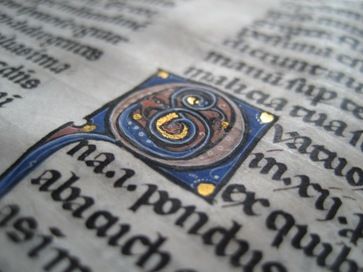 nuscripts
Brasenose holds a substantial and interesting collection of antiquarian books and manuscripts dating back to the sixteenth century. It is believed that by the mid-sixteenth century Brasenose owned in excess of 100 volumes and now holds around 2,500 books published before 1641. Many of these were chained until 1780 when a major refurbishment took place under the direction of James Wyatt.
Contacts
Fellow Librarian - Professor Simon Palfrey
College Librarian - Liz Kay
Assistant Librarian - Joanna Mills
Rare Books Cataloguer - Sophie Floate
Brasenose College Library
Brasenose College
Radcliffe Square
Oxford
OX1 4AJ
Library Email
Library Telephone: 01865 277826
Online resources
The Library provides connections to electronic resources available across the University. These include:
SOLO: Search Oxford Libraries Online
Electronic journals via SOLO
All e-resources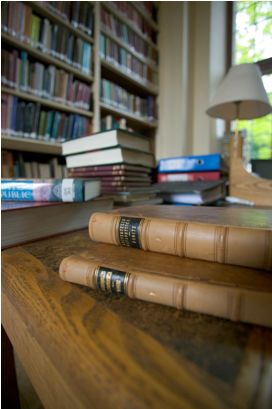 Library induction
Library induction sessions are organised for new students but any College member who would like a brief informal tour or requires any assistance should ask the library staff who are always happy to help.
The library is specifically for the Members of Brasenose College. All users must read and observe the Library Protocol.
Visitors
Visitors are advised to contact the College Librarian for an appointment.
Practical information for using the library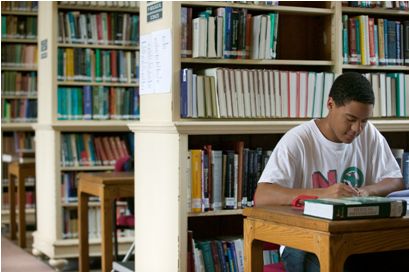 BNC Library is open to members 24 hours a day. It is a pleasing, friendly and supportive place in which to study. It is intended exclusively for the use of college members therefore guests are not allowed without the College Librarian's approval in advance of any visit.
The library is staffed between 9am and 5pm, Monday to Friday most weeks of the year although this is subject to change during vacation periods. Please note that as part of the library's collection requires staff assistance for retrieval, certain books and periodicals are only available during working hours.
The Librarian aims to meet the needs of library users and attaches particular importance to buying books and making them available as quickly as possible, often within 24 hours, in response to students' requests. In this way the College library compliments the many and varied library resources in available in Oxford
The following information should help orientation and navigation around the library and answer questions about how to use it but please do not hesitate to ask should you have any queries.
The Brasenose College Library is comprised of two named libraries:
The Greenland Library and The Stallybrass Library.
Within the Greenland Library there are three primary areas:
The History Library holds the modern history, politics collections and is located upstairs from the Del Favero Reading Room.
The Del Favero Reading Room contains the majority of the College's collection of "modern" books.
The Smith Reading Room holds the physics, chemistry, maths and computing, engineering, geography, biological sciences (including medicine), music and art and is located below the Del Favero Reading Room in the old cloister.
Every subject is held within these areas with the exception of law books.
The Stallybrass Library located in New Quad contains the law collection.
Library Notices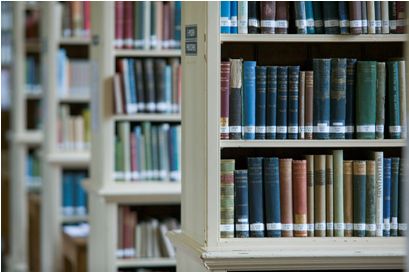 In this section you will find library updates on relevant training and induction sessions, recent acquisitions, advance warnings of disruption, reminders and other news from Brasenose College Library and the University of Oxford library network as a whole.
Please let the Library staff know if you have any suggestions for inclusion into Library Notices.
SOCIAL MEDIA:
Visit our Brasenose Library Facebook Page
Visit our Brasenose Library Twitter Page
BNC Library & Archives Blog: Brasenose College Library & Archives
LIBRARY NEWS:
View a presentation on Accessing Oxford's Information Resources - Graduates
View a presentation on Accessing Oxford's Information Resources - Undergraduates
The College now has a subscription to the Naxos Spoken Word Library.
Access to the resource is open to all students but is for study purposes and not for recreation. If you wish to register for access you will be expected to say broadly how you plan to use it. The terms of the license agreement do not permit you to share login details with others.
If you are interested in using this resource please see Liz or Lianne in the library during normal office hours (9.00 am - 5.00 pm Mon-Fri). You will be given a form to sign and then be provided with login details. Please remember that by signing the form you are stating that you agree to abide by the terms and conditions.
We hope you will find this excellent resource useful.
TRAINING:
Bodleian iSkills: These are a free programme of classes run by the Bodleian designed to help you to make effective use of electronic and other library resources in your research and learning. Please see the Oxford Libguides: Workshops for training dates.
Oxford University Computing Services courses
RECENT ACQUISITIONS:
Please see our Library Thing pages for recent acquisitions.
How to find a book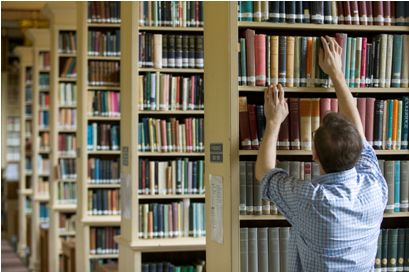 The majority of the library's collection is catalogued on the online catalogue for the University of Oxford, accessed via SOLO. However the Library does maintain a card catalogue that is located in the office off of the History Library. This includes items not yet catalogued on online but not law books.
The shelfmark system at Brasenose College is based on subject areas. The basic format is a letter or letters (corresponding to a subject area) followed by a number. For example, the shelfmark F/MR 12 indicates English language and literature (in this case, Shakespeare). Subject letters are:
| | | | |
| --- | --- | --- | --- |
| B | Modern Languages | P | Medicine & Biological Sciences |
| E | Philosophy | O | Geography |
| F | English Language & Literature | Q | Psychology |
| G | Ancient History | R | Economics |
| J | Classics | S | Business and Management |
| L | Physics & Chemistry | X | Theology |
| M | Mathematics | Y | Music |
| NX | Engineering | ART | Art |
| LR | Law | Hemi | Reference material, such as dictionaries, grammars and companions |
Reserve Collection
Books that are in high demand for individual courses are often placed on reserve in the library office at the request of college tutors. The shelfmarks for these books follow the same convention as non-reserve material, with the prefix "Res" added to indicate their location. Most Res books are available for short loan (3 weeks) and are accessible upon request during normal working hours.
Reference
Books that are marked "For Reference Only" or "Not to be Taken Away" may not be checked out or removed from the library at any time.
Stack
A shelfmark with the prefix "stack" indicates that the book is held in one of several of the College's underground store rooms. If you require a stack book please ask library staff for assistance. Most stack books are available for loan.
Suggesting books for purchase
If BNC does not have the book that you require you may suggest that it is purchased for the library. Proposals for purchase should be sent by email to your tutor and copied to the librarian. Please supply full details of the book, including the exact title, spelling of the author's name, ISBN and year of publication if known. An outline of the reason for purchase would be helpful. We aim to respond to requests soon as they have been authorized and steps will be taken to acquire the book as quickly as possible, often within 24 hours.
Special Collections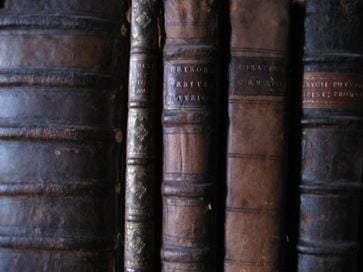 In addition to the collections held in the three main areas, the College Library has two older collections, namely the pre-1640 collection consisting of approximately 2560 items, and the collection known as the Stamford Collection (owing to its previous location in Stamford House basement) which contains an eclectic range of books mostly dating between 1640 and the late 1700's. The core of the Stamford collection consists of bequests, most of which reflect the libraries of former Principals of the College, from the period of the Civil War, the Commonwealth and the Restoration on into the eighteenth century. The subject coverage as established thus far, is diverse including antiquarian learning, law, political and religious pamphlets in addition to both English and European literature. Cataloguing of the Stamford collection on to OLIS has commenced but it is a slow process and until completed the full richness, or exact size (thought to be in the region of 10,000 items), of the collection cannot be determined.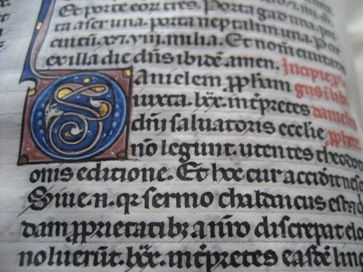 Items in these collections are not for available for browsing but may be consulted if genuinely required for research purposes. Books with a shelfmark prefix of Lath, UB/S, MS, Yarb, Σ, LR/Foilo are contained in these collections. These items are not available for loan. Most of these items have recently been placed into storage to facilitate building renovations, and are unable to be consulted. We are hoping for their return by the end of 2022. Please contact the library if you have any questions.
Learn more about our retrospective antiquarian cataloguing project below.
Brasenose Authors
The College has a substantial collection of books written by, and about, members of BNC past and present. The books range from modest pamphlets and anecdotal tales of yesteryear to major works such as Foxe's Book of Martyrs. Not all works by BNC authors find their way in to this collection as many of those more recently donated and deemed to be relevant to the studies of current students are added to the main collection. The Brasenose Authors collection is divided between two locations owing to shortage of space and suitable storage conditions. Many items are already catalogued online (SOLO) but cataloguing of the remainder is work in progress. Items that are held in this collection can be identified by the "Bras" prefix e.g. Bras B 112. Please ask if you would like to view any item in this collection.
A list of presentations to the library appears in each volume of the Brazen Nose. It includes all those authored by current and old members.
Oxford Collection
There is a small collection of books relating to all things Oxford such as college histories. The History of the University and Oxford Historical Society publications. Again, owing to shortage of space these items are not held in one place but if required can be quickly retrieved upon request.
Camden Society Series
The College holds the Camden Series' 1-5. They have the shelfmark "Camden" and are held in the Del Favero Reading Room.
Periodicals
The College still subscribes to around 50 titles and are listed in the card index located in the Hulme and are also appear on SOLO. Periodicals are for reference only and must not be taken out of the library without special permission. Periodicals are in various locations throughout the library and older volumes are housed in stack areas. Please ask for assistance if you require a volume that is not on the open shelves.
Recent copies of Nature, Science, The Economist and Harvard Business Review are put out on top of the section of card catalogue adjacent to the counter. These journals are available a week (a month in the case of HBR) after publication as they go straight to the SCR for a week (or month for HBR) on arrival. The back issues of these titles are held for two years in the library office and are available on request. In addition, Scientific American and New Scientist are passed on from the SCR and each issue is kept in the library until a more recent issue is received.
Oxford University e-journals is a rich collection of journals available in electronic format and we strongly recommend the use of these.
Cataloguing the Antiquarian and Rare books at Brasenose
In the Summer of 2007 we were able to recommence the cataloguing of antiquarian books. The catalyst was a donation from alumnus Paul Lloyd and we were fortunate enough to recruit experienced antiquarian cataloguer Sophie Floate as featured in the Brazen Notes issue 5 2007.
The vast majority of the College's collection of pre-1640 works are yet to be catalogued on OLIS as are all but a very small proportion of the 17th and 18th books held in the recently refurbished Basement XII area. Sophie has almost finished working on the Yarborough collection and this is just the tip of the iceberg.
The importance of this project is obvious: we need to know precisely what we have in our collections. To date we have made do with hand written, often illegible cards which carry little useful data other than a shelfmark, and handlists that do not even record complete title and author information. This is a sorry state of affairs when we belong to an age where searchabilty is paramount. However, by cataloguing the books on OLIS and recording data accurately and fully we aim to make our rare and antiquarian collections much more visible not only to our own members but to scholars all over the world.
The information recorded as each book is catalogued will always be of great value. However trends in research methods and technology shift, the data we record now will remain, in perpetuity, accessible in some shape or form. For the time being it is held in the University Union Catalogue (OLIS) but even as researchers move away from using library catalogues as a first port of call, it should always be possible to find our items of interest through whatever the in-vogue medium might be.
Most of the BNC student body probably know nothing about these collections secreted in College, and although we do not hold the grand collections, housed in wonderful ancient rooms like some colleges, we do nevertheless own scholastically and historically interesting works. It is only through careful cataloguing that we will discover the full extent and richness of our older collections.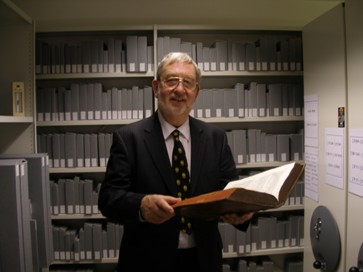 We are thrilled that Paul Lloyd is taking such an active interest in our work. Paul was a keen library user in his undergraduate days but knew nothing of the existence of our rare books back in the 1950's. We are thankful that he quickly recognised the true value of such a project and value his support.
Anyone interested in learning more about this project should email Sophie Floate.
Borrowing, Returning and Renewing Books
Borrowing and Returning Books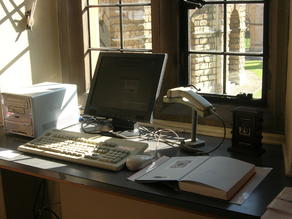 The Brasenose library is a self-issue library. The self-issue terminal is located directly across from the main door. In Smith Reading Room it is on the left hand side when you come through the glass doors. In the Stally the self-issue terminal is clearly visible to the right as you enter the library. To issue books, scan your Bod Card and follow the on-screen instructions. Please leave books that you wish to return on the returns shelf in the Del Favero Reading Room, the main desk in the Smith Reading Room or in the book deposit box in the Stallybrass library. Do not leave books on the trolley, as they will not be checked in and will remain on your record.
Loan Periods
Most books in the Greenland Library are currently issued for a term, or for the vacation. However, if another person needs to use a book you have borrowed, it will be recalled. You are expected to return recalled books within 48 hours or arrange to share the book. All Stallybrass and chemistry books that are available for loan are issued for one week at a time.
Renewals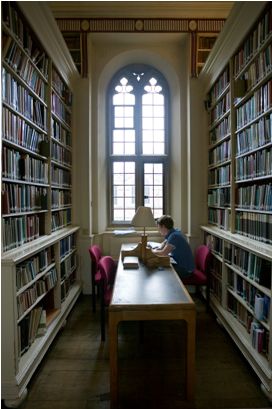 Books may be renewed towards the end or at the end of the loan period and renewed as many times as you like as long as they are not required by another reader.
Currently SOLO does not always recognise our generous number of renewals or permit overdue books to be renewed and so it is not always possible to renew them online via SOLO. However, re-issuing a book using the self-issue system will renew it. Alternatively you can email the library and ask for your books to be renewed.
The system generates renewal reminders which arrive in your mail box on the day that the book is due for return. You can renew by simply replying to the email stating which books you would like to renew and they will be renewed for you by the library staff.
Due dates for regular loans is Thursday of 8th week but law books and chemistry books are due for return/renewal one week from date of issue during term time.
Working in the library
Owing to the popularity of study areas within college desks may not be reserved. Papers/books may only be left overnight if they are placed in one of the library lockers available as weekly loans (0th-9th week). Please ask a member of staff if you wish to use a locker.
Study Break Passes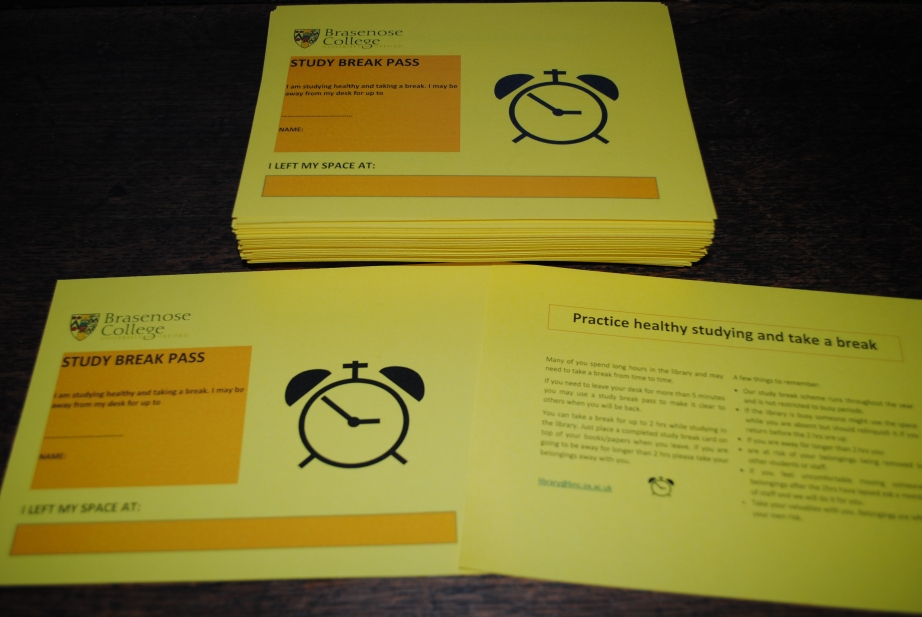 These are for using when you want to take a break for more than 5 minutes and up to 2 hours.



Keepcups
The Brasenose KeepCup is a specially designed reusable cup for hot and cold drinks which allows you to enjoy a drink while you study in the library. They are on sale in Gerties.
Library rules and regulations
All users must read and observe the Library Protocol.
Computing facilties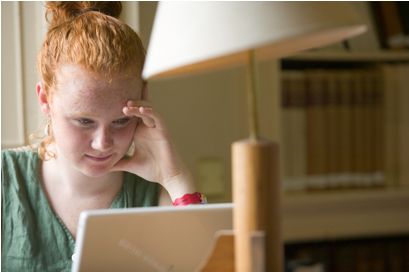 The Libraries are equipped with wireless internet access. Ethernet ports are also available at all of the desks in the Greenland Library and there are several Ethernet ports in the Stallybrass. All libraries each have computers with internet access.
Photocopying
There is a photocopier/scanner/printer in the Stallybrass Library and another through the door at the end of the History Library. Photocopying is currently free of charge and items may also be scanned to email or to a scanned to afolder which appears on your desktop when you login to your profile. Scanning is free of charge.
Recycling
The College is committed to recycling and the Library is no exception. You are encouraged to place all suitable paper in one of the green recycling bins in the Library. On each bin there is a list of material types that are acceptable for recycling so please check before use. Please do not contaminate the recycling with rogue items.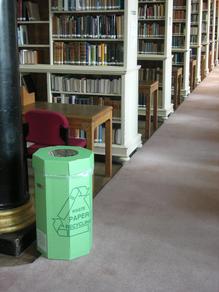 ---
Library Reports
Sorry, there are no reports at this time.

---
Book Reviews
This section will feature reviews written by BNC members of College library books . The first book to be reviewed is a new acquisition:
"A Most Dangerous Book: Tacitus's Germania From the Roman Empire to the Third Reich" by Christopher B. Krebs.
A MOST DANGEROUS BOOK, the latest offering from Harvard's Christopher Krebs (formerly of Oxford's own University College), is a splendid piece of scholarship. This account of the afterlife of a Roman ethnographic treatise on the German people leads the reader with its crisp, lively prose from gloomy Carolingian monasteries to the dark heart of Himmler's SS, via the lustre of Vatican palaces and the pomp of Wagnerian Bayreuth. Essential reading for the student of the Classical tradition and of German culture, but far from the sort book you would be afraid to take home to meet your mother. Krebs runs the gamut from supplying background information to offering sophisticated analysis without ever alienating either the scholarly or casual reader.
At the heart of this study is a short book of about 30 pages written shortly after 96 AD by the influential Roman senator and historian Tacitus. Before turning his stylus to the mucky, murky and murderous history of the Roman emperors, Tacitus composed this account of the customs of the empire's barbarian neighbours. The tribes beyond the Rhine had long represented the people who had most successfully held out against Roman imperium (think of the opening of Gladiator). It is easy to see why a Roman author would find it fitting that if these rough folk could not be made subjects of the Roman empire, they should at least be the subjects of its literature.
Krebs is justifiably cautious about making too many guesses about what the original purpose of the Germania might have been. One point he is keen to push, however, is that we have little reason to suspect (and ample reason to doubt) that Tacitus ever had any actual contact with ancient Germany or its people. In spite of this ignorance, Krebs shows that almost everything you know about German prehistory is most likely derived from the pages of this booklet. Anyone holding to the idea that size matters urgently needs to take into consideration the impact the Germania has had on the world.
This impact is traced over six chapters (after two on the composition and survival of the text) and it is to Krebs's credit that he is able to fit 500 years of history into 160 pages without losing his reader along the way. Even more impressive is his dedication to giving adequate room to the principal agents of this history. For this is a book driven by its subjects, and what a colourful bunch they are: a scholar pope; a wheeler-dealer monk; a charlatan historian; a disgraced French aristocrat; a depressed eugenicist opera buff; and, of course, a short-sighted, dark-haired, pigeon-chested Reichsführer SS.
While these characters might be what give the narrative its drive, they are not the book's subject. Krebs is determined to keep the actual text of the Germania (from which he liberally quotes) as a Forrest Gump-like protagonist at the centre of the tale. He has good reason to. He demonstrates that a recurring feature of the Germania's reception over the ages is the subordination of the text to the greater purpose which it was chosen to serve. Consider, for example, Annius of Viterbo's history of the origins of the German people, characterized (in Krebs's words) by a "talent...rivalled only by vanity." Annius was a second-rate historian who made a name for himself by inventing sources which would back up the world-shattering theories he would concoct. Seizing upon a throw-away reference in Tacitus's text to the German god 'Tuisto', Annius wrote that this was surely a reference to 'Tuysco', a relative of Noah described by the Babylonian astrologer Berosus, whose testimony he had utterly fabricated. This information was in the Holy Roman Empire (whose leaders were keen to parry Italian accusations of their ancestors' barbarism) and it became a well-known 'fact' that Tacitus was an ancient witness to the noble Christian heritage of the German people. Such acts are described throughout the book. Through the centuries sciences of anthropology and philology are used none too rigorously and are brought to bear on Tacitus's text in order to provide a suitably glorious and respectable prehistory for what would eventually become the German nation.
It is impossible, however, to put out of one's mind the destination of the story of this nationalism. The book's title and its introductory chapter both point the reader to the Germania's eventual adoption by the Third Reich. So while each individual act of misinterpretation may seem amusing and harmless enough, the meta-narrative is rather more disturbing and the reader is forced at each point to consider the obvious question: would the world have been better off without this book? While Krebs does not descend into counter factual history, his second chapter on the book's tenuous survival of the Dark Ages cannot but raise the idea of what the world could have been like had the parchment fallen prey to the rats like so many other documents of the ancient world. This Big Question is rather by Krebs formulated as the rather more subtle: can one have a positive opinion of the Germania in light of the terrible use to which it was put?
A year before Krebs published this book, an embryonic version appeared as an article in the Cambridge Companion to Tacitus. It is possible, I think, to say that Krebs's opinion has undergone some amelioration between the two versions. That article's conclusion dwelt on the 'damage' the text had done to the world. That idea is preserved in the book, however it is moved to the introduction. The rather more ambiguous conclusion here is that *SPOILER ALERT*: "In the end the Roman historian Tacitus did not write a most dangerous book; his readers made it so." Plenty of meat there for a Po-Mo Pat to get her teeth into.
But if the readers of the text are to blame, where, one might ask, does this leave the discipline of Classics? Should we take away from this book the idea that the Literae Humaniores are nothing but a pathetic sop willing to nail their colours to whatever ideology holds sway at a given time? I think we can cautiously say that this is not quite the case. Some redemption is offered by the example of the German Classicist Eduard Norden, who emerges as a rather surprising hero, and perhaps the key to this book. Norden in 1920 (a time when the reputation of the Germania was at its most sacrosanct as a document of authentic German identity) published a book demonstrating that the content of Tacitus's Germania owed far more to the conventions of ancient ethnography than any actual knowledge on Tacitus's part of the German tribes of antiquity. Such a devastating critique threw into doubt the foundations of German identity, just as it was gathering such force in the tumult of the Weimar Republic. The figure of Norden contrasts strongly with the interpretation of a contemporary reader, Heinrich Himmler. That it was Himmler's reading which came out on top clearly surely cannot be attributed to some failing on the part of the discipline in which Norden was working.
What Krebs provides here is a real and compelling argument for the necessity of a strong and independent tradition of Classical scholarship. A timely reminder at a time of university budget-trimming and intrusive market forces. What is lucidly detailed of the Germania could be repeated for many texts from antiquity: those old lies, dulce et decorum etc. It is only by interrogating these cultures, rather than simply accepting what seems to be their surface message, that we can scratch away the alluring imperial patina and reveal that our ancient heritage is far more complicated and granular than it might seem. Such an approach is Classics at its best; and it is a tradition that Christopher Krebs nobly upholds in this book.
Andrew Sillett (DPhil Classical Languages)
---
Save