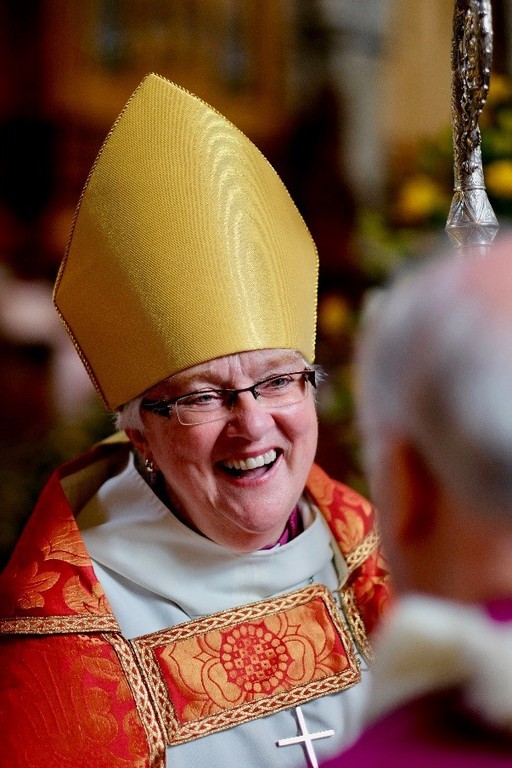 The Annual Runcie Sermon:
On 23 February the Annual Runcie Sermon was given by Bishop June Osborne, Bishop of Llandaff. Archbishop Runcie (1921-2000) was an alumnus of Brasenose and one-time Archbishop of Canterbury. His portrait hangs in our Hall.
June was one of the first women to be ordained as a priest in the Church of England when this became possible in 1994. Before she was consecrated she was Dean of Salisbury Cathedral.
June's excellent sermon was entitled: 'A Brilliant Darkness'. June took as her theme discipline suffering and glory. These were motifs running through Runcie's life including his Military Cross for bravery in Normandy during the second World War, and the fact that he was one of the first soldiers to go into Bergen Belsen. He was also the Archbishop when Terry Waite was kidnapped in Lebanon and he had many tussles with Margaret Thatcher the Prime Minister over the inner cities and the Falkland war. June posed the question as to how one could find good in difficult situations of suffering such as dementia and cancer.
It was very special occasions as it was the first time a female Bishop preached in Brasenose Chapel. I was pleased also to welcome her husband, Paul Goulding QC whom I know well.

LGBTQ meeting on the Gay servicemen case:
On Thursday 20 February, we were hosted by Scott Frisby (MBA, 2008) at the RAF Club, London, for another gathering of the Brasenose LGBT+ alumni network. The event centred around 20 years since the lifting of the ban on openly LGBT people serving in the Armed Forces.
I was delighted to chair a panel discussion consisting of Michael Codner (Psychology & Philosophy, 1966) who is Director at the Royal United Services Institute,), Angela Mason (Councillor on Camden London Borough Council and former Director of Stonewall), and David Isaac (Chair of the Equality & Human Rights Commission and former Chair of Stonewall). We were also joined by Patrick Lyster-Todd, a former Naval Officer and former chair of campaign group Rank Outsiders. It was particularly poignant for me to chair this panel as I acted for the claimants in one of the original cases that resulted in the lifting of the ban which was eventually heard by the European Court of Human Rights at Strasbourg.
The conversation before some 35 people focussed on the outrageous treatment of LGBT personnel in the Armed Forces before the ban was lifted, the arguments on both sides of the court discussion on rule change, and ultimately the implementation of that change. Patrick and Michael were able to give us first-hand accounts of their experiences in the Forces, while Angela and David gave us an insight into the campaigning that went on to bring about the change.
To celebrate LGBT History Month, the rainbow flag has been flying over Brasenose throughout February. I look forward to future gatherings of this network and all the other networks that celebrate diversity in Brasenose's community.
Environment:
The College takes reducing our impact on the environment seriously. For example, the new building at Frewin is planned to very high environmental standards, we hold a Gold Green Impact Award, our students won the Switch Off campaign and Veggie Pledge, our electricity is provided from renewable sources, we recycle (including waste food and oil), and we source locally produced meat.
Coronavirus:
We are making contingency plans here to deal with the possibility of an outbreak and have a working party of College Officers. I was delighted to see in the news that the Jenner Institute at Oxford University has agreed a contract with Italian manufacturer Advent Srl to produce the first batch of a coronavirus vaccine for clinical testing. The vaccine 'seed stock' is currently being produced at the University's Clinical Biomanufacturing Facility, and will be transferred to Advent which will initially produce 1,000 doses for the first clinical trials of the vaccine.
Miscellany:

On 19 February I spoke at the Halfway Hall Dinner to those (as the name implies) precisely half way through their degrees and I stressed that at this stage it was still appropriate to review what they had achieved and what if anything they wanted to change in their remaining time, as here everything is possible.
On 18 February I attended the School of Climate Change event in the Amersi Foundation Lecture room. Danny Dorling (School of Geography and the Environment) and Lisa Thalheimer (Environmental Change Institute) talked about the social impacts of climate change to a packed and committed audience.
I was just settling down in the rather wintry surroundings of the County Ground in Swindon to watch Grimsby Town play Swindon when I noticed three Brasenose students a few rows below me (in the better seats!) - namely Erik (studying History), Jeeva (studying Economics and Management) and Joshua (studying Chemistry). Sadly, we lost but it was a great game and they are the top of League 2. One was a Swindon supporter.
I am delighted to be reading The Revival of Islamic Rationalism by our Golding Senior Fellow Prof Masooda Bano published by Cambridge.