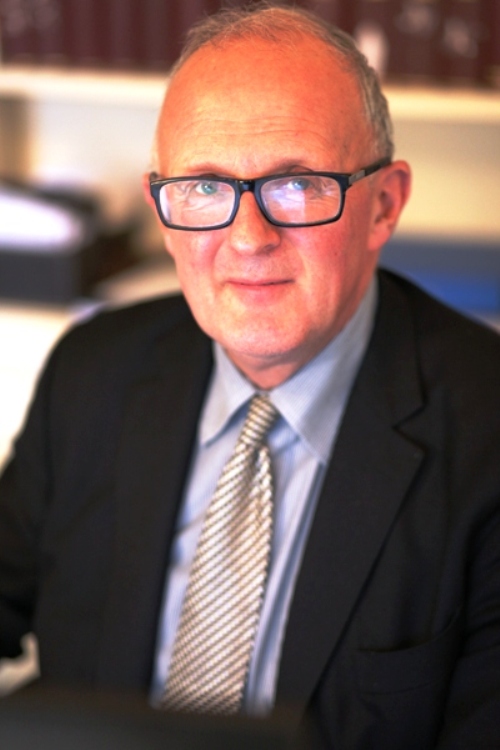 Gaudy:
There was a joyous gaudy on 13 September for the group which matriculated in 2012 and 2013. I knew most of them from my time as Principal, unlike gaudies for earlier years. It was wonderful to see so many of them doing so well in the professions and the third sector in particular. The evening concluded with speeches by Rosie Thomas and Richard Ng.
Media event:
There was a good attendance for our first Media Networking and Panel Discussion event on 11 September, kindly hosted by Ed Shedd (Classics, 1985) at his offices at Deloitte in London. I chaired a panel discussing such issues as media bias and recent media coverage of Brexit with four alumni: Chris Evans (English, 1986), editor of The Telegraph; Victoria Fea (English, 1989), Blue Jar Pictures, formerly ITV's Senior Drama Commissioner; Robin Oakley (History, 1960), European Political Editor at CNN International 2000-2008; Political Editor at the BBC, 1992-2000; and Ed Shedd (Classics, 1985), North West Europe Tech, Media & Telco Lead Partner at Deloitte. It was particularly gratifying to see the spread of age range in the audience and the questions reflected this. There was a positive message that this is a golden age for television (especially drama). Two weeks later I was in the audience for an excellent address to the Media Society by Mark Thompson, former Director General of the BBC.
Alumni events:
At the University's Meeting of Minds alumni weekend (20-21 September) I went to the two Brasenose speakers, Prof Charles Hulme one of our Golding Senior Fellows talking about Early Years Language Interventions. It was good to see that the first three questions came from Brasenose folk. Dr Llewelyn Morgan later spoke on Tracing Alexander's Footsteps in Indus Valley which mainly chronicled his fascinating visit to the SWAT region this summer. This was held in our Amersi Foundation Room.
In the evening we held the Brasenose Society Annual Dinner. Both Sir Paul Silk the Society's President and I paid tribute to the sterling work of Alexandra Marks over a 25-year period as Secretary. She received a standing ovation. The Hall was packed.
A round-Britain visit:
I love going to different parts of the UK (as well as abroad) to meet alumni. On 4 September, the train took me to Leeds and on the following day to Birmingham, where there were very spirited dinners in good restaurants.
Miscellany:
I am sure that we were all "surprised" to read the reference in David Cameron's memoir On the Record to his having been interviewed by "three scruffy dons". I have always been impressed myself by the sartorial elegance of our Fellows! We can only guess who they were.
We are delighted that Dominic Barton (Economics, 1984), lately Chief Executive of McKinsey, has become Canadian Ambassador to China, a job for which he is brilliantly qualified. He was appointed by Chrystia Freeland, the Foreign Minister of Canada, who by complete coincidence is the wife of one of our alumni, Graham Bowley (Economics, 1991).
It is a shame to hear that Claire Perry (Geography, 1982) is stepping down as an MP. She has been a great friend of Brasenose and is another alumna of McKinsey. She spoke at our Brexit debate three years ago.
On 9 September we held a dinner for our EMBA students. This is always a great event where we discuss world events in an around the table discussion with students from every part of the world.
On 24 September we held a College Planning Day for our Fellows. We mainly discussed the evolving College strategy (as to which watch this space) but also heard from Jackie Williams on behalf of the Charlie Waller Memorial Trust about depression and anxiety amongst students and Rebecca Abrams our Royal Literary Fund Fellow on her work with students. This used to be called our "Away Day" when we ventured as far as All Souls Library but now we hold it in our magnificent Smith Reading Room in the Library.
The Times Higher Education Rankings has just announced that Oxford is the top ranked university in the world for the fourth consecutive year. While we are all fully aware of the fallibility of these rankings, we should celebrate this remarkable achievement.
One of our Fellows Prof Geoff Bird, a cognitive neuroscientist commented on stress levels at law firms.
We were delighted to welcome the Africa Oxford Collaborative Fellows who this year are Dr Augustino Ting Mayai and Dr Salome Atieno Bukachi and were with us for September. They made a real impression in College with their enthusiasm. We also had in residence over the summer our Jeffrey Cheah Scholars in Residence: Dr Joyce Nga and Dr Jason Cheok Boon Chuan.