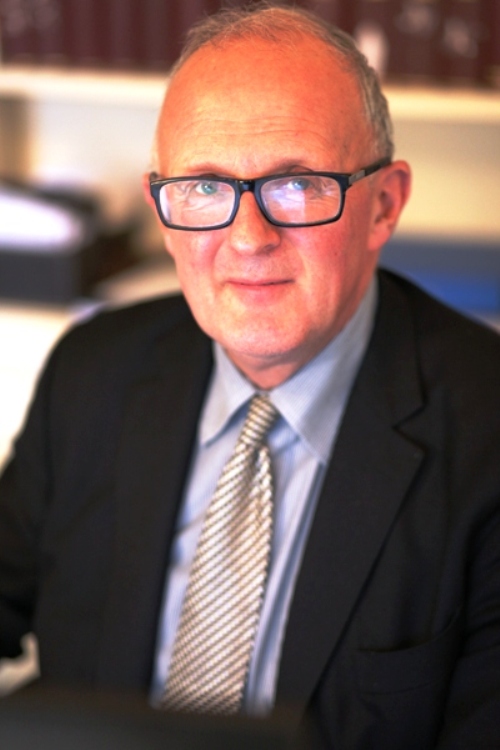 Visit to Downing Street - 23 February:
I visited James Johnson who graduated in History and Politics a few years ago and now works at Downing Street as part of their strategy team. You might think that the place would appear a hive of activity but the public parts appear quiet and it resembles a Georgian townhouse although it was constructed during the reign of Charles II. James is kindly arranging for a visit by some of our PPE Students to his workplace. I offered my inexpert views on the present political situation and James was very polite.
Sports Dinner with Etienne Stott - 1 March:
Etienne Stott was an outstanding and inspiring speaker at the Annual Sports Dinner. He is a slalom canoeist who started competing at the international level in 2002 initially in the kayak singles category, but switching to canoe doubles(C2) in 2005. He retired from the sport in 2016. He is the Olympic Champion in the C2 event from the 2012 Summer Olympics in London. He told of how losing had inspired him to win as had his fierce rivalry with another team. He had learnt a great deal from that.

In her address, Tabitha Everitt the Sports Rep ( from Biddenham Upper School and Sports College in Bedford – Etienne's old school) spoke about our many teams who are she said touchingly "on the brink of success".

Bishop William Smyth Recital - 2 March:
On 2 March we held the William Smyth Recital in Chapel to commemorate one of the College's co-founders. This also celebrated our trio of female organ scholars: Fleur Snow, Sarah Hughes, and Bethy Reeves (believed to be an Oxbridge first). They performed together with graduate neurologist and oboist Tom Barber. The programme include Albinoni's Oboe Concerto Op 9/2, duets by Samuel Wesley, and an outrageous arrangement of Rossini's William Tell Overture for organ, harpsichord, chamber organ, and piano. It was a brilliant performance by really talented musicians.

Miscellany:
On 27 February I went to the book launch for Lucy Newlyn's brilliantly titled book The Diary of a Bipolar Explorer. The book is not a travel guide but instead a fascinating account of her bipolar condition. Lucy is an old friend and EmeritusEnglish Fellow at St Edmunds Hall.

On 28 February we held a dinner to thank those who had been involved in designing and building our new Library reading room which has been delivered on budget and on time.

Dinner in Hall on 6 March had a Welsh theme in the week following St David's Day and at the end bara brith were served (Welsh cakes I believe). Fleur Snow read grace in Welsh!

On 6 March I attended a stimulating "Equality Conversation" entitled "Behind the Headlines; Muslim Women on Identities, Opportunities and Structural Changes in Britain" at Merton College.

I "starred" (in a loose manner of speaking) in the BNC End of Term Review in a packed Hall on 9 March playing myself in a small walk on part. The Review's theme was Brexit. I had to come in Dinner Jacket as I had been to the Law Club Dinner beforehand.

During the cold spell or Beast from the East (presumably from Cambridge!) the College looked especially beautiful. There was a fine snowman in the quad. Many staff displayed great ingenuity and dedication with their travel plans.

Readers will understand that I cannot divulge the details of my punishing training schedule but I can say that just after me came onto the gym floor Simon Altman, one of our Emeritus Fellows in Physics (who is even older than I am).

Another one of the excellent Ale Verses this year was to the tune of - "Don't Look Back in Anger" (Oasis).

Slip inside the Brasenose library
Don't you know you might find
Some work due yesterday
You said you'd smash finals
But all the hopes of a first
Will slowly fade away

So I'll lie and watch some Netflix from my bed
Wonder what happened to that brain in my head
Step outside, Summertown's in bloom
I will avoid that library place
My finals are a lost case
Copying answers from mark schemes a bad shout

And so Stally can wait, I know it's too late, to Park End I must gooooo
My marks slide away, "Try a bit harder next time," tutor did say

The pool table is where we go
Where nobody knows who broke all the cues
Please don't put those cues in the hands
Of freshers like Strachan
He's broken so many

I'm gonna play my pingers knock out match instead
Oh wait the sports rep's planning of that was dead
Stay inside 'cause finals feel like doom
More time at a bar than a desk, my revision is a mess
'Cause I did never figure those models out

And so Stally can wait, for my tinder date, my essays make me cry
My marks slide away, "What is this utter rubbish," tutor did say

So Stally can wait, it's the place I hate, "can't do this" lawyers sigh
Prospects slide away, "This isn't even English," tutor did say

So Stally can wait, it's Wahoo I rate, oh wait it's gone bye bye
My marks slides away, "Where are all of your essays, please give me an essay."
Tutor did say, "was due yesterday."

I wish everyone a good vacation.