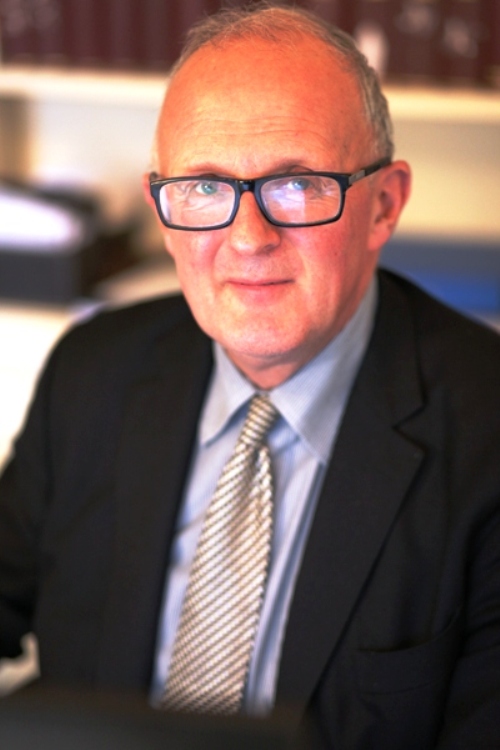 Graduate Dinner: 9 Nov
The first Graduate Dinner of the new Academic Year heard a superb speech by the Global Conservation Director of the RSPB. In a sometimes hilarious address, Martin Harper described the work of the Royal Society. The organisation has one million members and a turnover of £100m a year. The Hall was packed and we had to accommodate overflow in the Medieval Kitchen. It was the first Dinner presided over by our new Tutor for Graduates, Prof Owen Lewis.

Ellesmere Dinner: 11 November
The Ellesmere Society demonstrates the good health in which Brasenose law finds itself. The Hall was packed with present students and alumni to hear Sir Peter Jackson a judge of the Court of Appeal. When we asked him to speak he was a High Court Judge but was elevated five weeks ago.

He read Law at Brasenose from 1974-1977. As a High Court judge, he presided over a number of controversial family law cases. In February 2011, he made a landmark ruling allowing journalists to attend hearings in the Court of Protection in a case about an autistic man who had been kept away from his home and family by a local authority.

In September 2016, Sir Peter was praised for rephrasing an entire judgement into a 17-page document using simple phrases and emojis in the hope that the children involved would be able to read and comprehend it for themselves.

In July 2017, he delivered a judgment in a case about the residence and citizenship of a teenage boy. He presented it in the form of a letter written directly to the boy, explaining why he was deciding the case in that way.

Radhika Piramal:
As part of Equality Week, students invited Radhika Piramal to speak. She is a Brasenose alumna who studied PPE some 20 years ago. She is CEO of VIP India's largest luggage brand. She took over as managing director in July 2010, after completing her MBA from Harvard Business School and a stint at consultancy Bain & Company in New York. She spoke about the challenges of coming out as a lesbian in India and how supportive her family had been and the choices that women had to make in their careers. She said it had been a mixed experience at Brasenose for her as a gay woman but she was delighted to hear that we have just decided to fly the Rainbow Flag for a month.

Blurbs: 16 November
Our blurbs series continues to inspire and interest. On 16 November, our SCR speaker was the Stanford Visiting Fellow Julie Parsonnet, who is George Deforest Barnett Professor In Medicine And Professor Of Health Research And Policy (Epidemiology). She is visiting us for a term. The title of her talk was "Spirits in the Microbial World". Our graduate student speaker was Deon Simpson, a DPhil student in the Nuffield Department of Population Health. She spoke about "Trends and disparities in breastfeeding in public in Great Britain: 1995 to 2010".

Miscellany:
We had a presentation on Bereavement counselling at our termly Welfare Lunch by Harriet Samson from Cruse Bereavement Care. This was particularly important given that the College is still coming to terms with the death of Max Mian.

I was made an Honorary Fellow of Lincoln College of which I am an alumnus on 8 November, a symbol of the closeness of the Colleges. Two of the benefactors are common to the two Colleges.

On 16 November, I attended a scintillating lecture by Prof Andrew Burrows an alumnus of Brasenose and a member of our Remuneration Committee. He was giving the third of the Hamlyn Lectures series on Improving Statutes. Earlier in the day I was present at the Employment Law Discussion Group held in College where Joe Atkinson of UCL gave a paper on Implied Terms and Human Rights in the contract of employment.

On 17 November, I attended the launch of "Jewish Journey" by Rebecca Abrams about objects of Jewish interest at the Ashmolean Museum. Rebeca is currently our Writer in Residence.