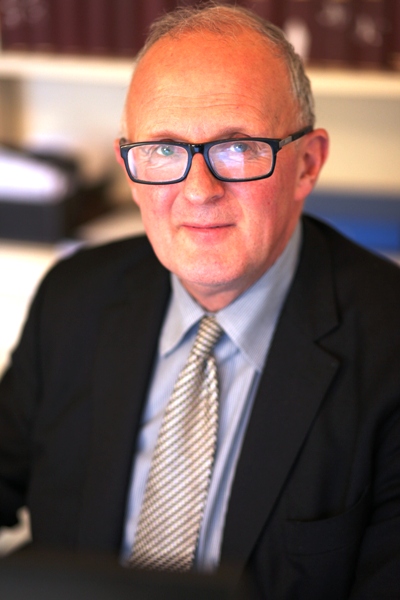 5 May: All College meeting
We held a general meeting in Hall to which every part of College was invited. It was the first time I had addressed the whole College gathered together since my application to be Principal, and I reviewed several recent developments. I started by emphasising what a great team we have in all areas and that everyone contributes their own skills to the overall College endeavour. These are the key points of my speech:
1. It is terrific to have the Cloisters reading room back in use; it looks magnificent and it is heartening to note that it was delivered on budget using donations from our alumni.
2. As Principal, I have been keen to support and extend Brasenose's innovative approach to widening student access which has three main arcs:
The first exciting development – which pre-dated my arrival - aimed to boost competitive applications from a wider range of schools. We achieved this in the years 2011-16. Spearheaded by Joe Organ and many Fellows, Brasenose made the most school contacts of any Oxford college, and also became the most applied-for college. One important indicator is a shift from under 50% to 66% state school UK Undergraduates (click here for information if you are thinking of applying). Our outreach enjoys excellent support from catering, conference, accommodation, workshop and porters - plus significant alumni donations. It is a very good example of what the College can achieve working together to further education. A few alumni, very committed to this issue, aided this success with significant financial support.
Our second initiative, launched in 2015/16 and encouraged by the Senior Tutor, built up a relationship with Oxford University's Education Department with the aim of helping to raise attainment in schools through academic research and graduate education. Our two new education fellows Dr Sonali Nag and Professor Charles Hulme are one aspect of good relations with the University's Education Department. We also have many teachers and trainee teachers as members of the graduate community. We held a very successful Education Symposium last month and this has led to further collaborative working with local schools.
We want to maintain our momentum in this vital area. Our third initiative therefore seeks to bring into the College severely disadvantaged yet exceptionally bright students. We seek to offer a positive life transforming experience to this group and believe they can help us evolve too by encouraging us to reflect on and improve out student support. We are currently working with virtual schools in Oxford, East Berkshire and Tower Hamlets to help UK looked after children apply to Oxford.
We have also entered into an agreement with the Jack Kent Cooke Foundation to bring an American graduate student to Brasenose (the foundation supports the US equivalent to looked after children). We also funded an at-risk graduate scholarship for a Syrian student.
As for our Graduate community, the HCR are in good heart. One of our graduate students stroked the women's Oxford boat for the tideway race: Rhodes Scholar, Jenna Hebert.
We spend about £276,000 on graduate studentship support, much of this support is from endowments set up by our alumni to provide funding to those who need it.
3. We have recently received funding to radically change our Lecture Room 11; in honour of the generous donor for this project, it will be renamed the Amersi Foundation Room. We have now started the detailed design of the new room and requesting the required planning permission: completion is expected by summer 2018.
4. We have taken a loan on favourable conditions of £20 million which most importantly will finance new student accommodation for both Undergraduates at the Frewin annexe and Postgraduates at the Sportsground – we are working hard on plans for both, although we need planning permission, so there are no guarantees.
5.Our alumni continue to be exceptionally generous. Currently we receive about £2 million per year in donations. About £500,000 is spent as income and the rest goes into our endowment to permanently increase the College's income. Part of this income is used to fully fund the £100,000 per year given to undergraduate students from non-advantaged backgrounds. One in four of our students receive some sort of financial aid funded through alumni donations. The work on the Library and Deer Park was enabled by donations.
6. We have welcomed several new Fellows recently and in September we look forward to welcoming our new chaplain Revd Julia Baldwin.
I also spoke about Principal's Conversations; increasing diversity in portraiture and how proud I was that we are known as the friendliest college in Oxford. I then took questions.
5 May: Jubilee lunch
We held a Jubilee Lunch for those who had matriculated over fifty years ago. There were present about 125 alumni and their guests, who came up from 1958 to 1967. This was my second of three speeches on that day. It was terrific to see alumni who had risen to the top of their professions (notably law, finance, media and diplomacy), as well as one MP and MEP (in fact, the same person John Bowis - who sports a name very much like mine!). It was extraordinary (but very Brasenose) that he was present together with one of the most senior officials in the Department where he served as a Minister, the Department of Transport. Those present also included two judges in front of whom I had appeared and one whom I sat alongside! Of course after 50 years away all our alumni have made their mark on the world in many different and valuable ways and it is very heart-warming that so many return to see us for a good catch up!
6 May: May Ball
The Ball was a glittering affair with events held simultaneously in all three quads. About 1,100 attended but the drabness of the weather was directly opposite to the terrific atmosphere inside the marquees. It was great to see so many alumni present. I presided over a hearty dinner in Hall and then made my excuses at about 10.00pm. It was a great Brasenose team effort. In my speech I paid tribute to the extraordinary work of the Ball Committee, ably led by Alice Wilcock (who joined us from Runshaw 6th Form College and is a 2nd year PPE-ist).
8-14 May: Arts Week
Straight after the Ball we moved seamlessly into Arts Week, also wholly organised by our students under the inspired leadership of Ella Williams (2nd year English). Unfortunately I could not attend many events but those I did get to were all terrific.
On the Monday at lunch, Oxford Gargoyles a capella group sang a range of harmonies including most memorably "Let it Be" in the antechapel. I went to the Art Show that evening. On Tuesday I heard Oxford Alternotives and on Wednesday Oxford Belles. The former were filmed by BBC One for a new series Pitched Battle to be aired in July. Their repertoire included a great rendition of the Weather Girls "It's raining men" and Bob Marley's "I shot the sheriff". I hope to see them at the Edinburgh Festival too. They included our own Daniele Zurbruegg and Hiba Abuelgasim.
10 May: Blurbs
I gave one of our regular Blurbs together with Philippa Collins, a DPhil student. I spoke about religion and Human Rights, and Philippa about a recent European Court case on wearing the veil.
Miscellany
On 7 May, Revd Dr Peter Groves, a former Chaplain and now Vicar of St Mary Magdalen, preached in chapel. It was great to see him back and there was an excellent attendance, notwithstanding many of the congregants had been awake most of the night at the Ball. The stamina of our students astonishes me sometimes. On 14 May, we welcomed the new incumbent of the University Church, Reverend Dr Will Lamb.
Congratulations to Professor Susan Lea of Dunn School, who has been elected as Fellow of The Academy of Medical Sciences. She was formerly Tutorial Fellow in Biochemistry at Brasenose before gaining promotion to the Statutory Chair in Microbiology associated with Wadham College. Another of the Oxford scientists elected to the Academy of Medical Science is Prof Philip Maini, who is also a former fellow of Brasenose - He was a Maths Fellow from 1990-2005, when he left for a professorial fellowship at St John's College.
I also spoke to Oxford Chabad on 5 May about being a Head of a College.