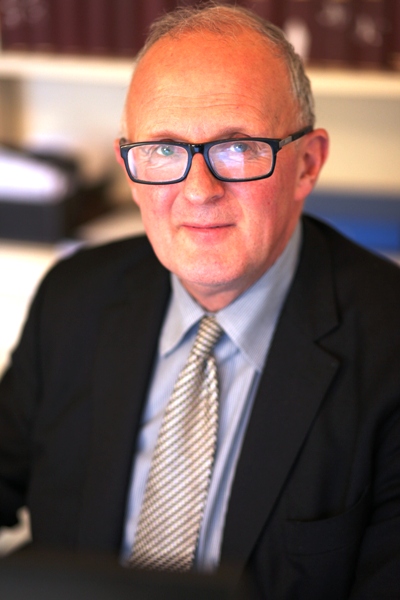 Our Principal, John Bowers, shares more thoughts on his time at the College.
Happy New Year. I trust everyone has had a good break.
Suzanne and I had a wonderful visit to Australia to visit alumni in Melbourne, then Sydney. It was my first visit to Australia which I absolutely loved. It took a few days of readjustment on the way out; one day of my life just disappeared.
I went alone after the New Year to Hong Kong. It is terrific to see at first hand what an entire international community we have. I met over a hundred alumni together with the Development Team. There were so many different types and characters but all with an abiding memory of the value of a liberal education in general and a Brasenose education in particular. They ranged from someone still taking a degree to Sir David Akers Jones, former Acting Governor of Hong Kong who started his studies in 1948, and included academic, sportspersons, business people and politicians. Many had excelled academically; some had contributed more on the sports fields or by the force of their personality. All wanted to be reminded to their tutors. Many have been very generous in giving back.
We held receptions in Melbourne and Sydney and then Hong Kong, and many face to face meetings (and meals). I kept my waist line trim by vigorous gym exercise but I have to admit that a lot of food was consumed. I took the opportunity in Hong Kong to have two suits made. Hong Kong is very vibrant and we heard many different views about its future relations with the Mainland.
As well as Brasenose events, I also spoke at a Rhodes Scholars Christmas event in Victoria, hosted by Brasenose alumnus Graham Craig. 25 people attended including the two Rhodes scholars starting in October 2017. I spoke about the challenges facing the university and my views on the Rhodes Must Fall campaign.
On 19 December Suzanne and I (with James Fletcher from the Development Office) were taken to a modern office block where the Australian Prime Minister has his Sydney office (he divides his time between here and Canberra). It comes as a surprise to those of us from countries where terrorism is a major threat to find that there was very little overt security there in the office building and much informality (which is characteristically Australian).
Malcolm Turnbull was very charming and delighted to talk about Brasenose. He remembered his teachers on the BCL, in particular John Davies, Mary Stokes and one he described as the "young" Hugh Collins (now the Vinerian Professor). We also reminisced about his Spycatcher Trial where he took on the British Government at a very tender age.
We had a general discussion about higher education in the UK and the difference between university reform in our two countries.
I had not realised what he told us of the close connection between Malcolm's old school, Sydney Grammar School and Brasenose. The long serving Headmaster (from 1867) Albert Bythesea Weigall (yes the name is correct) had been to Brasenose (after Macclesfield Grammar School) and indeed the ties of the School and College are the same colours. As he said, they are not usual colours to put together. Despite the historic connections, however, Malcolm told us that he chose BNC as it was one of the only co-educational Colleges during his day.
We really enjoyed our thirty minutes with Brasenose's one remaining Prime Minister (and Australia's 29th Prime Minister).
BNC and Brexit; a triumvirate:
Whilst in Hong Kong came news that Sir Timothy Barrow who started at Brasenose in 1983, and read English, is the new UK Ambassador to the EU. He was latterly Political Director of the FCO. Tim joined the FCO in 1986, working in the Western European Department with his first overseas postings in 1989 as part of the British Days Exhibition, followed by Second Secretary in Moscow. Probably his most important role was as our student President!
He is part of a Brasenose triumvirate who are central to Brexit. David Cameron's role needs no elaboration, but less well known is Jason Coppel's involvement as a QC for the Government in the Miller case in the Supreme Court.
The term ahead:
We have a very busy term ahead. You will recall that an alumnus Michael Kostelitz won a Nobel Prize for Physics (I have mentioned this several times!). We are very excited that he will be visiting Brasenose this term to receive his Honorary Fellowship of the College. We will also welcome Jonathan Aitken, Dame Julie Mellor, Jeremy Paxman and Richard Coles to different events.
I hope you all have a good term.