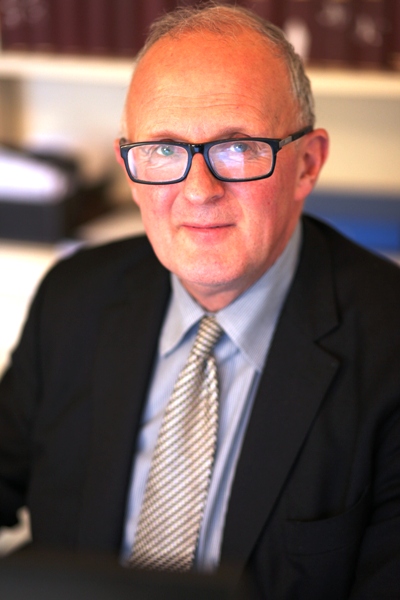 Our Principal, John Bowers, shares more thoughts on his time at the College.
Welcome:
I want to start by welcoming all of the new students and staff members to what I am sure will be an excellent year. We have two new Tutors, Birke Hacke who was a student here beginnning in 1997 and then a lecturer here and returns as Professor of Comparative Law, and Ian Kaier who joins in the new post of Associate Professor and Tutorial Fellow in Fine Art. They are very welcome additions to the College.
It gave me great pleasure to speak at both the Undergraduate and Graduate Fresher's Dinner in Freshers Week.
We were buoyed by two pieces of great news.
Firstly our performance in the Norrington Table ranked us at 8th in the table. This reflected 41 Firsts (now increased to 42) and an absence of Third Class degrees. This represents a considerable tribute to our students and tutors.
Nobel prize:
Secondly, our first term started with a special bang for us with the announcement that J. Michael Kosterlitz was one of the three who were awarded the Nobel Prize for Physics. He gained his Physics doctorate here in 1969. It was terrific to be able to announce this at the Freshers dinner for undergraduates and then for graduates. In fact I have also been repeating it to everyone who is prepared to listen to me (and some who are not!). This goes together with the Literature Nobel Prize which went to our former student William Golding many years ago. We have the prize in the College. Michael is now Professor of Physics at Brown University and the relevant press comment can be found here and you can read his wikipedia entry here.
The Nobel is of course one of the highest accolades in the academic world, and is something of which everyone in the College can rightly be proud. I wrote to Prof Kosterlitz straight away to congratulate him and to invite him to the College.
Visiting alumni:
One of my main aims as Principal is to make former students feel part of our wider College community. We continue to travel round the country (and world) to meet them. We held a terrific event in Manchester attended by 40 people at the home of Peter Folkman, who studied PPE in the 1960s, and his charming wife Judy. We there gathered together alumni of all ages who all got on very well with each other.
In July Suzanne and I visited Guernsey for the first time. It is a very charming place with some equally charming former students to visit. It was especially wonderful to hear the reminiscences of two alumni who came to Brasenose just after the War. There was a mixture of those who had served in the War and those who were too young.
I also visited during the Vacation Zurich and Geneva where we have many alumni. In the latter city we were lucky enough to be shown round the CERN campus by some PhD students of Prof Bortoletto, one of our Kurti Senior Fellows. I knew it was big but I had not been prepared for just how vast is the Hadron Collider there (and indeed the whole site which resembles a small town). We have a significant College interest in the site, with Daniella Bortoletto as a senior manager at the site, and we have two other tutors who carry out work there.

Open Days:
We set great store by (and put a large amount of resources into) our superb Open Days at Brasenose and the warmth of the welcome we give to students and their parents. This year the Open Days were excellent and I thank the many members of the undergraduate who helped show people around. Our students are our very best ambassadors of course. Joe Organ our Outreach Officer and Simon Smith our Senior Tutor do brilliant introductions to the College at the Open Days.
Chancellors Court of Benefactors:
The Chancellor of the University, Lord Patten holds an annual event to induct Benefactors into the Chancellors Court of Benefactors and to those who are prepared to support this university. This year we were lucky enough to have two of our significant donors so inducted, Jeffrey Cheah and Gerald & Margo Smith. It was a glittering and truly international ceremony with a procession along Broad Street to a dinner in Balliol.
Thespians and the Edinburgh Festival:
I will refrain from favouring you with my holiday snaps or views of Venice, but I do want to mention a trip to the Edinburgh Festival where we caught up with an Oxford University production of Pawn which is an innovative musical about the chess championship between Karpov and Korchnoi in the Philippines. Our very own Tobias Sims of Brasenose was one of the stars of the show and sang and acted excellently.
We also congratulate Prof Jeremy Robertson one of our Chemistry Fellows on gaining the title of Professor by recognition of distinction.
Tragically I record the death of one of our alumni Will Henniker Gotley who died in the Italian earthquake in Sommati Central on 24 August with his wife Maria Talioani. Will's grandfather Roger Alwyn Henniker-Gotley was at Brasenose in 1920, together with his great uncles, Anthony Lefroy Henniker-Gotley, a Colonial Officer who played for England at scrum-half whilst still at Brasenose, George Rainald Henniker-Gotley. I will merely refer here to one of the tributes:
I shall always remember Will's Scooby-Doo style laugh and wry grin. A smile, a laugh and happiness. What more do you want to be remembered by? He was always the same old Will, even in recent years, a character formed at Brasenose and earlier, and taken from us far too soon.
Steven Carr
We send out condolences to his family. We have a section on our website for tributes to him.