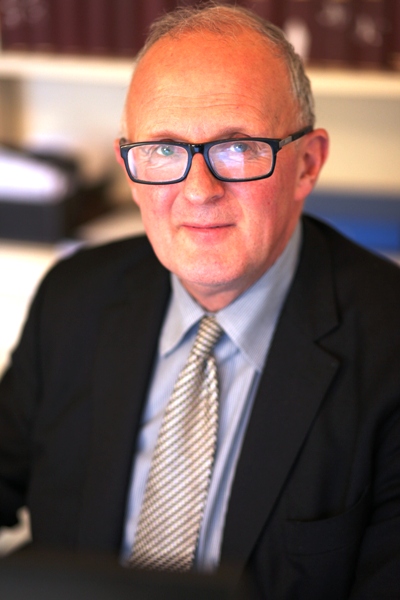 Our Principal, John Bowers, shares more thoughts on his time at the College.
Mary Stokes-6 June:
On 6 June, Mary Stokes QC spoke at the College and told us of her time as the first female Governing Body Fellow. She is someone who has succeeded in two worlds where women were traditionally under represented the Bar and academia. As I said when introducing her she is "a legend" in both of these worlds and gave a great talk.
EU Question Time-9 June:
We did not as a College take a position on the outcome of the referendum but we did our best to encourage students to register and to provide fora to discuss the issues. We held our debate at the College some weeks ago. On 9 June we had our Brasenose London EU Question Time at the QEII Centre near Parliament. There were some 80 attendees, who were mainly our alumni but with a sprinkling of our current students. I asked the questions to a distinguished panel consisting of three alumni, Julian Brazier MP (Leave), Toby Young (Leave), and Peter Sands (Remain), and our invited guests Helen Goodman MP (Remain), and Charles Grant of the Centre for European Reform. Rui Esteves our Fellow in Economics completed the Panel. At times the discussion became heated but passions are clearly being raised on both sides. The issue of immigration was prominent in the discussion. A flavour of the raised passions may be seen in these lines from the discussion "the Single currency devastated the lives of young people through Southern Europe" (Julian Brazier) and "The 'leave' campaign legitimises racism by taking advantage of the nature of public discourse" (Helen Goodman MP). T
Many people within College (but not all) were disappointed with the result of the referendum. We moved quickly to reassure staff that there will be no immediate change to residency status or travel arrangements or to participation in various EU programmes and that the College will remain an international and vibrant environment. I am personally very concerned about the divisions in our country demonstrated by the result.
Final concert-10 June:
The final concert of the year took place in the Antechapel on 10 June. It was presented as "Brasenose Jazz Band, Vocal groups and soloists". Many musical genres were represented, from an Icelandic barbershop harmony (yes you did read that right and since you ask it was called "Heyr himna smidur") to Sinatra's My Way with Dido's Lament by Purcell too. Sadly the 8rasenose vocal group (yes that is the correct spelling!) and Quadtet vocal group will now disband because many of their members are finalists. Many of those performing are leaving this year and we wish them well and thank them for their great contribution to music which is alive and well at the College.
The 1509 Society-16 June:
The 1509 Society event in London took place in Middle Temple in London, the Inn of Court where I am a Bencher (i.e. on the Governing Body of the Inn). The 1509 Society summer party is the only reception at which we gather solely to thank and recognise our College's most generous donors and it was a fitting backdrop to do so. The Temple estate was provided to 'The Honourable Society of the Middle Temple' in 1608, 99 years after the foundation of Brasenose, on condition that it would always be used for the joint objectives of educating and accommodating those practising or training in the Law. Much like the aims of Oxford Colleges, it has a rich history of bringing together the brightest minds in our society to for the common goal of academic endeavour. The comparison with Oxford can be taken further– beautiful surroundings, halls, libraries, and the concern for developing the young. More sadly there is another connection between the College and Middle Temple; it was on the return from a dinner in Middle Temple that Stallybrass, one of my distinguished legal predecessors, fell from a train. I announced the completion the Ellesmere Law Fund to support the endowment of one of our Law Fellowships.
I would like to specially thank two Brasenose Benchers of the Middle Temple, Masters Moriarty and Rubin for kindly contributing towards the running of this event and to all who contributed to the Law Fund.
Recreating history-21 June:
The real Beatles came to our Lodgings just before going on one of their seminal tours to the USA. They were received by the Principal, Sir Noel Hall, who by repute had no idea who they were. There is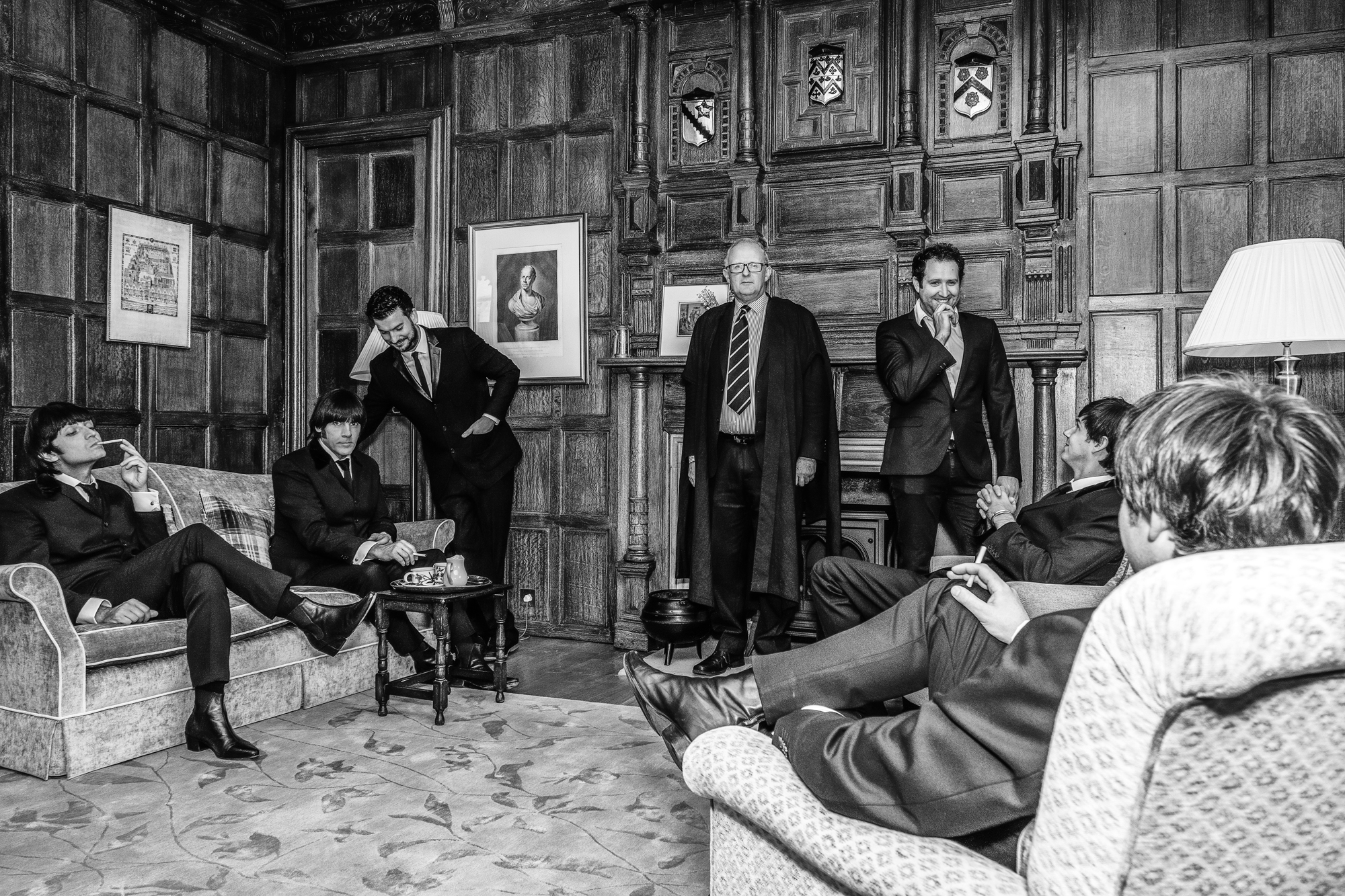 just a grainy black and white photo remaining. It turns out that the furniture is still arranged in much the same way today. Thus it was possible to recreate the famous photograph with "The Beatles" who are the stars of the musical "Let it Be" which was playing at the New Theatre. This time the Principal did know who the Beatles were. It was Lord Archer who brought the Beatles to the College in 1963 as he had been organising a concert for Oxfam with them but he was not available this time. I went to the show two days later and it was great.

Encaenia-22 June
I attended Encaenia which took place in the Sheldonian Theatre. Encaenia is a Greek word for a festival of renewal. This annual event was a grand gathering of the University which centres on the presentation of new honorary doctorates to a wide array of people. The best known this year were Pedro Almodovar, the film maker, and Sir Jonathon Ive, the Apple designer. The description of their achievements is read out in Latin. A review of the year is given by the Orator (in English I am pleased to say). From next year the Orator will be our very own Jonathan Katz.
Gaudy for 2000-1-24 June:
I spoke at this excellent gaudy (what we call class reunions, which we regulary have in College). It was somewhat poignant that I had written my speech for the Gaudy to include a reference in our magazine Brazen Nose before David Cameron's resignation was announced. It was in the edition for 2000 at Page 10 'The general election leaves us with five Members of Parliament….four Conservatives… who have added to their number David Cameron, now MP for Witney and perhaps the only new member whose maiden speech made 'Yesterday in Parliament'. Not only has this, the Times tipped him as a future leader of his party".
This fell on the very day that he resigned as Prime Minister, leaving us as from October 2016 with only one Prime Minister alumnus, Malcolm Turnbull who faces a General Election. Whatever one's view of David Cameron's politics we can celebrate the dignity which he displayed in resigning.
Leavers & Retirements:
The sense of my first year coming to an end is heightened by the number of events to mark the end of the year such as our excellent Leavers Service (in which every reading was by a Brasenose alumnus save for St Mark!) and many Leavers Dinners.
Inevitably, there are some retirements at the end of this year. We lose four very significant members of our community: Prof Richard Cooper our Fellow in French has held almost all of the key offices in the College; Prof Maria Chevska our Art Fellow has been a terrific source of inspiration to those interested in Art; Prof Lesley Abrams has taught history for us over many years (whilst primarily based at Balliol) and Prof Susan Wollenberg has been an outstanding music fellow for 29 years (based mainly at Lady Margaret Hall).
Miscellany
16 June: I had a fascinating tour around the Bodleian Library with Richard Ovenden the Librarian, which was to look primarily at their treasure trove of Hebrew manuscripts including an extraordinary note book of Maimonides complete with crossings out in both Hebrew and Judeo Arabic.
19 June: Lord and Lady Patten came to dinner at the College. His career is quite fascinating spanning time as Chairman of the Conservative Party, EU Commissioner, Chair of the BBC Trust and Chancellor of this University. He greeted me with the line; well you must be the only Grimsby Town fan to be a Head of House to which I replied not quite, as Raymond Plant former Principal of St Catherine's was also a presence at Blundell Park (in case you do not know that is Grimsby's ground in Cleethorpes!)
20 June: We entertained Juan Mujica the President of Uruguay 2010-5 to High Table.
I went to a lecture at Lady Margaret Hall given by Sir Robert Worcester the famous pollster on the use and abuse of polling. It was before the referendum result where the pollsters again failed to cover themselves with glory.