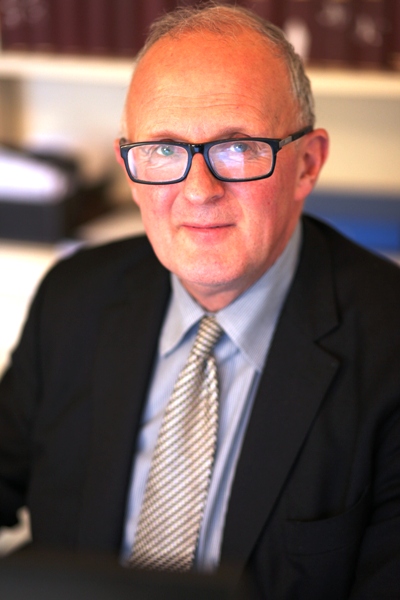 15 February: Lady Manningham Buller
We were lucky enough to be invited to the Oxford Martin School for a scintillating address by Lady Manningham Buller, former Head of MI5 and now Chair of the Wellcome Foundation. She was questioned in turn by Helena Kennedy, Alan Rusbridger, Ken McDonald and then myself all of whom would be already known to her!
17/18 February: Dinners
Prof Alison Woollard, a Fellow in Biochemistry at Hertford and University lecturer in Genetics, gave a terrific speech about her career as a scientist and the difficulties faced by women in science to a packed Graduates dinner in College. This is an occasion when graduates dine with their supervisors many of whom come from outside Brasenose.
Next up was myself the following evening speaking to the Halfway Hall for undergraduates. This is for students who were half way through their degrees (or in some cases one and a half years out of four, whatever that fraction is!). I was anxious to state that I did not regard myself as half way through my tenure as Principal (having only joined on 1 October)! Some amazing presentations were made afterwards to the student most likely to be Prime Minister (obviously the undergraduate student President), the persons least likely to leave Oxford (classicists although I am not clear why) and many others. Only time will tell whether they were accurate predictions.
19 February: William Smyth Memorial Concert
The William Smyth Memorial Concert provides an excellent opportunity for our musical faculty and staff members to perform to members of the college in our beautiful antechapel. There were some superb performances, by Ferdinand Rauch (violin), Jonathon Katz (piano), Ian Maconachie (piano), Konstantin Ardakov (piano) and Christian Wilson (piano). The evening was capped (I think all would agree) by Elpspeth Garman our Tutor for Graduates singing a traditional Northumbrian folk song, The Lambton Worm (words and translation available on request!)
20 February: Michael Palin
I know that the opposite of success is name dropping but I am going to mention that Michael Palin dropped by to his old College to discuss the Bursary which we are setting up in memory of his good friend George Walker who sadly died in November 2014. He had read history when Michael was reading geography. Michael who came with George's widow and three of George's daughters met five undergraduates over lunch and was a great hit with everyone (see photo). We took him and the Walker Family for a tour of our library where we had arranged documents relevant to Michael and George including the references given to the College about them. Michael told us that a forebear of his one George Palyn had given money to the College in 1609 or thereabouts.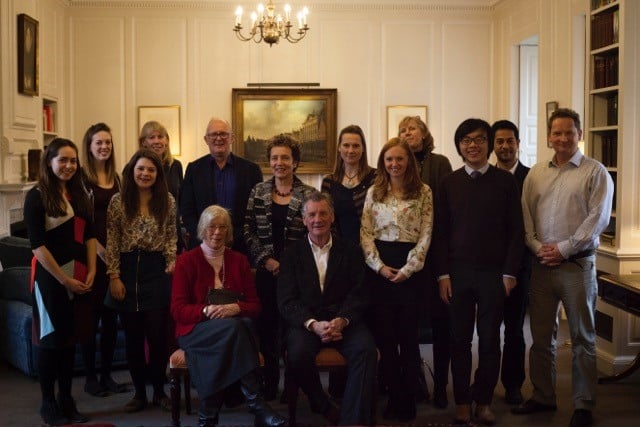 Given this visit by an arts luminary it is a good opportunity to take stock of arts in the College: Brasenose has two Arts Funds - one is run by the undergraduates, and gives out backing for student drama, and is one of the most important funding bodies in Oxford; the other, the Brazen Arts Fund, provides £5,000 a year to support Brasenose student arts, and has recently paid for our students to take shows to the Edinburgh Festival, take part in the university Drama Society tour of Japan, go on an acting course in New York, and enter dance competitions. One student went to India as part of the award-winning 'Act for Change', a mental health initiative which brought together British and Indian actors to promote mental health awareness in Goa and Delhi.
The Brasenose Arts Festival is the largest and longest running college arts festival in Oxford, having been organised annually for more than 20 years. Every year in the 3rd week of Trinity Term students take over the college, staging plays in the chapel, New Quad, the Hall and various lecture rooms. Recent events have included cabaret, dance classes, jazz concerts, poetry slams, art exhibitions, and a BNC bake-off, and recent productions have included Hay Fever, A Midsummer Night's Dream, Who's Afraid of Virginia Woolf, Much Ado about Nothing, and Ukip: The Musical.
Ale Verses:
Readers will recall that in the last blog I reacted to the tendentious Guardian article about access issues and referred to the terrific outpouring of support for our Outreach efforts. We have an annual Ale Verses evening after dinner in Hall where anonymous songsters set occasionally ribald lyrics to old classics. I was especially touched by the chorus to a song about our excellent Outreach Officer Joe Organ to the tune of 'Your Song' by Elton John. Part of it is:
It's a little bit funny, this college of ours,
It's not one of those places with ivory towers.
We can't change the world, but boy if we could,
We'd admit more state students as undergrads.
And you can tell everybody this is Joe's song,
It may be quite simple but now that it's done
We hope he won't mind
We hope he won't mind that we put down in words
How wonderful life is while he's in Brasenose.
I sat in New Quad and felt really quite sad,
But those Guardian articles, well they've made me quite mad.
But the sun's been quite kind while I wrote this verse:
It's for people like Joe that stop things being worse.
Other things:
Our post-graduate football team did brilliantly against Worcester College in the Cuppers Semi Finals. It was 1-1 going into extra time, and we managed to get a winning goal in the 110th minute, to win 2-1.
We had a great careers talk by Nick Butler and Rosaleen Hughes. About twenty students attended and the husband and wife team covered energy, political work at No 10 and the BBC.
One of the perks of this job is meeting fascinating people for lunch and few have been more interesting for me to meet than Bruce Kent who was Secretary General of CND for so many years. He is an alumnus and Honorary Fellow. We spoke about the exciting years of CND. He still speaks all round the country.
With the referendum now announced we are going to hold an event in College to debate the issues from a rational standpoints., Speakers will be announced but please save the date, 4 May at 5:30. All members of our College community will be welcome.