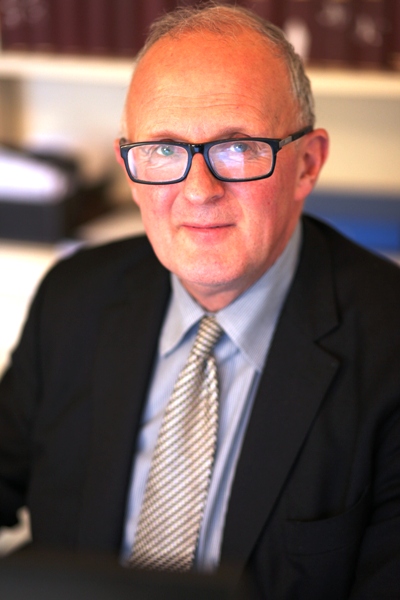 Our new Principal, John Bowers, shares more thoughts on the first few weeks of his time at the College:
4 Feb: The Guardian:
On 4 February we were the subject of an article in the Guardian picking up on a Sutton Trust report which had a very curious approach to statistics on admissions. The headline to the article was that 'David Cameron's Oxford college admits fewest state schools applicants' was entirely misleading. The simple fact explaining the position is that we have some of the highest number of applications to the University so that our admissions rates simply reflects that fact. The acceptance rate for private schools is not much higher than 11% at 13.6%. Because we are so popular with school students, as many of our applicants get places at other colleges as at Brasenose, and overall the acceptance rate is close to the acceptance rate across the University at 20%-25%.
The criteria for widening access in the Sutton Trust's report is highly unusual. The report would, for example, praise a college receiving just one state school application and admitting that person on the grounds that 100% of applicants were admitted. Another college receiving 100 applicants, admitting 25 of them and seeing the other 75 accepted by other colleges would be criticised for only having a success rate of 25%. Worst of all would be a college with 1000 applicants, admitting 50 of them and seeing another 950 accepted by other colleges - their admit rate would just be 5% according to the Trust.
A different set of statistics, used in a recent Social Mobility and Child Poverty Commission report, shows Brasenose accepts a high proportion of state school applicants.
This Guardian article predictably led to a veritable torrent of support for the College's outreach efforts especially from our BNC students. Jess Freedman, former Admission Rep of the college said in a statement, "Brasenose is involved in more Access Events than any other college, has more prospective applicants visit the college on Open Days than any other college, has more students helping out with Access and Admissions than any other college and has the highest Satisfaction Rate amongst students, and that is exactly why we have the most applicants."
The prize for the best letter from the outside the College in my view goes to the following which also captures the spirit of Brasenose:
"I spend a lot of time visiting schools and running conferences, encouraging students to aim as high as they can. In this I am ably supported by the schools' liaison teams from a number of our universities but none more so than Oxford University and Brasenose College in particular. Their schools and publications officer, Dr Joe Organ, strikes a very ready rapport with all of the many student audiences he meets and this is reinforced in the reception students then receive at the college's open days. Apart from being one of Oxford's most beautiful colleges, it is also one of the friendliest and one, therefore, that it is easy for students from state schools to feel comfortable applying to. That 11% of those who apply from state schools get in compared to 13.5% from independent schools is not the main point. It is the sheer number who apply in the first place. In this respect the college is very successful in generating the sort of self-belief and self-confidence that many of our young people need even to think that they stand a chance of entry. Some undoubtedly apply more in hope than anticipation (a more likely source for the statistics) but they are being encouraged to aspire and for that the college, in my view, deserves all due credit".
Peter Rawling
Bracknell, Berkshire
The twittersphere is full of supportive comments. The JCR have invited the Guardian journalist to see what really happens at Brasenose and I am delighted to say that she has accepted the invitation. Most of all, we earnestly hope that the article doers not put off aspiring access candidates or make the work of our excellent Schools Officer, Joe Organ more difficult.
3 Feb: Welcoming Arthur Weasley
The Arts & Societies dinner featured a real legend of the screen, Arthur Weasley of the Harry Potter film. He was in real life Mark Williams a former Brasenose JCR President. It was amazing that Mark took part in dozens of photos with student dinner guests and even one featuring the less than photogenic Principal! He delivered an unforgettable speech and is a real inspiration to our drama students. Demand for the event was high and some thirty students were disappointed.
5 Feb: graduate collections
I hold Principal's graduate collections once a year. It is fascinating seeing the enormous range of subject in which our graduates are involved. I cannot say that I fully understand all of them especially the recondite science subjects (although I could just about get my head round the legal subjects).
5 Feb: Sospiri
In the evening the twenty strong Sospiri choir sang in the chapel. The choir is conducted by Christopher Watson the Director of Music at St Edmunds Hall. The highlight was the Miserere mei by Gregorio Allegri where half the choir sang from the Antechapel producing a stunning effect. This is one of a series of concerts from the bequest of one of my predecessors, Maurice Platnaeur. I am glad to say that music is thriving at Brasenose under the influence of our excellent Director of Music, Christian Wilson.
Careers talks:
Some of my friends invited to dinner are literally "singing for their supper" and giving fascinating careers talks in the Platnaeur Room. This term we have welcomed Julia Palca and Nick Stevenson who spoke about careers in the charity and finance sector and John Reizenstein, a board member of Direct Line Insurance.
Postscripts:
I am delighted to say that we have a student, Arturo Villanuva, who will be in the Oxford Lightweight Rowing crew at the Henley Regatta on 19 March.