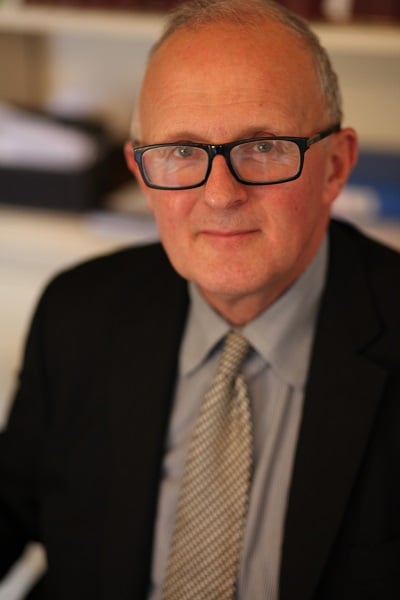 Our new Principal, John Bowers, shares more thoughts on the first few weeks of his time at the College.
10 December: HK
We arrived at the wonderful modern Hong Kong airport then drove downtown to the Hotel to a warm breeze unlike the cold London we had left. By coincidence we met Prof Hugh Collins, a former Law Fellow at Brasenose and a good friend, at the airport. He was on the same plane on an alumni trip for the Law Faculty. The weather was humid throughout our stay in Hong Kong and the pace frenetic. It was our first time in Hong Kong.
11 December: the Dynasty Club
We had a sparkling alumni reception at the Dynasty Club hosted by Sir David Akers Jones, former acting Governor of Hong Kong. Sir David matriculated in 1949. He has lived in Hong Kong since the 1950s and is (and has been for decades) a major figure there. The breadth of his experience in dealing with the sensitive relations between Hong Kong and the Chinese Government were fascinating.There were over twenty guests alumni at the reception and they covered most of the age ranges and subjects of the College – they were a mixture of locally born and expats. There I gave a short speech on our future plans at Brasenose followed by a lively Q and A session.
We also had several individual meetings in Hong Kong with alumni and then a fantastic banquet style lunch for 16 hosted by one of our alumni in his home, with sumptuous Chinese food spread over many courses. We detected throughout our various meetings some distinct nervousness in many of the conversations we had about the future in Hong Kong with increasing Chinese influence over the press and business. It was significant that on the day after our arrival Alibaba the Chinese internet giant had bought the venerable South China Morning Post. What was clear however in all our conversations was the faith in the British university system.
15 December: An audience with the Sultan:
We arrived in Kuala Lumpur on 14 Dec. This is hotter than Hong Kong but in some ways a nicer heat. Suzanne and I spent our honeymoon there in 1982. A great deal had changed of course, not least the increasing islamicisation of the country. We were invited (through Jeffrey Cheah) to an audience with the Sultan of Perak in his sumptuous palace in Kuala Lumpur (and we later visited his home near Ipoh). He had read PPE at Worcester College, Oxford. He was a charming man with an interest in Humanitarian Finance which chimed in greatly with Suzanne's research interest. When I grew up in Cleethorpes I never imagined I would be welcomed into a Sultan's palace!
We also went to a very special dinner hosted for us in KL at which the British High Commissioner was a guest. Another guest was Miles Toulmin a Brasenose alumnus who having worked in industry later became a priest and was now based in KL. He had a few years ago preached in our chapel.
17 December: Religion and human rights: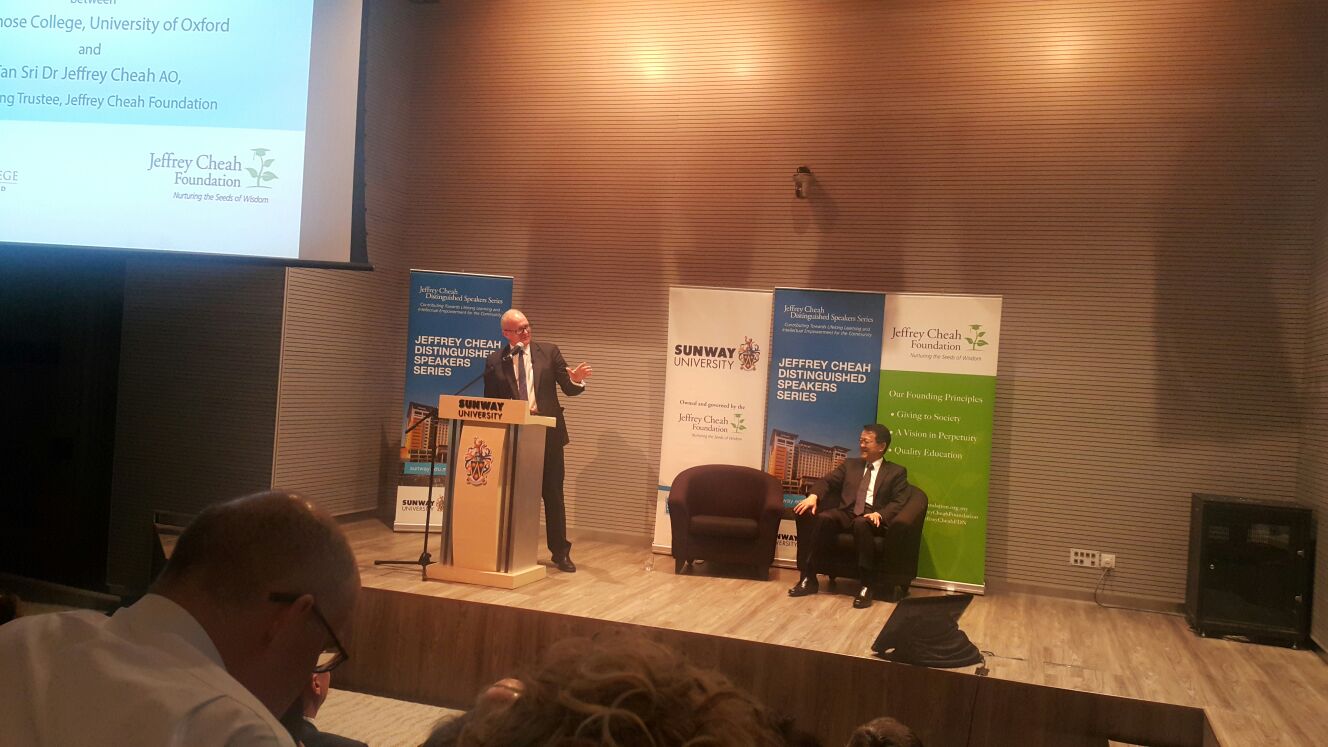 I gave a lecture at Sunway University in the Jeffrey Cheah Distinguished Speakers series on the subject of human rights and religion (as pictured). I spoke in a newly built state of the art lecture theatre there. When some weeks ago I suggested the topics to the lecture organisers, I did not realise how controversial this issue now is in Malaysia but I had fortunately limited its reach to Europe. Some 250 people attended with representatives from many faiths. I covered the approach of the English and European courts to such matters as ritual circumcision, access to religious schools and wearing of religious insignia.
Many of the questioners sought to inject Malaysian dimension into their questions but I sidestepped by emphasising I had only at that time spent 28 hours there and did not know the full situation. After the lecture the memorandum of agreement between Brasenose and the Jeffrey Cheah Foundation was announced to the assembled crowd. A photo of Tan Sri Jeffrey Cheah and myself appeared in the Star a national Malaysian newspaper. Jeffrey Cheah was as usual a most gracious host and even arranged for cheese and port to be served at the dinner afterwards, as he had noticed on his visit to Brasenose that this was part of our ritual! We also hosted a tea at our Hotel for four alumni now based in Malaysia.
General thoughts:
These features were clear in every visit we made and interchange we had in both Hong Kong and Malaysia: the depth of affection of all of the Brasenose alumni for the College; the affection in which all held their tutors (indeed in this regard the same names kept coming up); the interest in keeping up networks with other alumni of all ages and the need for the UK to maintain a liberal immigration policy.