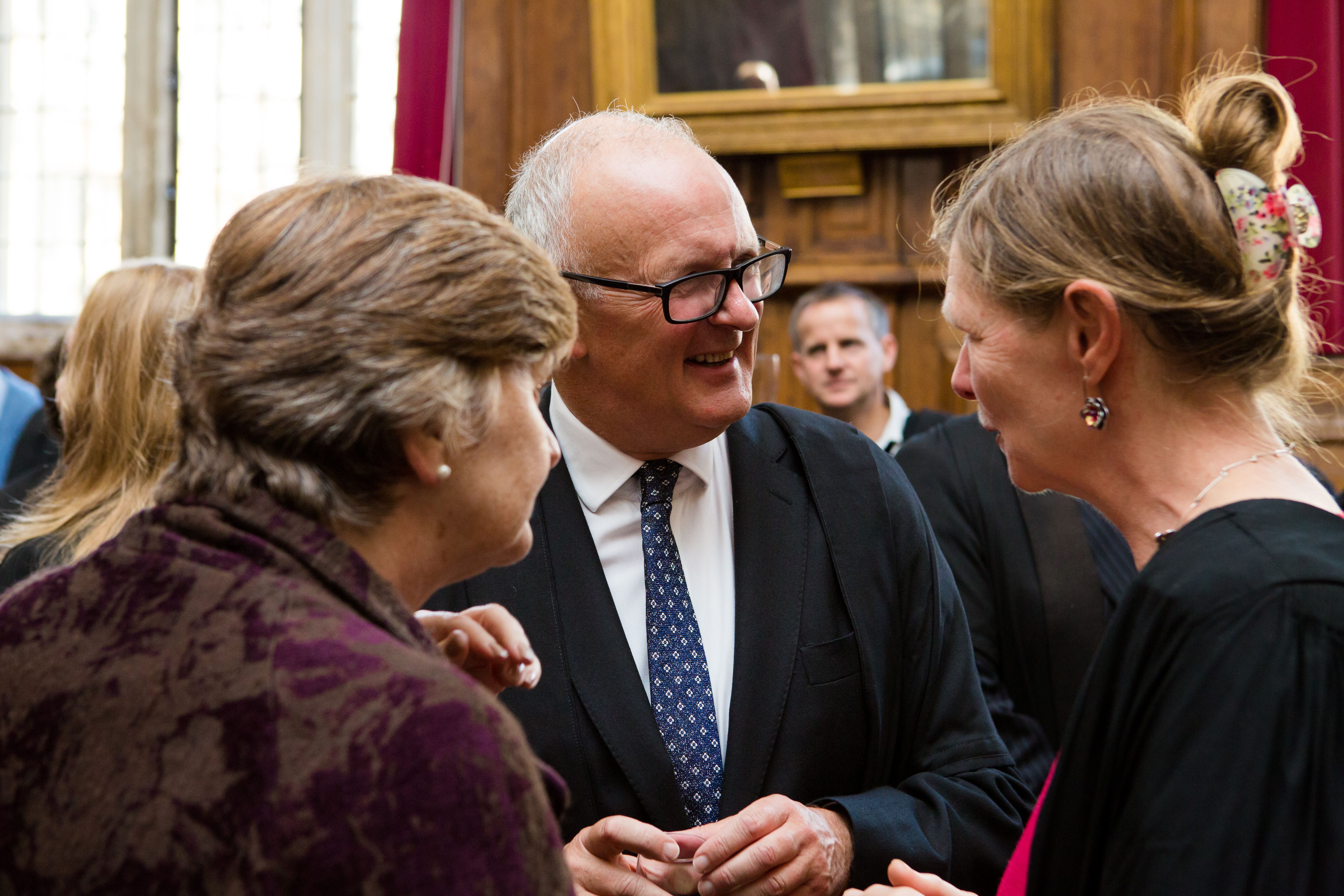 Our new Principal, John Bowers, shares more thoughts on the first few weeks of his time at the College:
11 Oct: First Chapel:
I attended my first chapel service. This was aimed primarily at Freshers of whom, I naturally feel I am one. The music under the direction of Christian Wilson our new Director of Music was very special. The Chaplain in his Sermon gave out the important messages that one can enjoy Oxford and remain human and that it was necessary to keep Oxford in perspective. I strongly endorse that approach. It was wonderful to see a packed chapel for the first service.
12 Oct: the new "boss":
I had dinner with Louise Richardson the Vice Chancellor Elect of the University together with other Heads of House at St Hugh's College (where I used to be a weekend lecturer). She is warm and approachable and is very much in a listening mode at the present time.
13 Oct: the old boss:
I was invited to the High Sheriff Law Lecture given by Lord Dyson, the Master of the Rolls. I have appeared before him as an advocate several times and normally he is asking me direct (and of course highly perceptive and usually difficult) questions. I got to ask him one after the lecture, although it probably did not count as a highly perceptive one. He spoke about "Magna Carta and the compensation culture" and demonstrated that many of the media stories about vast sums of money being paid for what appear trivial wrongs are untrue or exaggerated. The event was held at the Examination Schools, and it was the first time I had returned since painful experiences many years ago as an undergraduate (then answering perceptive questions in writing). The Bodleian Library had brought to the centre of the hall one of the Magna Carta parchments from 1217 which was extraordinary to see. I had not realised that 4 of the 17 copies are in the Bodleian.
General:
Many of my blog readers (well one reader in truth) have been asking me (a) whether I am still training in the gym every day and (b) whether they can come to learn from me how to do training. The answer to (a) is yes but negative to (b) as it would expose my miserable efforts to too much public scrutiny!
I do not know whether there have been any studies of this but I believe I am the first Head of House in living memory to have lost weight in the first few weeks. That is not to say the food here in Brasenose is not good; it is brilliant in fact. It is because Mrs Principal has ensured that I am served fruit rather than puddings! I am getting used to using the gavel on High Table although I do have a fear that our estimable Bible Clerk Megan Burnside will one day be absent from Hall and I will have to recite the Latin grace without notes. She does it so effortlessly.
I enjoy sending birthday cards to some of our old members. I have had the privilege already of sending two to serving Prime Ministers, David Cameron and Malcolm Turnbull.
Congratulations to all the reps who organised Freshers Week last week and all Freshers who survived the amazing range of activities.