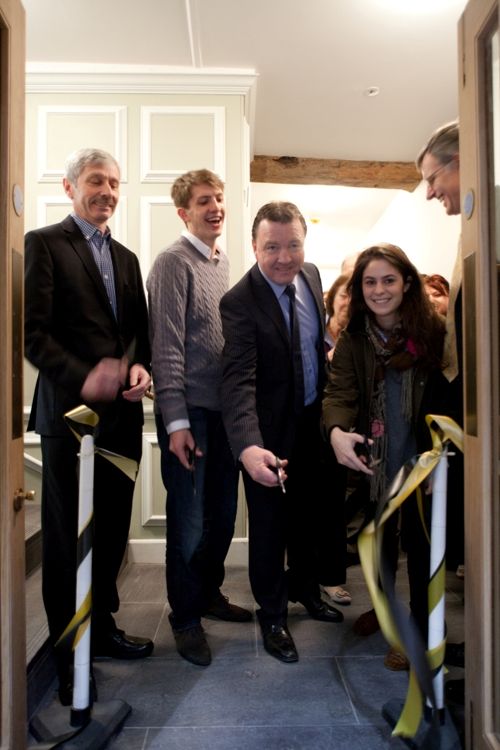 The College was delighted to unveil new catering facilities during a ceremony and complimentary breakfast for staff and students on the 14th of March.
Fabulous new modern kitchens have been installed, with state-of-the-art cooking equipment fit for the 21st century, helping our chefs to continue to provide excellent food for up to 500 students per day. Lorraine Watkins, our head chef, commented: "we are all very excited about the new kitchen and the team all want to come up with new ideas for the menu".  The kitchens were officially opened by representatives of the undergraduate, graduate, staff and academic communities during a ribbon cutting ceremony (photo, left).
A beautiful new dining facility has also been created in a fully restored 15th century building in the heart of college, originally the college kitchens and most recently used as the servery. The new dining space, to be known as the Mediaeval Kitchen (photo, below right) will complement the existing 16th century dining hall, which will remain the main location for student meals. A new servery, where students will collect their meals, has also been added. Philip Parker, Bursar, comments: "This has bee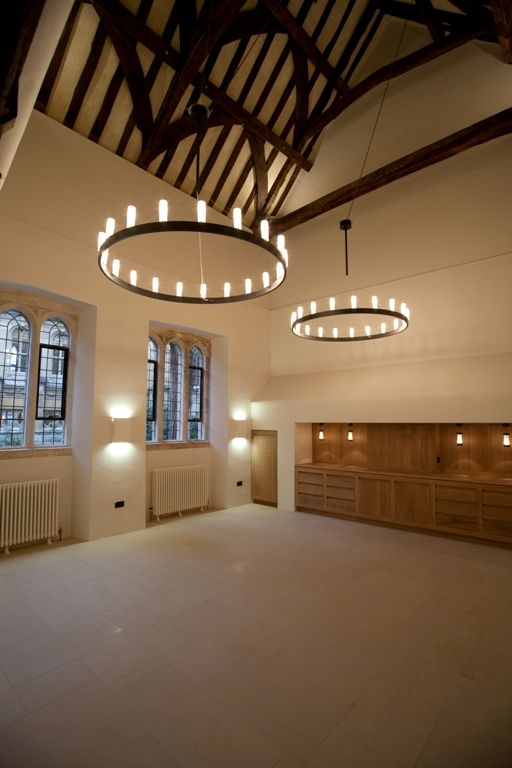 n a huge and complex project, but we have finished on time and within budget. The design and construction have been to a very high standard and we are delighted with the resulting buildings which are both beautiful and functional. The architects at Berman Guedes Stretton, the builders at Kingerlee, and all the other consultants and contractors involved did an excellent job for the College."
During the building phase, two time capsules were placed in a cavity, sealed with a zinc lid, against the wall of a new rotunda built above the new kitchens. Brasenose students, from both the undergraduate and graduate community, contributed items to be frozen in time for centuries to come. Items included Fresher T-Shirts, a typical Dining Hall menu, programmes from Brasenose's Ale Verses and a photo of the graduate football team.
The unveiling of the new catering facilities marks the end of a long period of rejuvenation for Brasenose College, which also included the recent refurbishment of the Bar and the Dining Hall.
Photos curtsey of Berman Guedes Stretton