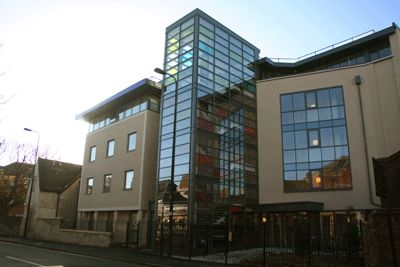 Brasenose College has won Oxford City Council's David Steel Sustainable Building Award  for its new graduate accommodation centre in Hollybush Row. The award is for environmentally friendly, resource efficient buildings and is named in honour of former council employee, David Steel, who died in 2006. Entries were judged by a panel of city councillors and officers.
Hollybush Row is centrally located, close to the railway station and Said Business School. Built in 2008, it comprises of single rooms with en suite bathrooms and shared kitchens. The building has doubled the accommodation that Brasenose can offer to its postgraduate students.
Dr John Knowland, former bursar of Brasenose College commented: "The college was keen to have as many environmentally friendly features as possible, and installed ground source heat pumps to provide heating in winter and cooling in summer, solar panels to heat water, and storage tanks to collect rainwater, which is used to flush the lavatories. With a very high level of thermal and acoustic insulation, the building requires very little energy and provides comfortable and quiet accommodation for its occupants in a busy part of Oxford."
The award was presented to Brasenose College at a ceremony at the Town Hall on the 23rd of September. Magdalen College School have also won a David Steel award for their recently built extension.
Read more about Graduate studies at Brasenose.