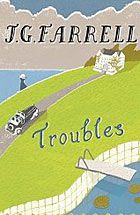 The novelist J G Farrell, who read Modern Languages at Brasenose College in the 1950s, has been posthumously awarded The Lost Man Booker Prize for his 1970 novel, Troubles.

Set in Ireland shortly after the First World War, Troubles tells the story of Major Brendan Archer, who has gone to County Waterford to visit a woman he thinks he may be engaged to marry. From her home, a run-down but once grand Irish hotel, he witnesses the Irish War of Independence unfold. The book is the first instalment of the Empire Trilogy; the second, The Siege of Krishnapur, won the Booker Prize in 1973.

J G Farrell was born in Liverpool in 1935 and moved to Dublin in 1947. Before coming to Brasenose, he worked in the Canadian arctic and toured America in a second-hand Chrysler. In his first term, he contracted polio and spent time recuperating in an iron lung before resuming his studies.  Tragically, he drowned in 1979 whilst fishing in stormy weather in a remote area of County Cork.

The Lost Man Booker Prize is a one-off award designed to honour the books of 1970, all of which evaded consideration as the Booker Prize ceased to be awarded retrospectively and became a prize for the best novel of the year of publication, as it is today.

Read more about the Lost Man Booker Prize.