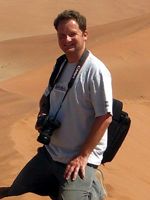 Dr Giles Wiggs, Brasenose Fellow in Geography and University Reader in Aeolian Geomorphology, has been awarded a Natural Environment Research Council grant, in conjunction with colleagues at Oxford University, the University of Sheffield, Imperial College, the Met Office and the University of Cape Town. The £1.2 million grant funds a project to model dust emission based on observed data sets rather than simulations.

Desert dust is an important part of the Earth's geosphere, atmosphere and biosphere. It affects climate warming, ocean fertilization, landscape productivity and human health. Desert winds are able to move vast amounts of dust over the Earth's surface and into the atmosphere. North Africa alone emits 500-1000 million tons of dust a year. To predict future weather and climate it is crucial that atmospheric models include the emission, transport and deposition of dust. However, many of the major dust source regions of the world are in extremely remote places for which there are no ground-based data on dust. The project aims to develop the first dust emission scheme for atmospheric modelling which is based on observed data, using high-resolution satellite data and field work. 

Dr Wiggs, a world leading expert in aeolian sediment transport, will be travelling to the Namib and Kalahari Deserts for the project. He teaches on several courses for the BA in Geography, including the Dryland Environments special subject for second and third year students.

Read more about Geography at Brasenose and Dr Wiggs.