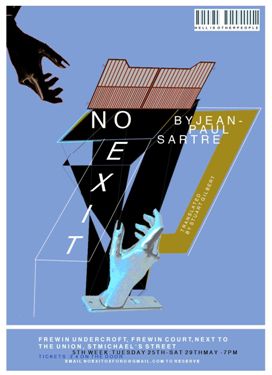 A performance of John-Paul Sartre's one-act masterpiece, No Exit was shown in the Frewin Undercroft from Tuesday 25th May to Saturday 29th May.

In No Exit three wildly different people meet in hell, only to get sucked into each others' vicious power games and realise where the torture is really coming from. Perhaps Sartre's best known play, the work contains the famous line "L'enfer, c'est les autres", usually translated as "Hell is other people". Featuring only four characters and one set, No Exit was written during the Second World War and first performed at the Théâtre du Vieux-Colombier a few months before the liberation of Paris.

The play was produced by Peter Burgess (Ancient and Modern History - 2nd year) and featured Tom Wales (French - 1st Year) and Jamie Randall (Classics - 2nd Year).

No Exit was performed at the Frewin Undercroft on St Michael's Lane from 25th-29th May at 7pm every evening. Tickets were £4.