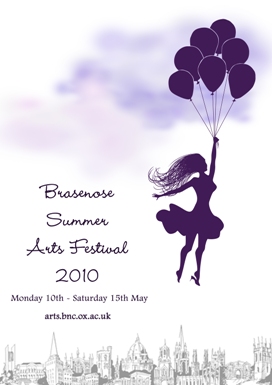 The annual Brasenose Arts Festival began on Monday 10th May. The festival featured six days of open-air plays, music concerts, workshops, poetry readings and exhibitions as well as an outdoor summer bar, all organised by Brasenose students. Highlights included a performance of 'Dirty Linen' by Tom Stoppard; an Art Exhibition be open daily, displaying a collection of fine art, photography, sculpture and short films; the Shakespeare-a-thon, a dramatic read-through of the complete works of the bard; a Classical Concert; Speaker's Corner; a Cabaret showcasing the College's eclectic talent; and a 1950s Theme Night.

The Brasenose Arts Festival is the second-largest arts week event in Oxford, after the Turl Street Arts Festival. It was the culmination of months of planning and organisation by the Arts Festival Committee, headed by Louisa Jones (Music 2nd Year) and Gavin Fourie (Physics 2nd Year). Tickets could be bought in person at Brasenose Lodge during the week of the Festival and were priced as follows:

Day pass: £5 (£4 concessions)
Week pass: £10 (£9 concessions)

Visit the Brasenose Arts Festival website for a programme of events and further details.