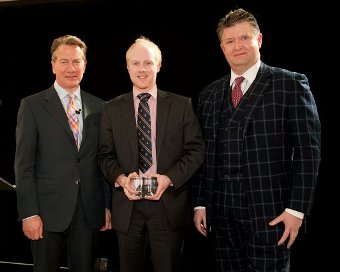 Richard Hoyle, currently studying Law at Brasenose College, has won this year's TARGETjobs national Law Undergraduate of the Year title. The competition, sponsored by Mayer Brown, featured three stages of assessment, and culminated with an award ceremony held at Canary Wharf on the 16
th
of April. Richard, currently on a placement at the University of Bonn as part of his Law Studies in Europe course, beat off close to 300 competitors to win the award. He wins a place on Mayer Brown's Summer Work Experience Programme, which includes a trip to their Brussels offices.
Richard commented, "I am delighted to have won this award in the face of stiff competition from some of the UK's best Law undergraduates. I hope that the Award will be a springboard to further success when I seek to enter the legal profession in a few years time, and on a general level, I am sure that being chosen for such an honour will reflect favourably on the College. Brasenose has a great legal tradition and I'm very pleased to be a part of that."
The photograph shows Richard collecting the award from Michael Portillo (who hosted the awards) and William Charnley, a partner in corporate practice with Mayer Brown.