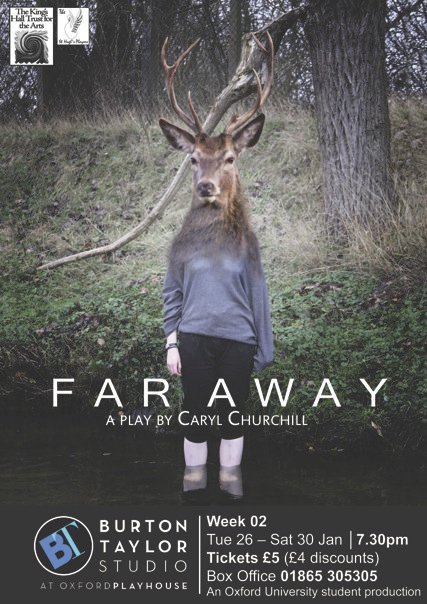 Brasenose undergraduates directed and produced Far Away, a play showing from Tuesday 26th January to Saturday 30th January 2010 at the Burton Taylor Studio, Gloucester Street.
Far Away is a one-act play by Caryl Churchill, which deals with themes of war, loyalty, and the human response to extreme conditions. The production by the Macondo Theatre Company will emphasise personal rather than political conflict in the play and share with the audience Churchill's joy in dislocating ordinary language and situations.
The play begins with Joan, a young girl staying at her aunt Harper's house, who is having trouble sleeping. Harper thinks the problem is the strange bed; but the situation is more complex than it seems. Far Away moves from this state of seeming innocence to two scenes later in Joan's adult life where the world around her becomes increasingly difficult to trust.
The play was directed by Richard O'Brien (English and Modern Languages 2nd Year) and Robert Williams (English and Classics 2nd Year), with Ally Smith (PPE 2nd Year) as the Production Manager.