From the 19th to the 24th of March, we undertook one of the most important and most ground-breaking events of the entire Brasenose calendar: the North Yorkshire Roadshow. Monumental, not just for the college, but for me as well - coming from Cornwall, this would be the furthest north I had even been in England (nearly the UK save for an incredible outreach trip to Belfast two weeks before). Brasenose is immensely proud of our outreach work with the area, and the week is a huge part of that. It was my first of hopefully many trips up North, and the pressure was on.
So, on Sunday, we assembled one of the greatest teams the world of outreach has ever seen. Think 90s Chicago Bulls if they all talked about university life rather than played Basketball. Brasenose was represented by myself, the always phenomenal Joe Organ, and our magnificent JCR Access and Admissions Rep Erin (2nd Year History). Making up the second half of Oxbridge, we were joined by Liza (Schools Liaison and Outreach Officer), Tom (External Partnerships and Outreach Officer), and Rachel (2nd Year Natural Sciences) from our ally in North Yorks, St. Catharine's College, Cambridge. University rivalries were put aside, we armed ourselves with a frankly obscene amount of university branded bookmarks to hand out, and we set out up the M1.
After an eye-opening experience with my first every cup of Yorkshire tea, the week of school visits began. A fun game of mix-and-match occupied most car rides, where the six of us decided how we would split up so we could tackle multiple schools at once, and I'm pretty sure we tried almost every possible combination. While the personnel changed, the quality of the visits never faltered.
At the schools, we would briefly introduce Oxbridge, and dispel any myths the students might have believed. Topics included student finance, workloads, applications and admissions, and whether Oxbridge students ever got to have any fun (yes, they do). Talking to students ranging from years 10 – 12, there was always a variety in what students were wondering, or what they may have been worrying about. Being able to discuss these with them, and to hear some of the students who were previously sceptical say that they were now considering applying was a very rewarding experience.
The highlight of the talks however, was when we inevitably broke out into smaller groups for general Q&As, especially when we divided the groups by subjects. It made me incredibly happy to see a great number of potential psychology applicants, and I genuinely loved the discussions we had. I wish them all the best for the future.
I'm also extremely proud to say that the team held up an amazing level of energy throughout the entire week, no mean feat when visiting around 20 schools. In just five days, we managed to hit: Lady Lumleys, Malton, Norton, Rydale, Scarborough Sixth Form, UTC Scarborough, Whitby Caedmon, Thirsk, Northallerton, Easing, Stokesley, Richmond, St Xavier, Bedale, Ripon, Skipton Ermysted, Skipton Girls, South Craven, Greenhead, Ilkley, Harrogate Grammar, Rosset, St. Aidan's, King James, Tadcaster and Sherburn. This truly was a feat of organisation from Joe and Liza, the likes of which the world has never seen.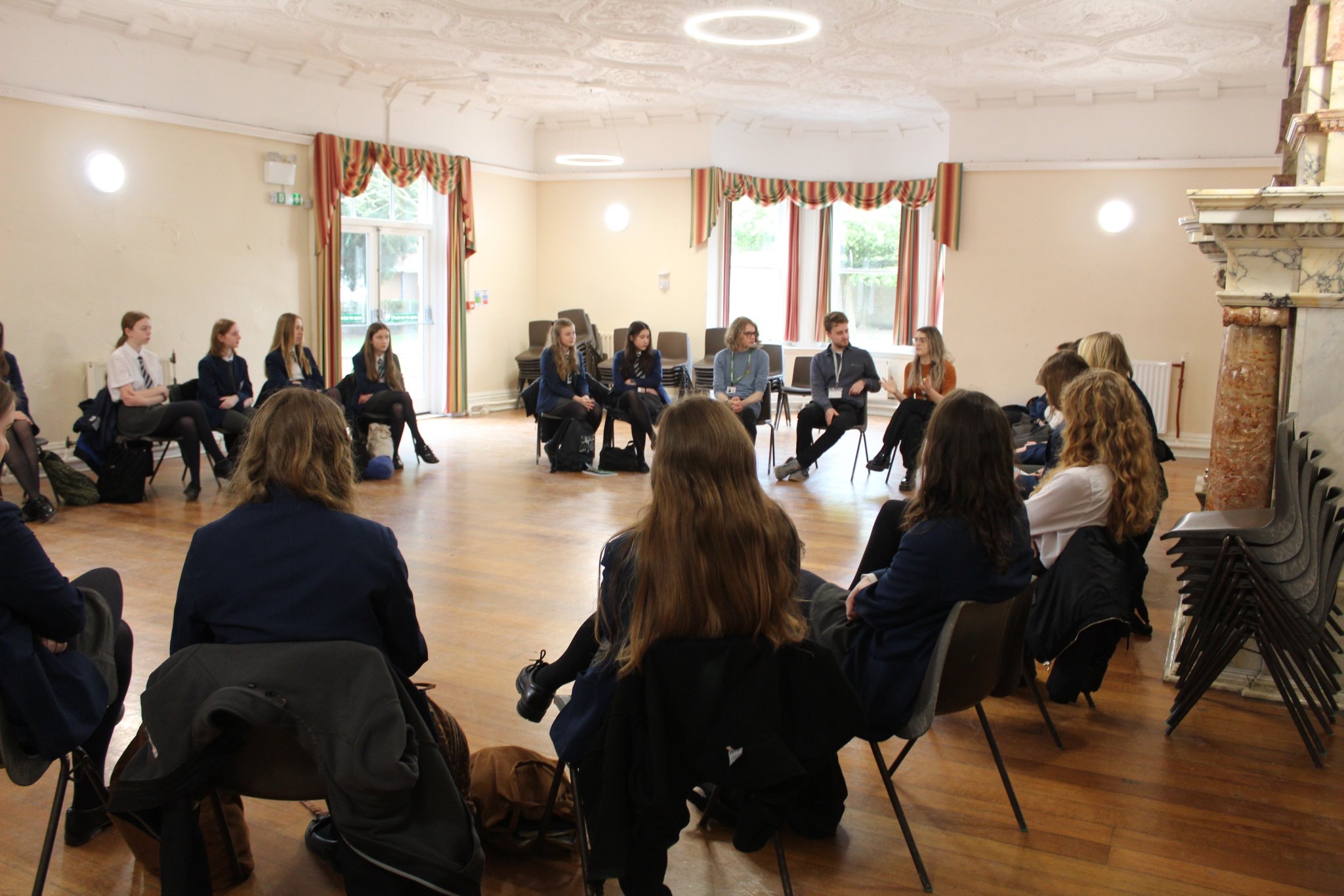 After a day of visits, we would partake in a lively car ride in our minivan, traditionally named The Beast, to our overnight accommodation, and then a night of relaxation, great food and card games. It was wonderful to see how well the group got along, and I am very excited for our next venture into north.
The trip really has been a highlight of my time here at Brasenose. It was incredibly fulfilling being able to chat to the students, and to hear their aspirations. I have no doubt that all of the students we spoke to have the potential to make incredible applications, and I hope to see some familiar names during our application cycle come October.