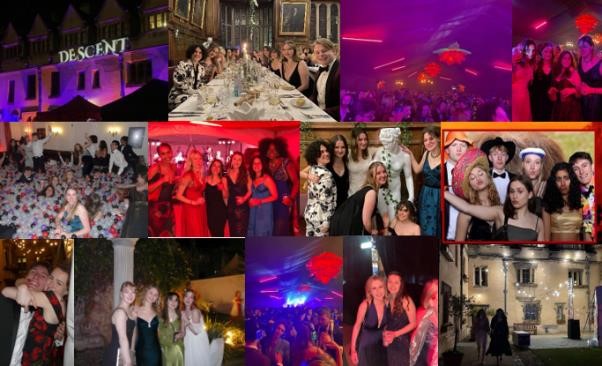 After two years of gatherings no larger than six people, limited socialising and online events, the Brasenose Ball, was given the go ahead for February 2022. Preparations for the highly anticipated 'Descent' themed event, almost two years in the making, began in college on the week of the ball. Marquees were put up, statues were carried in, and everyone was intrigued as to how the complete picture would look.
When the big day did come, the college looked incredible. Lit by hanging fairy lights, the college had been transformed into a Grecian underworld, with ivy adorned columns and stone statues. No-one went hungry and a delicious dinner was served in the beautifully-decorated dining hall, along with several food stalls serving a variety of cuisines, including Tibetan curries, ribs, paella, and hot doughnuts (a highlight for many). If that wasn't enough, there were three bars serving 'Descent' themed cocktails and mocktails.
Throughout the night, there was always something to do. As well as several musical performances including Garfunkel and Horse Meat Disco happening in New Quad and Old Quad, Hall was converted into a laser tag arena, and the JCR into a karaoke bar. The chapel was home to an amazing balloon modeller, and photobooths where many a memory was captured in film. Other highlights include the shisha tent, pole dancing performances and my personal favourite, the ball pit. The bar was also made into a 'chill zone' for anyone who needed some quiet.
The night flew by with hours of singing, dancing, and socialising, broken up only by a short break to change from our high heels to trainers. In true Brasenose fashion, the Ball ended with a silent disco in the early hours of the morning. Those left standing at 5am were rewarded with a survivor's breakfast, before heading off for a well deserved rest.
This incredible event was a true testament to the hard work of the ball committee, led by Elin Donnelly, and our team of porters who all worked so hard to make sure over a thousand guests were all safe and happy. The next Brasenose Ball will be after I graduate but if it's anything like this one, it will certainly be worth coming back for.
By Maya Sankaran (Second Year Geography)