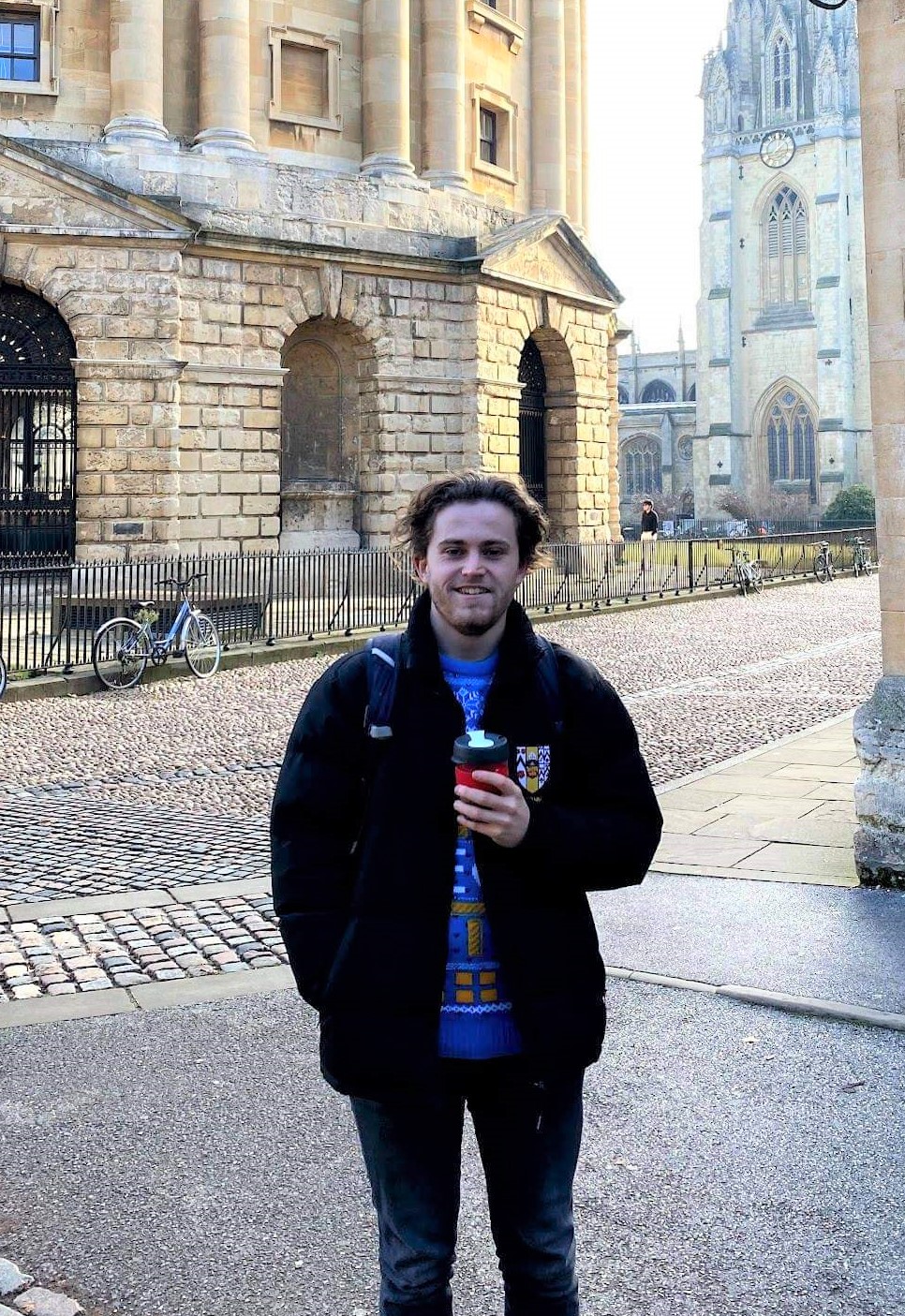 Brasenose College undergraduate student have achieved stunning success in their final examinations, with 47 First Class awards out of 97. Overall, 95% of final exam students achieved a 2:1 classification or higher.
Not least given the context of a global pandemic, we would like to express our gratitude to our inspirational students for achieving such stellar results, but also to the whole Brasenose community for teaching, feeding, supporting and keeping them safe throughout these difficult times.
Although we are proud of every one of our completing undergraduates irrespective of their final mark, special praise is given to Law (with 8 students achieving Firsts), Biochemistry (with a clean sweep of Firsts) and Physics (another clean sweep). Brasenose students also won several prizes, awarded for notable performances overall or in particular exams.
Jack, a Biochemistry student (pictured on Brasenose Lane next to the College), from Oldham Blue Coat school originally, commented "I was always aware that I wasn't the typical Oxford student. It was constantly in the back of my mind that I was the first in my family to go to university, but Brasenose very quickly became my home. The friendliness of the staff and the camaraderie between fellow students is what helped me through the hardest parts of my degree, and were it not for that, I wouldn't have got to the position I am now- with a First from Oxford, about to begin my PhD! The very first time I set foot in Brasenose, I remember telling myself that if I could work hard enough to study here, I would. Luckily the college was the perfect fit, and I wouldn't change it for the World. I'm so glad I'm only half-way through my time here"
Josh, a Physics student from Northallerton in North Yorkshire, commented more succinctly on the moment he learnt he had a First "I was eating lunch at the time and literally spat food everywhere"
Diversity is a key focus for Brasenose College and again our finalists come from a wide variety of backgrounds and are largely state educated. The UK former schools of our completing students include South Nottinghamshire Academy, Runshaw Academy, Carmel College Darlington, King Edward VI Five Ways Birmingham, Woodfarm High School Glasgow, Ermysted's School Skipton, Wilson's School Sutton, Bexley Grammar School, Dereham 6th Form College Norfolk, Camden School for Girls, St Joseph's Catholic School Swindon, Easingwold Outwood Academy, Manchester Grammar School and many more.
Senior Tutor, Dr Simon Smith, said: "Our students have achieved wonderful results through their hard work and the guidance of their Tutors. Brasenose is a genuinely friendly, welcoming and supportive College. From admissions to graduation, we take great care over the student experience and our strong College community is the foundation on which results like these are based."
Although most of our finalist students most have left Oxford, they are always welcome back and remain a member of the Brasenose community for life. Aptly enough the next crop of Brasenose undergraduates, who will join us in October, have this week received their A-level results and we are very much looking forward to meeting them all.
If you are interested in applying for undergraduate study in October please visit here and also consider engaging with our virtual open day on 17th September. Try the student takeovers on Instagram @brasenosejcr and also have a look at our prospectus, our alternative prospectus, and videos, as well as twitter @brasenosenews. Why not read some students views in blog posts from Brasenose students Liberty, Jackson, Joel, Fran, Krishan, Eleanor, Chris, Tom, Phoebe, Macy. Brasenose is located at the very heart of the cosmopolitan city of Oxford, and is able to offer single bedrooms to undergraduates for all years of study.
An admissions report for the 2021 entry admissions round provides some further statistics.