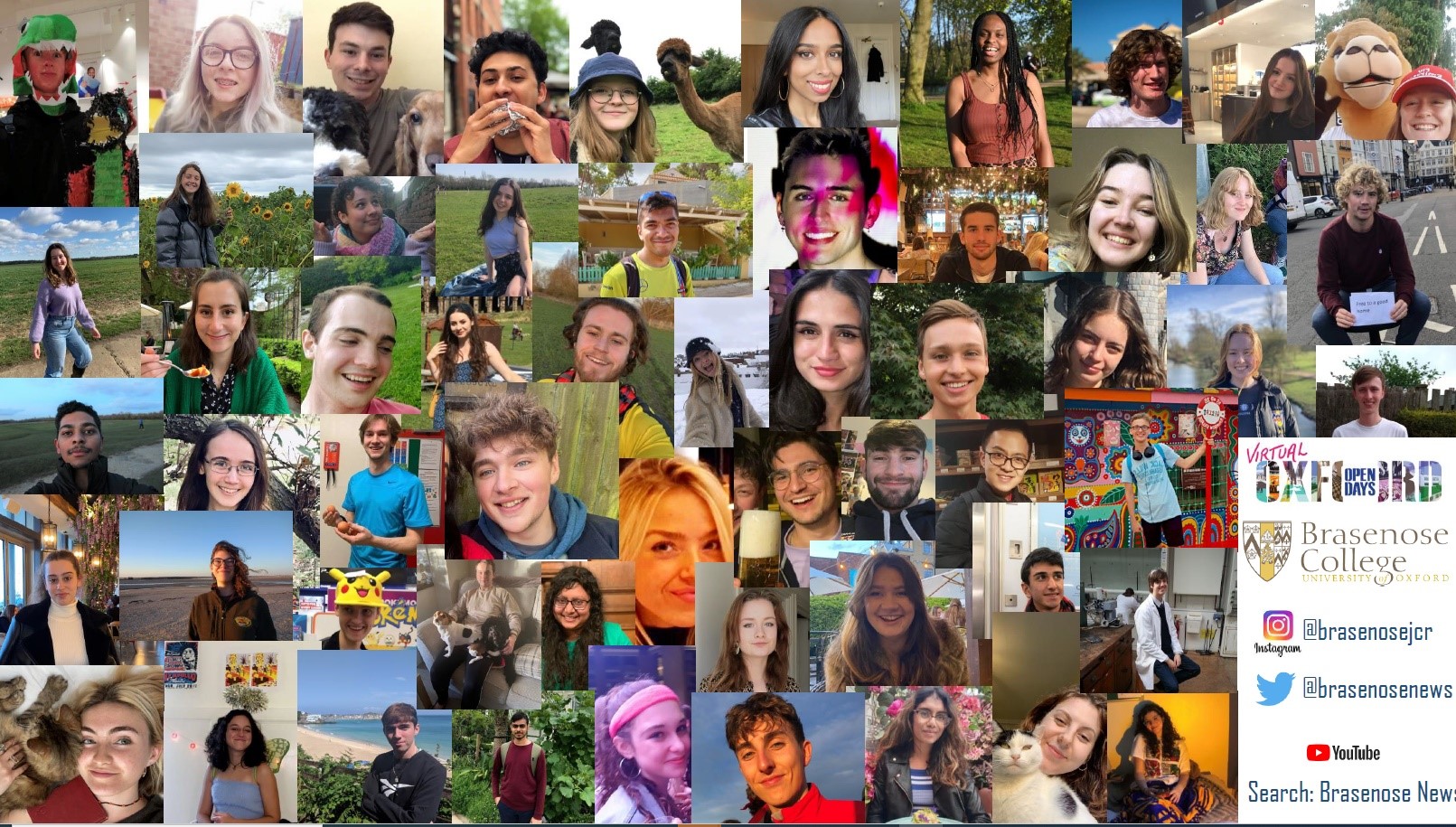 The next undergraduate Open Days at Brasenose College will be Wednesday and Thursday 30th June and 1st July. They will take place entirely online and will be held as part of the University of Oxford open days. The College will have its own Open Days page featuring videos and a live student Q+A held 8am-4pm - with over 60 student helpers (as pictured) from all subjects on duty at various times during the days. We will also run live virtual tours all day. To join our YouTube Open Days livestream click:
Wednesday 30th June 8am-4pm: https://youtu.be/A16mV4rq28w
Thursday 1st July 8am-4pm: https://youtu.be/WiEnuFNZQ7c
We know that these online Open Days won't be quite the same as visiting in person but we aim to give visitors a warm welcome and a genuine insight into student life and learning at Brasenose College.
Anna Wright, who is helping with the Open Days at Brasenose, commented: "Open Days were a major decider in whether I thought I could apply to Oxford or not. As a Year 12 at one of the college's outreach schools in North Yorkshire I was invited to stay in Brasenose for the night, and as soon as I arrived I fell in love with the place. The students were some of the kindest people I had ever met, answering all my questions, giving me directions and playing games in the evening with everyone who was staying. At the time I had no idea whether I wanted to study Biology, Human Sciences or Geography, but after an hour of chatting to Giles (who is now one of my lovely tutors!) about all things geography, secondary school and Oxford, it was as though by chance I had been dropped into a place where I felt at home. Whilst most of us will be a long way from Oxford for this year's Open Days, I can't recommend coming along enough to see for yourselves how wonderful and enthusiastic our students are, and to pick the brains of some of our tutors!"
In October Brasenose has a diverse sets of students joining the College - over 80% of whom will be from state schools, amongst the UK freshers (read more about our intake here statistics here). Despite the current global pandemic, we are thinking about the next crop of brilliant applicants and would love you to visit our Open Days webpage so you can see if Brasenose could be for you.
Follow us on during the Open Days and beyond at @brasenosejcr (Instagram) and @Brasenosenews (Twitter) - where will also introduce our student helpers.
The Brasenose Open Days coincide with the wider virtual University Open Days, where colleges, departments, libraries, museums and other parts of the University are open and running activities.
See here our Open Days web page and have a look at our prospectuses