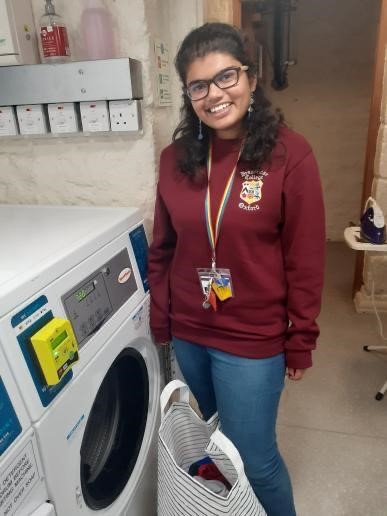 Leaving my friends and family and moving to a new city to essentially, live with strangers was always going to be difficult. But this, combined with restrictions in place to stop a pandemic, made the prospect of Freshers Week at Brasenose all the more daunting. In addition to concerns about my social life, A-level exams being cancelled meant six months locked inside. While some had used this extra time to engage in academic pursuits, I spent the entire time baking banana bread and watching TikToks, which actually caused my attention span to reduce to the extent, that sitting through anything longer than a minute became a challenge. My biggest fears were that I wouldn't fit it at all, I'd have no friends, and everyone would think (as I thought at the time) that I was just there to fill some kind of diversity quota. I could not have been more wrong.
I knew that coming from London to Oxford was going to be a change in terms of being visibly different to most other people and this was the weirdest thing to get my head around. However, I soon found that, whilst Oxford is no London, the minority students that are here form a very close bond with each other. My favourite day this term was Diwali where there were sparklers on the quad organised by college to celebrate (socially distant of course!). Additionally, there are always people to talk to about feeling out of place as an ethnic minority including welfare reps, the diversity committee, and the college counsellor. It is so easy to perceive Oxford as only suitable for certain kind of person and you will meet people who fit this mould. However, students come to Brasenose from all over the country (and indeed the world) and from all walks of life. You very quickly realise that the vast majority of students here are fun, kind and actually want to be friends with you. It also becomes clear very quicky that a lot of people experience 'imposter syndrome' at some point and can very easily relate to you if you feel this way. No matter what, there's always people around to support you, should you need it and the way that the Brasenose community dealt with the pandemic showed this particularly well.
A normal freshers' week would have been filled with clubbing, pub crawls and other mass gathering which are now unheard of. These events were abandoned to be replaced with activities that could be done in small groups of less than six i.e., quiz nights, board games and murder mysteries. But contrary to what you might expect, whilst I cannot speak for everybody, I feel as though the relationships I've formed with people have been made much stronger due to this. When the only places you can go are Tesco and Pret, it's very clear that it's the people you're with are what really makes the experience fun. Instead of meeting an incredibly large number all at once we were able to spend more time with a smaller group of people forming a much closer bond that we perhaps would have done had we been able to mix with more people. Now, when everything opens up again (hopefully soon!) we'll be able to enjoy it with good friends we already know well.
Along with finding the best friends I could ask for, I started to properly enjoy my degree subject, so much more so than I had done at school. Being told that your degree is nothing more than colouring in, seems to be quite a common experience for anyone who studies Geography, and whilst the first task I got given in freshers week (an emoji quiz!) did nothing to change this perception, I have sadly not yet needed to bring out the colouring pencils. I'm not really sure what I was expecting but in those first few weeks I studied topics I didn't even previously consider to be geographical. From cyborg theory to sand dunes, every week was something new and exciting. Don't get me wrong- I'm not saying I like studying river systems as much as I enjoy studying post-colonial theory, but what I will say is that Geography as a subject is literally relevant to every part of life, and that's one of the reasons that I love it. I've also really enjoyed my tutorials which are the small group teaching sessions we have each week. Depending on the topics being studies that week, I've had a range of tutorials from presenting a topic I'd researched (erosion in deserts to be exact!) to more structured debates.
I can't pretend that I didn't find my first term difficult both socially and academically. Going from doing nothing all day to doing a full-time degree, away from home was never going to be a smooth transition and I definitely found myself frantically trying to finish an essay in the early hours of the morning on more occasions than I would like to admit. However, they don't call Brasenose the friendliest Oxford college for no reason, and I am so proud to now be able to call it my home. Every time I walk out of college and seen the Rad-Cam, I feel so lucky to be here. Whilst we never know what might have been had there been no pandemic, I feel as though I've made the best friends possible here and have absolutely fallen in love with life at Brasenose.
By Maya Sankaran - first year geographer