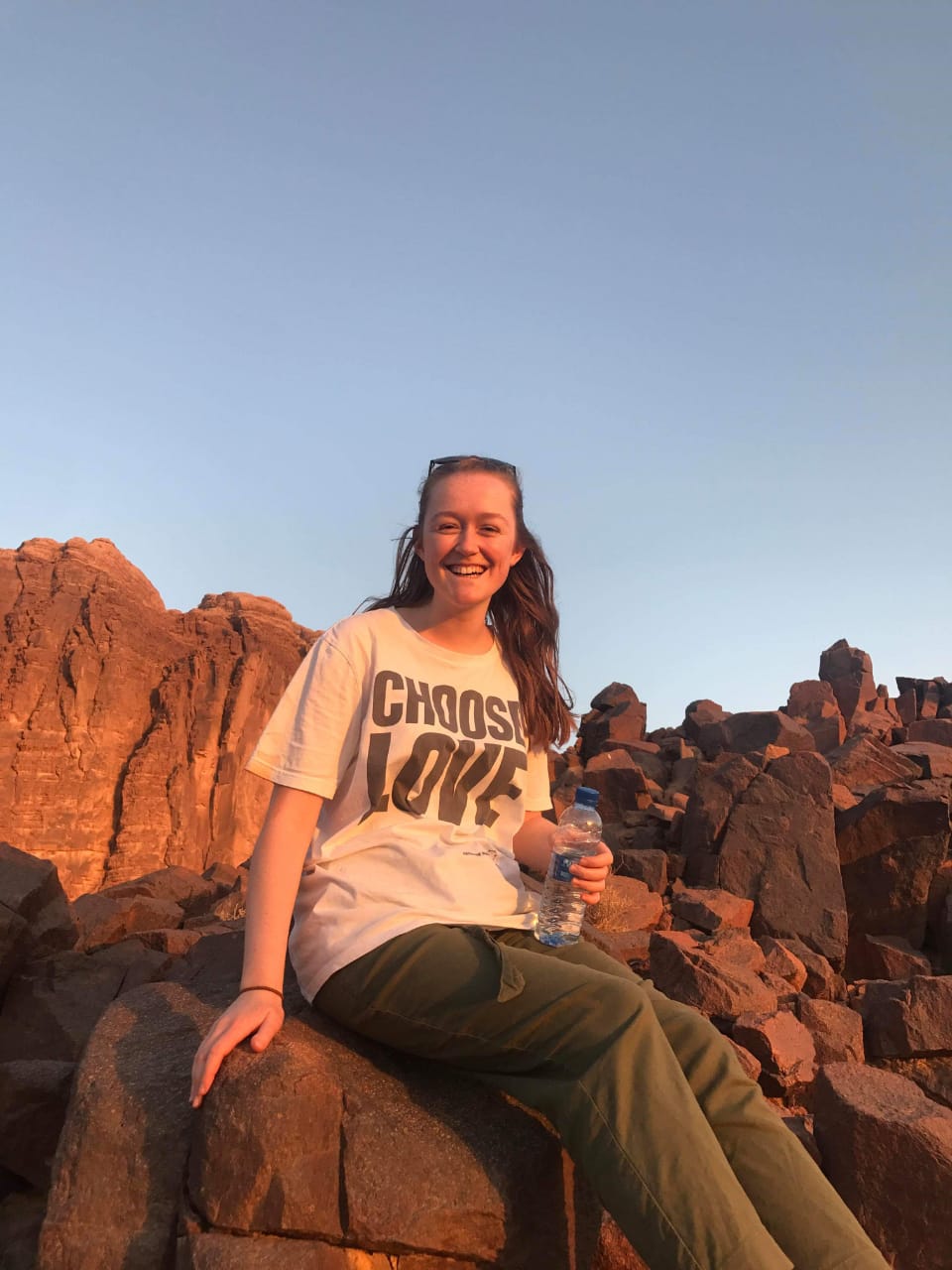 I'm in my second year at Brasenose studying French and Arabic, which finds me currently spending my year abroad in Jordan. Unlike most students of European languages who spend the 3rd year of their degree in a place of their choice doing something of their choice, often studying or working as a language assistant, students like me who choose to pick up a new language at university are sent abroad in their 2nd year. It's a more prescriptive year abroad to develop the new language, and we are recommended to use the adjacent summers to work on our European language. I suppose the idea is that the best way to learn a language is by being immersed in it, and that should happen early on. So, in September, not yet a year since I had learnt the alphabet and a few tentative first words, I moved to the Middle East, set to begin an academic year of intensive Arabic study.
During my final year of school, having received an offer for Oxford, I came across the Lonely Planet guide for Jordan in the bargain bucket of a Waterstones somewhere. Knowing that Jordan was where I'd spend my year abroad were I to get my grades, I bought and read the book as a sort of motivation to study for my A Levels and meet the offer. Evidently, the idea of a year abroad has long been exciting to me and was a major incentive to study languages; the opportunity to be immersed in a different language and culture, improve my language skills in the most natural way by engaging with native speakers, and explore a completely new place was an appealing challenge. As it has turned out, there's quite a lot of studying involved, and you apparently don't absorb a language to a degree of fluency without significant effort, but I think it's still an infinitely better way to learn a language than from textbooks.
Not to be confused with Oman (the travel agent in my town made this mistake and I narrowly avoided a flight to Muscat), Amman is an ancient city, capital of the relatively young country of Jordan. From my experience, most people know little more about Jordan than that it's home to the ancient city of Petra, and I was certainly one of those people before moving here. Armed with guide books and plenty of advice from previous year abroad students, my classmates and I have made it a sort of mission to see as much of Jordan and the region as possible during our time here. Happily, there's so much to see that with two months left, I've reached a sort of panic mode where a weekend without plans just isn't viable if I'm going to tick off everything left on my list. A small country but rich in history, culture and landscapes, Jordan is easy to explore with a hire car and a feisty approach to the roads. From Amman in the north, you can reach more remote towns, Roman ruins, and surprisingly green countryside with lots of lovely wild flowers in the spring. Travel further south and beside trekking in Petra, you can camp in deserts and nature reserves, float in the Dead Sea, dive in the Red Sea, and explore various ancient towns, castles and ruins.
If you can't make it out of Amman, there is plenty to see and do within the city, not least sampling the local cuisine. Eating out is drastically cheaper than in Oxford – just last week I took my visiting family out for a huge meal for the equivalent of £8 – and even cheaper if you know to avoid tourist/expat traps. It's also delicious, eclectic and good for vegetarians. Understandably, I use this as an excuse to eat out a stupid amount, making the most not only of the price but the incredible quality and variety before going back to Oxford. As good as Hassan's (the popular kebab van near Brasenose) is, I just struggle to believe his falafel wrap will taste as good when costing 10 times what I've become used to paying. Wary of this impending reverse culture shock (??) when I return to Oxford, I am nurturing my cooking skills here. The Jordanian population is in general extremely friendly, hospitable and keen to share their culture. Food is by no means a small part of this culture, and teachers at my language school have frequently used lesson time to teach us to cook (with keen supervision) traditional dishes, which I hope to be able to recreate at home.
Jordan borders Syria, Iraq, Saudi Arabia and the West Bank, so you'd be forgiven for thinking that we wouldn't be leaving the country in the course of our travels. In fact, many students have visited nearby Arabic speaking countries such as Lebanon, Egypt and Oman, testing their understanding of different dialects. It's also fairly simple to cross the border westwards and visit Biblical and historical sites throughout Palestine – I even had a friend travel to Bethlehem for Christmas!
As I implied earlier, the year abroad is not all travelling and fun, and any student you talk to who has studied abroad will undoubtedly also speak of the many challenges the year abroad poses. There's a lot of adjustment to a new culture, place, and just the feeling of being a long way from your family and friends. Although not a catch-all approach (some people's situations may not have been as simple and easy as mine fortunately was), my experience has essentially been 'you get out what you put in'. So here's some general advice for anyone awaiting or considering a year abroad (prepare yourself for clichés):
Do new things! Upon finding that there was no women's netball or hockey club in the whole of Amman, and assessing the pavements in my area (that's a generous word) and deciding that it would be difficult to run without breaking an ankle, I searched for alternative ways to stay fit. Playing football and volleyball in mixed gender, mixed nationality groups has been a fab way to meet people from all over and get exercise. Other friends play tennis, rugby or take dance classes in various styles, from ballet to oriental.
Take opportunities! Following friends to a jazz bar despite my mood that evening led me to meet a friendly lady who set me up with an internship with a Jordanian chocolate company (!!), and a similar attitude saw me spending a night acting as an extra in a Swedish Netflix series. Experiences like these are also incentive to keep a diary of some description.
Challenge yourself but know your limits. Within the first couple of weeks I went alone to an entirely Arabic speaking church and stubbornly refused the translation headset on offer (weird because I spoke next to no Arabic at the time). While I basically just smiled and nodded at the very loud and enthusiastic pastor throughout, avoiding eye contact at moments when I feared he might want congregation participation, and realistically didn't get much out of it, returning throughout the year and understanding more and more of the service has been incredibly rewarding. Put yourself in immersive contexts but set realistic goals and don't feel bad for watching films in English or calling home.
As much as learning colloquial Arabic and Modern Standard Arabic at the same time (while also trying to keep up my French) has been a headache, and certain cultural issues still feel like minefields 8 months in, the year abroad so far has done everything to affirm why I chose to study languages. Perhaps thanks to the incredible hospitality and friendliness of Jordanian culture, whatever interest drew you to Arabic, there'll be someone to discuss that with you, share their point of view and ask your thoughts. In my opinion, there's no better way to learn about cultural issues - whether those of religion, politics, literature or gender dynamics – than by discussing these issues with the people they concern in their own language. It's incredibly rewarding, and you can't underestimate the impact you can have by being able to broach these topics in the local dialect; perhaps exacerbated by my very pale skin and borderline ginger hair, the reaction is typically initial surprise but very quickly respect, gratitude and sincerity. I can definitely advocate for the value of the year abroad in terms of both linguistic and personal development, and hope that this is just a taste of the opportunities to come beyond a degree in languages.
By Miriam Cakebread (formerly of the Burgate School)
Read more about studying languages at Brasenose College.