This year's Boat Race saw three Brasenose students compete.
Two of the students, Katie Anderson (Economics & Management, 2018) (pictured top left) and Juliette Allen (Geography, 2016) (pictured middle left), were in Osiris, the Women's Reserve Boat: Katie as stroke, and Juliette in the two seat.
Katie joined Brasenose having already won a gold medal for Team GB at junior level - Coupe de la Jeunesse – and naturally she joined OUWBC. Characterised by a ferocious work-ethic, it is a testament to her commitment and et that she was the stroke in Osiris as a Fresher.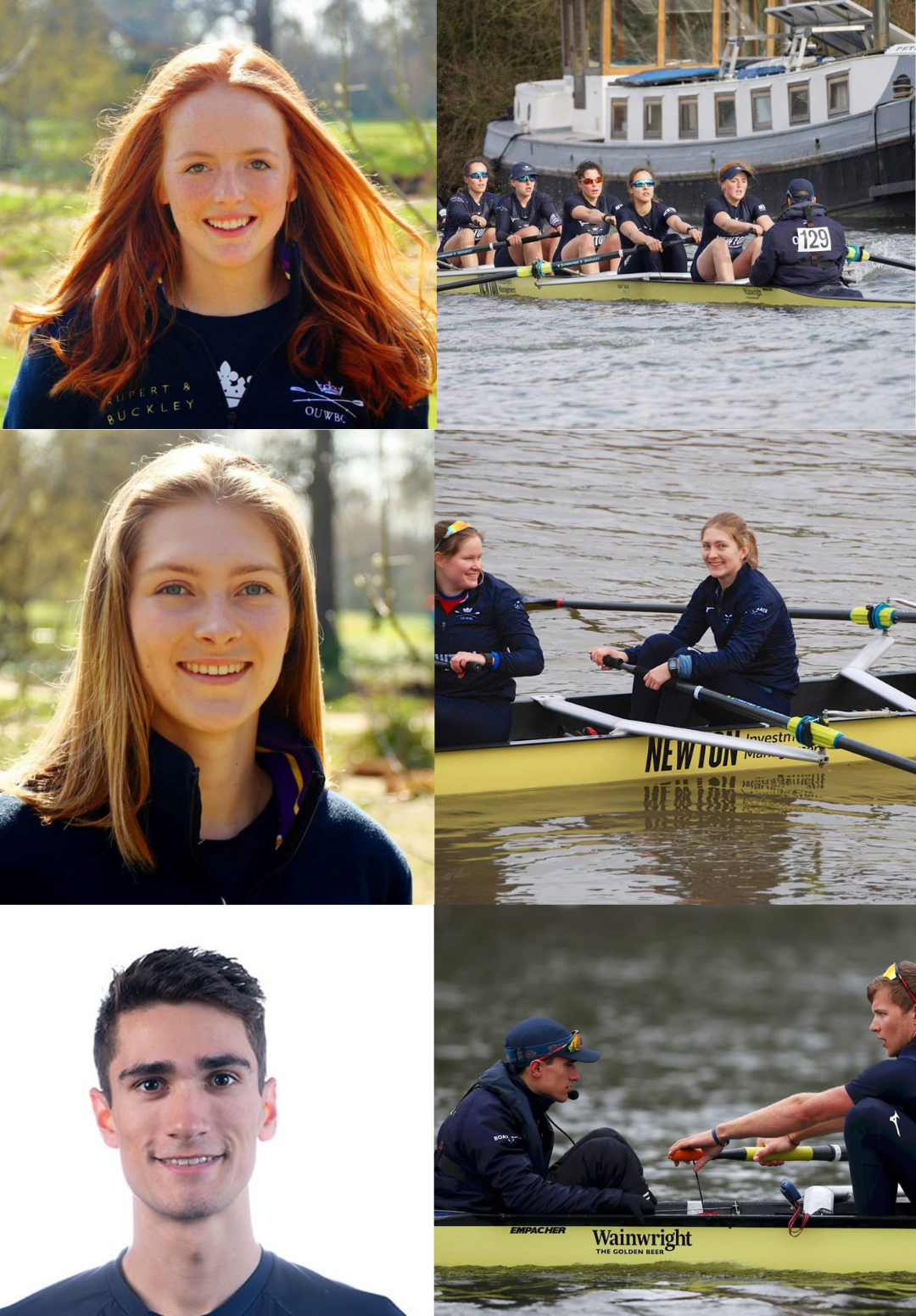 Juliette learnt to row at Brasenose three years ago, quickly becoming the lynchpin of the Club. Her rowing ability and leadership as Captain meant she was the heart of the Club's success and they are traits that have clearly served her well during her time with OUWBC. Pushing herself to the next level was a huge challenge and is one that Juliette has matched with her incredible drive and commitment.
Last but not least, Toby de Mendonca (Chemistry, 2016) (pictured bottom left), coxed the Men's Blue Boat and did a sterling job, keeping very close to Cambridge throughout and putting up an incredible fight. Toby started off as a rower, making the switch to coxing last year – going from sitting in a coxing seat for first time to coxing The Boat Race in just over a year is an unbelievable achievement and a testament to his ambition and dedication.
Toby is a recipient of the David Watts Honour Bursary, funded by a generous alumnus. Writing about how the bursary has helped him in our Donor Report last year, Toby said: "To accompany the 3am late nights of Chemistry I felt I should include 6am starts into my routine and have joined Brasenose College Boat Club. Being at Oxford I couldn't really avoid it, and Michaelmas got off to a great start when I made the novice first boat. The year went on to almost bring blades at Torpids and doing well at Summer VIIIs in the first boat. Without support from my bursary, I wouldn't have been able to get all of the kit, so thank you hugely for that. Next year, I become Captain of Coxes next for the Boat Club."
Congratulations to Katie, Juliette and Toby on absolutely valiant efforts; Brasenose is very proud of you all, and wishes you the very best of luck for your futures in rowing!