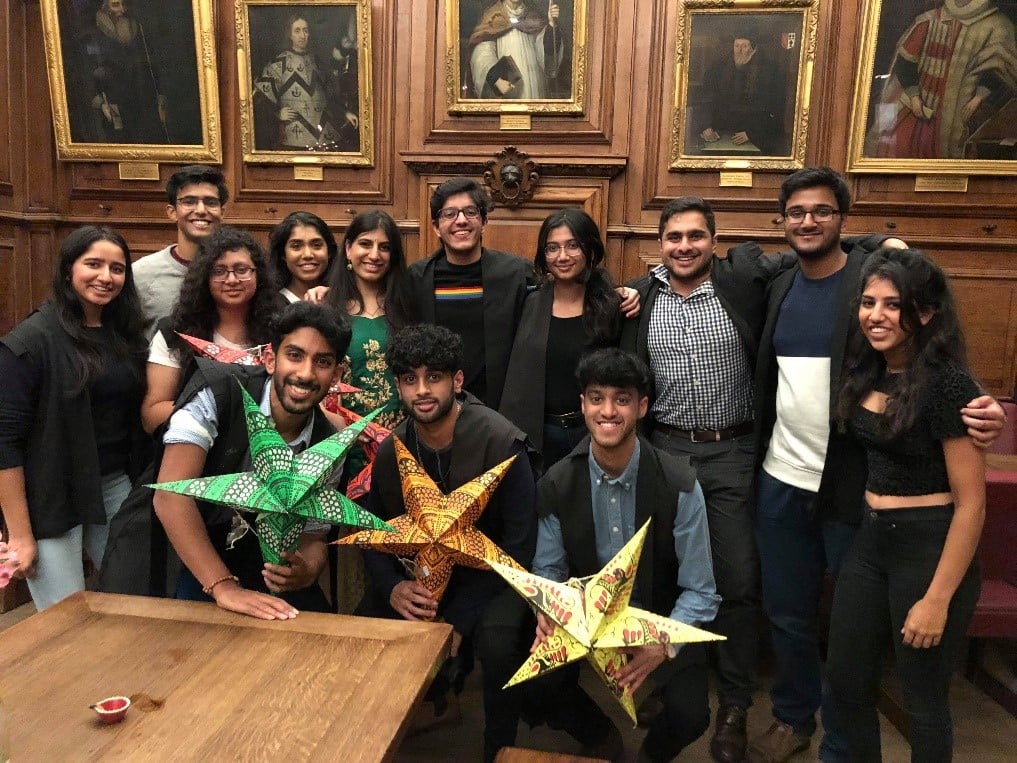 Nothing quite lights up the November gloom like Diwali. The festival of lights is a hallmark in many Hindu, Sikh and Asian communities, bringing people together. It was with great delight then that Brasenose was able to host something to make these minorities feel welcome at Oxford. This took place with our inaugural "Diwali Formal", a traditional three-course meal.
Diwali is known for great food, and for the dinner the student community was treated to a delightful three-course meal with paav bhaj, chicken tikka masala and a cardamom tart, as well as Mango Lassi. However, no Diwali celebration is complete without decoration, and this was beautifully achieved with star lanterns and banners adorning the hall, with incense sticks, candles and diyas scattered amongst the tables.
Diwali is extremely significant in many cultures, especially those in India. To explain more, here is a small excerpt from Brasenose student, Simran Sidhu, explaining the significance of the festival:
"Diwali (Dipavali in Sanskrit, meaning "row of lamps") is a festival of lights celebrated every autumn in the northern hemisphere and originating in India. Diwali is celebrated by Hindus, Sikhs and Jains alike. During the celebration, temples, homes, shops and office buildings are brightly illuminated. In the lead-up to Diwali, celebrants will prepare by cleaning, renovating, and decorating their homes and workplaces. On Diwali itself, people wear their finest clothes, illuminate the interior and exterior of their homes with diyas (oil lamps or candles), offer puja (a Hindu worship) to Lakshmi, the goddess of prosperity and wealth, light fireworks, and partake in family feasts, where mithai (sweets) and gifts are shared."
This Diwali formal was another great example of Brasenose coming together to celebrate different traditions and cultures and make Oxford a more inclusive place for everyone. Other inclusive formals this year have included St. David's Day, Chinese New Year, Burn's Night as well as Lebanese and Moroccan Formals.
This also topped off a year of increasing South Asian integration, with Brasenose hosting a South Asian meal to induct students at the start of Freshers term and show them a welcoming community, as well as International Welfare teas, where students from different regions brought food representing their cultures, and Brasenose Holi, a celebration of a colour-throwing festival originating in India.
The photo shows some of the South Asian heritage current Brasenose students gathered together to celebrate Diwali with the wider student community.
By Manish Binukrishnan (3rd Year Economics and Management student) and Simran Sidhu (2nd Year Law student)