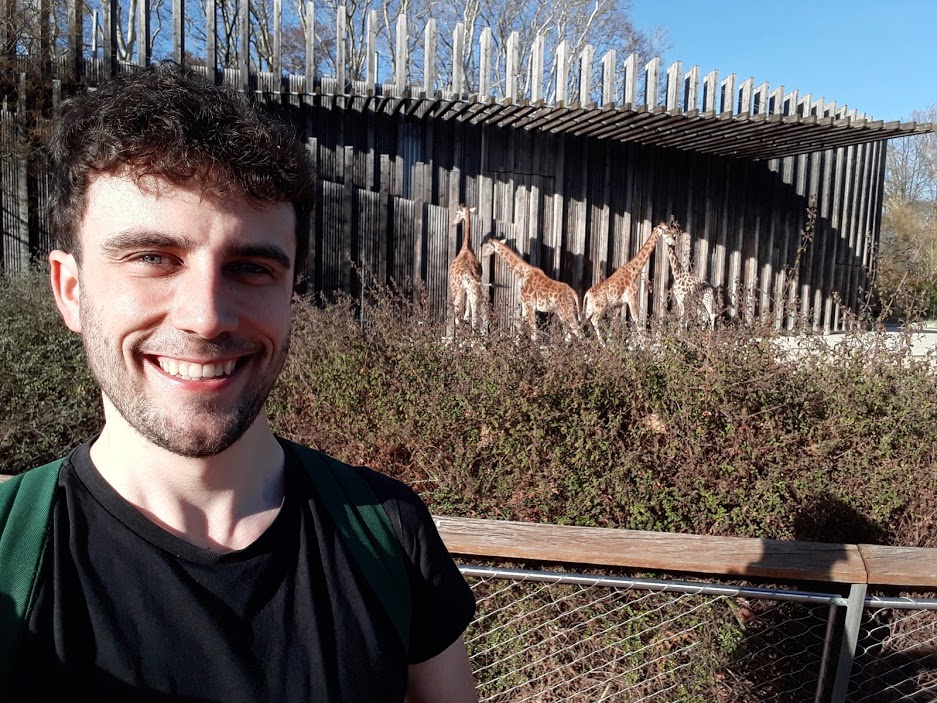 Foreword: I was asked to write an article about my year abroad and I didn't know what to write or how to write it so I decided to sit down and interview myself. I thought of some questions that I really wanted to know the answers to, and I posed them to myself. It was a tough interview, the interviewee wasn't always straightforward but I think I got the answers I wanted.

------------

About our interviewee: Julien is a History and French undergrad who finished his year abroad and is about to start his final year. Renowned for his charm and keen wit, I sat him down to find out what REALLY happens when Oxford undergraduates are (briefly) sent out into the world.

------------

So, Julien, Where did you go for your year abroad? And what did you do?

I went to Lyon and taught English in secondary schools under the British Council Language Assistantship scheme.


What made you choose it?

Well, Julien, I knew that I wasn't wild enough to go to exotic far-flung French-speaking places like Martinique, or Belgium, and so it was going to be France. But I wanted to feel superior to other French undergraduates who often go to Paris, so I chose Lyon. It seemed like a cool city from my research and it was recommended to me by quite a few people. They were right too, it was amazing!


What was it like organising it? Were you scared?

Bureaucratic, in a word. There is a truly shocking amount of paperwork to organise, that's the French way. To be honest I made it a bit worse by leaving it until later than I should have, before organising everything in a stressful flurry in September. Don't do it like me, Julien. Learn from my mistakes. What you should do is get an expanding 13 part file organiser and divide into obvious categories (Erasmus, Travel Insurance, University…etc.). And bring multiple photocopies of EVERY document.

The thing about organising your year abroad is that college and the Modern Languages Faculty will give you plenty of help organising whatever you need to do - contacts, online resources, administrative help - but you have to take charge of it. In my case, although I secured Erasmus funding and travel insurance through the university, and my college French tutor wrote me a nice reference, it was all ultimately on my head. This was one of the scariest parts, but that kind of pressure taught me a lot, and has given me so much self-confidence, if I do end up moving to another country again and starting out there.


What was it like starting out there? Did you integrate well? Were you homesick?

I think I was pretty lucky in that I found accommodation pretty quickly and so within a few days I had a flat with two French guys, a bank account and a sim card. It was still pretty difficult, I definitely gained an appreciation of how hard it is to uproot yourself and move elsewhere. I did OK with making new friends, some French pals but also other English Language Assistants, who come from all over the globe. My best friend I made there, another assistant, is from India.

My French pals had some parties which were pretty fun - they love playing Ra Ra Rasputin, they play it at every soirée! - and they also party until MUCH later, which is difficult to get used to. In fact at the first party I went to, I was fast asleep in front of the speaker by about 3am in the morning, which believe it or not is pretty early in the night. Soon I adapted though, and was bopping until sunrise. Lyon is a really fun city and full of life: museums, art galleries, bars, pubs, clubs and of course amazing food (it's the culinary capital). A favourite hangout was Le Sucre, which is a disco/house/techno place in a converted sugar factory. Personally I found that I also learned to enjoy my own company, which is something that you're not that used to after a couple of years in student halls at Brasenose. Learning to be by yourself is valuable too; I don't know if this was just me but I imagine everyone who does a year abroad has a similar experience.

I didn't get homesick until my last month in the country. Going home for a bit at Christmas helped, but I wouldn't recommend taking too much time off back in England: it's called a year abroad for a reason! The single biggest factor that stopped me getting homesick was the internet. For all its negative aspects, I think it's a total game changer for staying in touch with people for free. I grew closer to some of my friends in my year abroad than I had been before! Again, it's all a question of balance: you can't be calling your mates every night, you do have to push yourself out of your comfort zone. But it's nice to know that your home friends are a Skype call away.


What was the job like?

The job was a blast! I was working in 3 schools, for a total of 12 hours a week, with a 3, 3, 6 split. Despite the low number of hours the pay was decent, and the staff and most of the kids I taught were lovely. One of the schools was a vocational high school, which means rather than a standard English as a foreign language curriculum, I was teaching vocational uses such as nursing, fashion, retail, etc. This meant that the kids were teaching me as well as me teaching them, which was an interesting dynamic. At the end of the year loads of my classes and teachers gave me cards and presents and I was really touched by how much they seemed to enjoy my teaching! And, of course, the school holidays were extensive so I had loads of time to travel and explore France.


What did you do on your holidays? What were the weirdest things you got up to?

I travelled during most of my holidays, mostly in the south but also to the Basque country in the south-west, and to Paris so I could lord it over the stressed year-abroaders based there. The south of France is a helluva place, I think I want to go back and live there for a year, the weather is good all year round and being on the Mediterranean is beautiful. Marseille, Montpellier, Hyères, Aix-en-Provence and Biarritz were my favourite places, although Annecy (near Switzerland in the Alps) is a gorgeous scenic lake town that I would highly recommend, and Toulouse was cool too.

I did get up to some interesting shenanigans. Traveling alone is scary at first but really builds your confidence and forces you to put yourself out there. In Montpellier I made friends with a couple of French rappers at a bar one night. They took me under their wing (because I was traveling there alone) and called me their 'petit rosbif' and taught me lots of rude French words, which I couldn't possibly repeat here.


Sounds wild! Anything else?

Actually, now that you ask, yes. When I was in a car share to Biarritz, the driver, a lovely middle aged woman offered for me to come and stay with her for free if I wanted to check out Annecy, where she was from. I took her up on her offer, and my stay in Annecy was unconventional, you could say: she showed me her lego collection, sung me tantric yoga chants, fed me home-grown radishes and bought me pastries from a market.

I also stayed in San Sebastián in Basque Spain for a couple of nights, in an Airbnb with an elderly lady and her husband, and they did not speak one iota of English or French, nor I any Spanish or Basque. We somehow managed to get on quite well regardless. I got an Airbnb review afterwards, and my hostess said (in Spanish - I had to Google translate) that I had 'the most beautiful eyes' that she had seen in a long time. My adventures had a habit of constantly surprising me, that was for sure.


What was your favourite thing about Lyon/France?

Well the Festival of Lights in early December was pretty cool - it's originally a Catholic celebration thanking the Virgin Mary, who allegedly saved the city from a plague - and has grown into a city-wide celebration, with buildings lit up, multimedia projects in public squares, and millions of visitors into the city. It was incredible! I've not seen anything like it before or since.

More generally, I enjoyed the French baking. There are boulangeries everywhere where you can buy amazing croissants, bread, pastries, tarts, cakes and sandwiches. Lyon's specialty is red praline, which they put in tarts. It's delicious. I want to go back to France just for the bread, but I need to save up enough dough first. Other than that, I'm just thankful for all the friends I made who looked out for me, whether for the night or the whole trip.


And least favourite?

Food was a bit of a struggle for me because I don't eat meat, and they are pretty fond of their meat products. But I got by. The paperwork, as I said, is a real pain. For example you need a doctors' note for a single day off work. These are pretty minor problems though, I have very few complaints.


How did your French come along?

I feel so much more confident in my French now. I'm not native level but I feel comfortable saying that I'm fluent, and even since returning to the country when I've spoken to French people I haven't lost that fluency. There really is no substitute for total immersion in the target language, and it's so satisfying feeling your language progress.


One last thing, Julien, do you have a goodbye message for our readers?

Well, I suppose I would say that if you're considering doing a language degree, I would highly recommend based on the year abroad alone. If you're trying to decide the specifics of your year abroad I can personally vouch for Lyon and for teaching through the British Council programme (follow the link for more info). Thanks for reading!