Genuine warmth and kindness shine from Brasenose's new Chaplain, the Reverend Julia Baldwin, who started in September 2017.



The friendly College Chaplain doesn't just lead services in the historic Chapel dating back to 1666 – she is here to offer support to any member of the College who needs it, for those of any religious faith or none. And a steady stream come to talk with Julia over tea and – when helpful – a bit of chocolate, in her large but cosy study overlooking the High, with bookshelves filled with everything from the Bhagavad Gita to Nelson Mandela's Long Walk to Freedom.

Julia says: 'I was really surprised when I first came - people just knock on my door, which I think is a good thing. A few times a week, maybe more, I'll have an email out of the blue, I'll have a knock at the door - just somebody wanting to talk.' The religious beliefs, if any, of the visitor, are irrelevant to Julia. 'It's a fellow human being coming through the door, and that's what's important. The chaplain is here for everybody.'

So what do people want her support with? Anything and everything, from homesickness to bereavement to serious mental health concerns. As part of the College's welfare team, which includes dedicated student supp
orters and reps, Julia speaks with people herself or connects them with the appropriate person, whether to the student support adviser, nurse, dean, counselling service or senior tutors. The fact she is not responsible for College discipline or academia, as well as being in College over the weekends, she notes, means 'my door is an easy door to knock on for anybody.'

The first ever permanent female chaplain at Brasenose, Julia sees her role as 'a living, evolving tradition'. She's keen to listen to the College community in order to 'keep the best of the past, but make it our own – make it real for today and tomorrow'. After all, as she says, the Chapel is 'impressive and beautiful, but what's really impressive here is the community'.

Julia sensed 'the call' to her vocation as a priest at the age of 18. Her initial reaction was fear that the church would accept her: she remembers thinking 'If they say yes, I'm stuffed, and that's it for the rest of my life.' For a time she considered whether this was her true calling, thinking: 'Is this the best way that I can be Julia? The Julia God's called me to be?' The lifelong commitment of priesthood was too much, and at 20, she pulled out of the ordination process.

Instead, having always been passionate about education, she completed her degree in English Literature at Durham, became a special needs teaching assistant, did a PGCE at Cambridge and then taught as a secondary school English and Drama teacher. Julia loved teaching, but 'that niggle from God didn't go away' and eventually she thought: 'OK, Jesus.'

Starting the ordination process again, she was accepted by the Church of England, then went to 'vicar school' at Ripon College, in the Oxfordshire village of Cuddesdon. This involved a degree in Theology at Oxford. After an "apprenticeship" as a curate in the rural parts of Canterbury diocese, where she grew up, Julia was appointed as chaplain to the Bishop of Dover and local chaplain to the Archbishop of Canterbury, eventually working in the diocese as the Archbishop's interim chaplain at Lambeth. While at Lambeth in 2016, an email pinged into her inbox from Brasenose asking if she would consider applying to be the College Chaplain. Brasenose was especially keen to interview women for the role.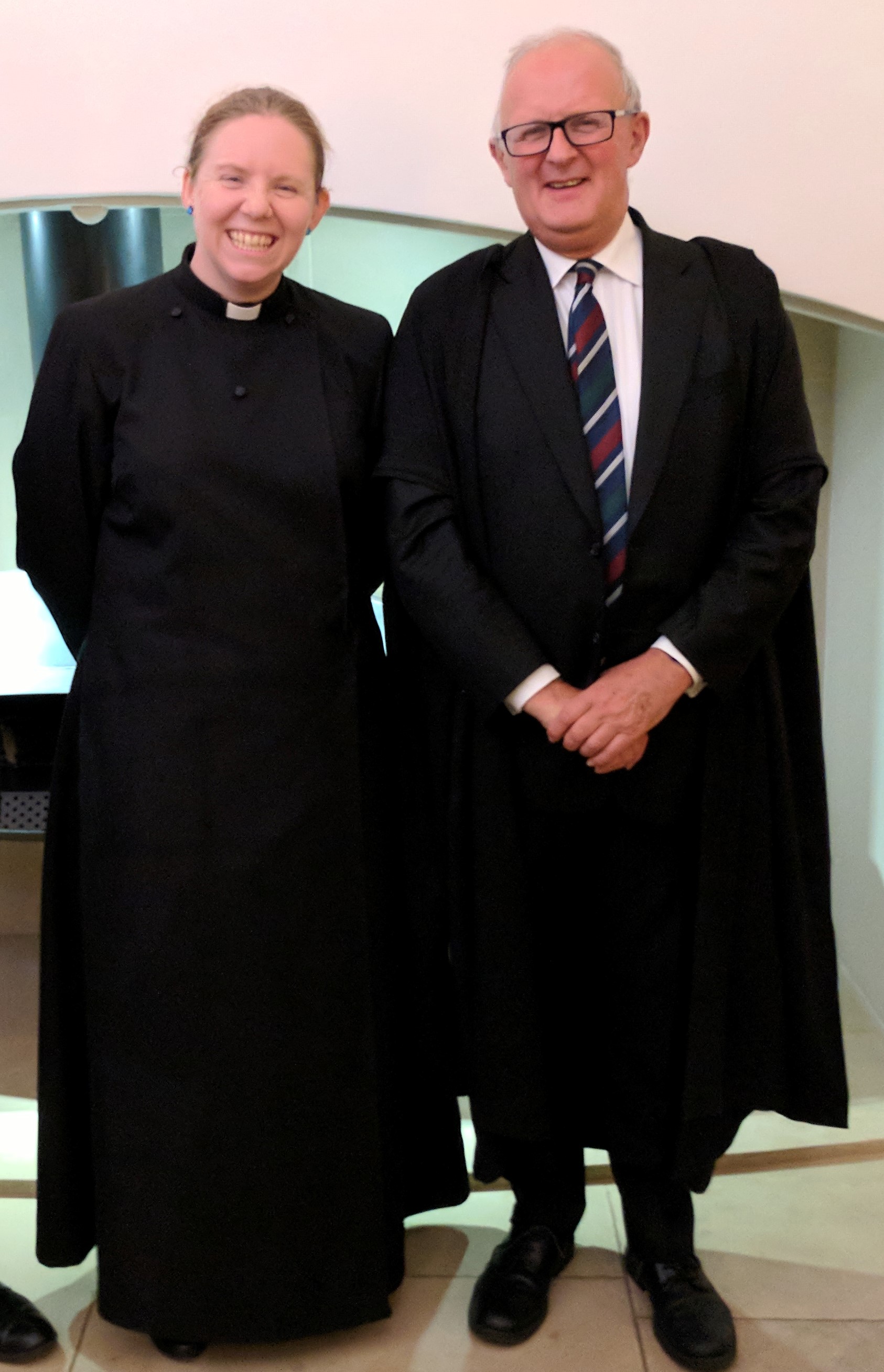 The deadline was the next day and although she hadn't been looking for a new post, Julia jumped at the opportunity. The attraction, she says, was 'pastoral ministry'. She remembers being a student herself and the fertile, 'life-changing' conversations she had with fellows and chaplains, and this was her inspiration for 'walking alongside students at such a critical time in their lives, when they're really beginning to flourish as adults and finding out who they are.'

Female chaplains are increasingly common at Oxford. What does a female chaplain bring to the role? 'Really the question is: what can a diverse Fellowship and welfare team bring to the College?' responds Julia. 'I think diversity is good news for everyone, not just women. It's healthy for the fellowship and our welfare team that we've got a mixture of men and women, different people with different expertise and life experiences, so there is always somebody that someone might feel akin to, to go and talk to - but we need to continue to strive for wider diversity in all areas.'

Rev. Julia leads morning and evening prayer daily in Brasenose Chapel, as well as preaching on a regular basis. 'I rarely find that I am alone at morning or evening prayer, which is lovely – the dedication of students to their faiths across the College is impressive,' she says. Often students lead services with her: 'The more students want to take a lead, experiment and run with new ideas, the better.' The most popular services are ones rich in music: Sunday night college prayers and the Tuesday Eucharists – as well, of course, as special services where the choir, organ scholars and musicians showcase their talents. At the carol service and Oxmas nearly midnight mass, the Chaplain leads the College's celebration of Christmas in November, which is 'a bit like being in another time zone'! Julia adds: 'We're also experimenting with forms of meditation, prayer and stillness to see if that's a gift we can offer to the wider Brasenose community.'

Brasenose is characterised by being 'absolutely 100 per cent friendly and outward looking,' Julia has found. 'I've found the welcome overwhelmingly warm. And it's not at all pretentious, which is really refreshing and right. It's how it should be.'

Six of Reverend Julia's inspirations

Walking
Julia's latest walking trip was across the Alpujarra mountains in Andalucia, and this summer she's going on pilgrimage in northern Spain, from Loyola to Monserrat.

Family and friends
'They're gracious enough to laugh at you, prick your balloon and bring you back down to earth.'

Books
Julia reads voraciously, especially fiction. Recently she's been enjoying C.S. Lewis, Testament of Youth by Vera Brittain, and Dostoevsky's The Brothers Karamazov. She also has a love of children's picture books and has written her own. 'I haven't quite got to the place where I'm willing to share them with a publisher,' she says. 'Maybe one day.'

Theatre
You might equally find Julia taking in Shakespeare in Stratford, enjoying a musical, or at a ground-breaking new play at the Almeida in London.

Baking
Julia says she loves baking, preferably something deliciously calorific.

Pope Francis
'Meeting Papa Francesco is one of those encounters I will never forget. I got a sense – here is a man who has spent an enormous amount of time in the presence of God, and being with him was really humbling – I felt I was in the presence of sheer mercy.'