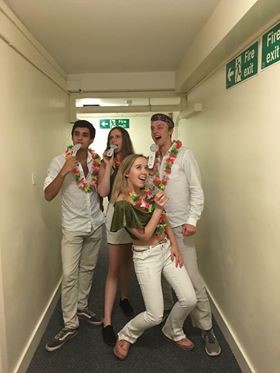 Around three times a term, Brasenose students come together to ditch the library and spend a night dressing up, dancing, and delighting in each others' company (admittedly, it was tricky to think of a third 'D' word there). Why? Our elected Entz Reps have organised another BOP!

These Big Organised Parties start down in the college bar at 9:30pm, the perfect place to begin the night with cheap drinks and a bubbly atmosphere. Get there early enough, though, and you're also in with a chance of winning Best Costume, with prizes that have varied from a Brasenose logo cap to a bottle of wine. At the recent London Underground themed BOP, ingenuity was clearly not lacking, as costume ideas ranged from one pair dressing as the gender pay gap ('Mind the Gap'), to a group of Northern students standing in a line ('Northern Line'), to a row of pictures of Heath Ledger stuck on one student ('Heathrow').

While a lot of Oxford colleges spend their BOPs in the JCR (Junior Common Room), Brasenose students have never stayed in college for long: one of the local clubs is always booked out for the night for Brasenose, with free entry (at the London Underground BOP, we were at Fever). With only people from college in the club plus a few friends from all over, BOPs are guaranteed to be night where you can look around the room and catch up or dance with anyone. Even the music is down to students, with the evening split into a few slots in which we can DJ using the actual equipment in the club. A few people DJ at most of the BOPs, but there's often a newcomer or two doing a set for around 45 minutes, and student DJs mean we get a wide variety of music and everyone can have the unique experience. Not everyone is a professional, and some people just click play on a Spotify playlist (that's definitely what I've done when I've given it a go!), but some more experienced students who know how to use the equipment have impressively polished sets.

If being behind the decks isn't the place for you, though, you can always join the rest of the college on the dance floor for an equally fun time, until it's time for some cheesy chips from a food truck and bed. BOPs are a defining part of college life for a lot of the community here, and there's always time for a catch-up with your friends the next morning at breakfast! Every college claims they do BOPs the best, but I can say with certainty that they'd be kidding themselves if they didn't rate Brasenose highly with our friendly atmosphere and incredible costumes. Even as I write this article, I'm planning my costume for our next BOP tomorrow, with a theme of 'Year 6 Disco'. Let's hope I come up with something sufficiently awful.
by James Akka (1st Year Philosophy and Linguistics student)