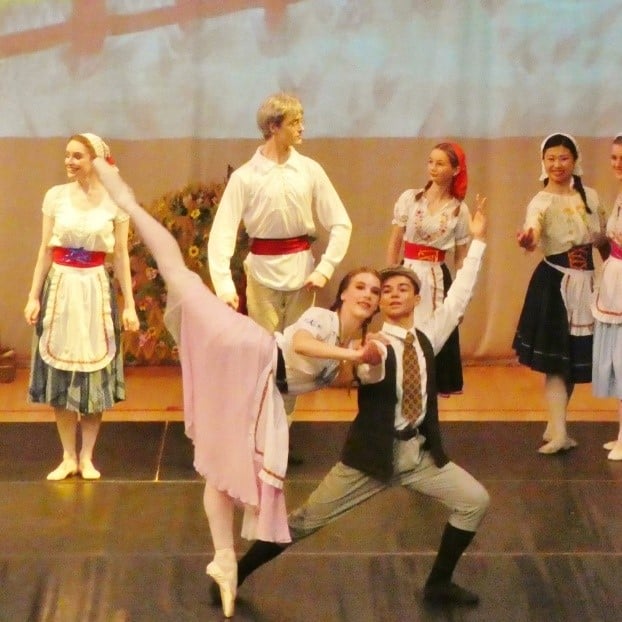 On Friday 1st and Saturday 2nd of June, Brasenose Lecturer Dr Sophie Bocksberger and Brasenose graduate student Annina Hessel will take to the stage at Wychwood School for a performance by the Yuka Kodama Ballet Group, in conjunction with Oxford University Ballet Society. The performance starts with rehearsal scenes from the ballet Don Quixote, a work based upon Cervantes' novel. Following this will be a performance of The Bright Stream, a Soviet ballet set to a score composed by Shostakovich. A work in the tradition of Shakespearean comedy, The Bright Stream includes elements of cross-dressing along with narratives of misbehaving lovers and mistaken identity.

Dr Bocksberger was a founding member of Oxford University Ballet Society, which collaborates with the Yuka Kodama Ballet Group to put on performances in Trinity Term each year. The society is made up of a mix of undergraduate and graduate students, as well as academic staff such as Dr Bocksberger, and is partnered closely with the Yuka Kodama Ballet Group, making up an ensemble of around 20 performers from a variety of backgrounds, both 'town' and 'gown'. The group isn't just for seasoned dancers and welcomes novices too. The group offers classes almost every day, and beginners are encouraged to get involved in performances as much as the more experienced dancers.

Amongst other pieces, Dr Bocksberger is dancing the solo of Dulcinea from the dream scene in Act II as well as Kitri's solo in Act III of Don Quixote. In The Bright Stream she holds a principal role of Ekaterina, a flower-seller who wins a beauty contest. Annina has a leading part in the dances 'Sequadilla' and 'Kitiri's Friends' in Don Quixote, and is a dancer in the corps de ballet in The Bright Stream.

Dr Bocksberger, originally from Switzerland, is a lecturer in Classics here at Brasenose, teaching largely Greek literature to undergraduates. After completing a DPhil on the Greek hero Ajax, she now researches ancient dance and its influence on cultural history. Annina, originally from Germany, is a third year graduate student at Brasenose reading for a DPhil in Education and Experimental Psychology. She researches the reading comprehension of bilingual and monolingual primary school children by measuring their eye movements during reading. She aims to understand the interactions between children's individual differences, the way they read, and how much they understand in texts.