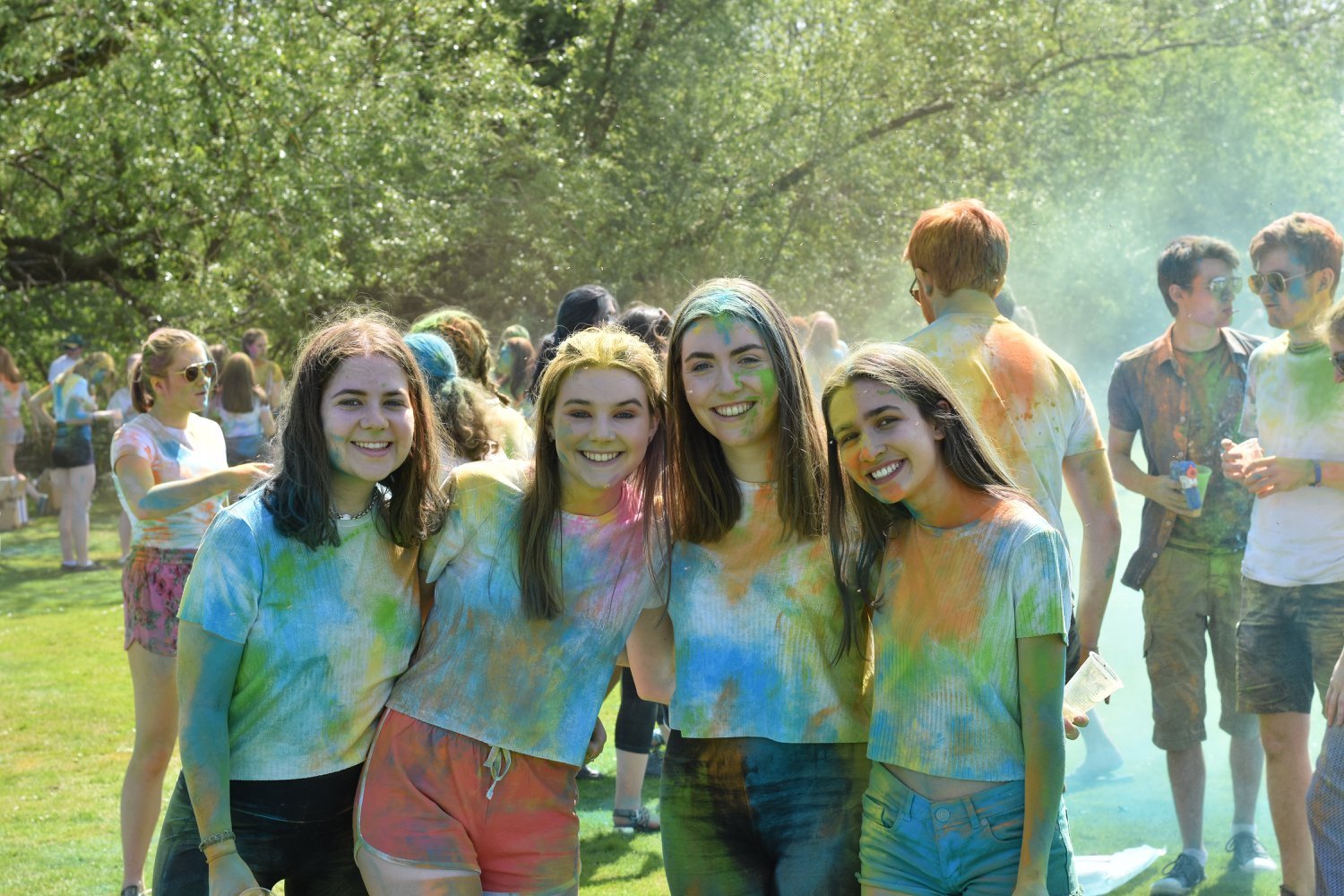 Our summer "Trinity" Term is one of sun, fun and getting things done. At least that's what we're hoping for as we get through a whole host of student events this term. Following on from the Easter Egg Hunt, on Sunday 6th May, the inaugural Brasenose Holi took place at our Sports Ground. This is a very important festival within the Indian community, and here's what Vishal Kumar had to say about its significance:

Holi is known as the festival of colours, and is celebrated in various countries in the Indian subcontinent. It signifies the victory of good over evil, the arrival of spring, and the end of winter, and celebrates agriculture, good spring harvests and the fertile land. Hindus believe it is a time to enjoy spring's rich colours and say farewell to winter. To many Hindus, Holi festivities mark the beginning of the New Year as well as the chance to renew ruptured relationships, end conflicts and rid themselves of accumulated emotional impurities from the past.

This is symbolised through the throwing of colour powder in a day filled with fun. With this in mind, cue 60KG of paint powder thrown by a huge number of Brasenose students, mix in a lot of water balloons and you're sure to get a good celebration going. We also had a veritable selection of Indian snacks, from savoury items such as banana chips, to sweet treats like jalebis. Overall, the day was a pleasure to organise, and hopefully Brasenose students have got more appreciation for a much-loved part of Indian culture. Brasenose Holi 2019, here we come!
By Manish Binukrishnan and Vishal Kumar
Diversity is something we take very seriously at Brasenose and are trying hard to improve. The recent admissions statistics report for Oxford University bears this out – with 17% of our UK undergraduate student body having a BAME background, which is the same percentage of BAME young people in the 18-19 years old age bracket in the 2011 census. With other colleges we are working with Target Oxbridge to encourage black British students to apply to Oxford and Cambridge and to support their applications. As well as Holi, Flying the rainbow flag this February, having a diversity newsletter "Nosedive", celebrating Brasenose women through our permanent student common room exhibition, having special dinners in our Dining Hall such as Chinese New Year and St David's Day and many more events and features demonstrate our commitment to diversity, tolerance and happiness for all. Natalie Maalouf, our current student Diversities & Equalities Representative, commented "Although we are still actively working on making Brasenose more diverse and accessible, increased visibility and celebration of minority groups across the college are great signs that we're on the right path". Why not read some more students views with blog posts from Damayanti, Erica and Tom.