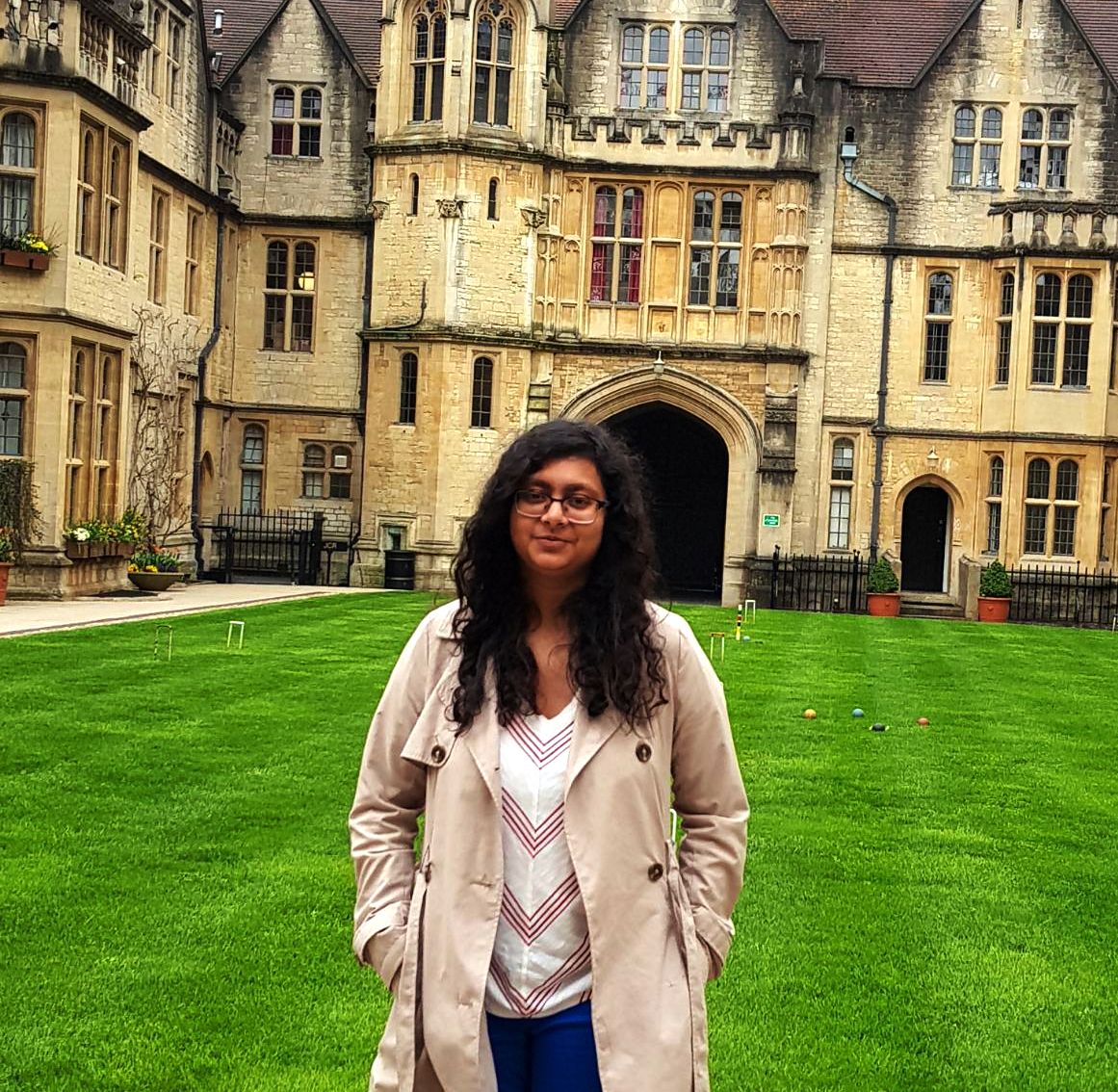 My first term at Brasenose, those first short, eight weeks filled to the brim of lifelong friends yet-unmade, ambitious plans to be tried out and niches yet to be found were in many ways the product of months and years of concerted hard work and second-guessing and planning. I now sit here writing this at the end of my second term at Brasenose and at Oxford, proud and happy with how the last six months have gone. This is certainly not to say that they have been nothing but uninterrupted fulfilment; there is a tendency to present university as a continuous oasis when maybe a more convincing and even more attractive portrait would be the thrilling, difficult, inspirational and confusing reality that it is.

Freshers' Week was both wildly exciting – the promise of an entirely new period of my life arriving, a period which is so universally remembered with fondness by those who have experienced it – and daunting (the expectation that I ought to have this magical experience to be fondly remembered). Perhaps the most significant part of this week for the purposes of reflection was Tutors' Dinner. This was where our future tutors ate with us at formal hall. It was the first time I wore my gown. It was the first time I sat in a hall older than several countries to eat a three-course meal of a style I was hardly used to, with intelligent people I would imminently be building a crucial rapport with. There was also the problem of using a knife and fork properly whilst my hands shook and making insightful conversation with my tutors when I thought I had nothing interesting to say. However, my tutors – probably more than used to teenagers with Oxford-induced insecurity – went out of their way to be friendly and initiate conversation. Somehow, I found myself on the other side of two courses, lost in a discussion with an economics tutor about whether PMQs really added anything of value to the British political system – a debate we'd once fiercely had in a history lesson at school nearly two years earlier. I remember leaving the hall after over an hour of conversation with the students and tutors I would be going through my PPE degree with thinking for the first time, with a firm conviction that this was a place where I could feel like I belonged.

Perhaps Tutors' Dinner gives the impression that Oxford is a place of halls with gilded portraits where tutors and students in raven-like gowns discuss the intricacies of policy-making. Certainly, the tutorial system has allowed me the opportunity to discuss aspects of PPE in a depth and intimacy otherwise impossible with people who have made it their life's work to dissect the very topic I'd been reading about that week. However, far from being intimidating, the structure of the work here has made my subject come alive and allowed me to explore its concepts and implications to a extent I would never have reached without the intensive creation of arguments and absorption of knowledge that are just as intensively dissected and improved upon later in the same week. As a PPE student, my workload can vary between two essays (which ideally require a few days of reading each) and/or a problem sheet to do in a week for the two modules of our subject that we study concurrently in a term. I have between one and three lectures in a day as well two tutorials and often a class a week as well.

The work can be tough but it's certainly manageable, with patient tutors to help you through any difficult patches. The Oxford workload may be famous – or infamous, rather, but I never really regret my university experience or feel that it is lacking – people here are not on the other side of some impenetrable barrier and I can honestly say that, moving here from Slough, I have never felt that there is no place for me here or that the person I am does not fit into what Oxford is. As well as that, there's still a healthy amount of time in a week to procrastinate over a deadline in a week, there's always a group of people going out every night if you want to join them and living, working and socialising in college – and a college that is a sub-5 minute walk from most important things in the city, at that – means that for the enthusiastic student, there are a surprising amount of hours in the week to dedicate to interests outside your degree.

Indeed, after the gruelling experience of A-levels, upon arrival at Brasenose I was rather more captivated by experiences the university offered outside of the curriculum than in it. And Oxford certainly does not disappoint, in that respect. I was relatively quick off the bat to get involved in student politics, something I'd always been keen to explore. The weekly debates I attend have improved my confidence and public speaking no end and the decisions I have been a part of, elections I have run for and the responsibility I have undertaken as part of committees have been a valuable learning curve, a genuinely enjoyable counterbalance to my degree and, most importantly, given me a set of close friends in the wider university that make my time there a happier one alongside my college friends. On a college level, Saturday badminton sessions have been a relaxing way to let off steam and spend meaningful time with my college friends as well as meet other members of college that I knew only by sight. This last term, a friend and I decided to push each other into auditioning for the college musical, a deed that culminated in us singing to students and tutors of the college we now called home on a very memorable last night of term.

Fresh from the rigid environment of A levels and ready to seek that famous independence students are supposed to find at university, before I moved into Brasenose I thought that the college system would be stifling, more like a boarding school than university – with scouts to vacuum my room every week, tutors whom I might see at breakfast and a porters' lodge to pass through before I could enter the city or even the wider university. However, having spent two terms here, I now find it nothing short of a small wonder that only a few British universities use the college system. Far from being stifling, the college system has given me a homely, close-knit community to have as a base upon which I can build my life at university. My day and my life at university is still entirely mine to structure around my degree, just as it would be at any other institution. However, the difference here is that through college, I have a network of tutors who teach me amongst a handful of other students and who know me personally, whom I can turn to if I am struggling. The difference here is that through college I get to meet and make friends with many more students outside of my course and year than I would if I lived with a small group in student accommodation. At Brasenose, I always have a home to come back to at the end of the day at university where people would care if I wasn't there and where I know I can seek support if I need it.

I was fortunate in that, thanks to the concerted efforts of many people at Brasenose over the years, I and my school, like some others, were linked with the college and before I'd even applied, I'd been able to see Brasenose and hear for myself how the tutorial and collegiate system worked. It was because of this that when I went through the application process – still with encouragement from the college when it came to jumping through the firmly-set hoops of the Oxbridge personal statement, admissions test and the interview system – I felt that I could see myself studying here. I'm certain that without meeting students through these access programmes and through the Student Union's Target Schools scheme, where students from British state schools get to shadow Oxford students for a day, Oxford would have felt much more like an ancient, closed-off university for incredibly intelligent, faceless students of one ethnicity and much the same background. Now that I'm here, I realise that there are students of all views and backgrounds making themselves known here but that outside the walls of the university this is sometimes drowned out by the torrent of lazy media and stereotypes that veil Oxbridge in a false image.

It's easy to feel that as much as Oxford officially and administratively claims and aims to be a university open to all students with the academic abilities regardless of class or race or even gender, the lived reality can often be very different to the official narrative. Whilst it would simply be a lie to suggest that there were no cultural differences between a Slough school and an Oxford college, I've come to realise that the reasons students can be nervous about applying here can sometimes be a little bit baseless. Oxford is far from an being exact microcosm of the UK – but then, this is probably true of every university in the country, really. It's even less likely that any university would be an exact microcosm of a school. Whilst this probably means more access work needs to be done by many British universities, in the meantime, from the view of a wide-eyed fresher who had been nervous about what Oxford was and how I could fit into that, I can certainly say that on many levels and in many ways, official and unofficial, this college and this university has certainly been a learning curve and a welcoming adventure worth overcoming every single doubt.
By Damayanti Chatterjee (1st Year PPE Student - from Herschel Grammar School, Slough)