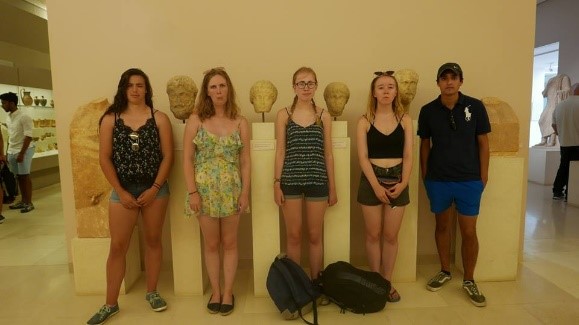 After leaving for the airport at 2.45am, the five of us emerged from the plane at Athens airport rubbing the sleep from our eyes, and heartily prepared to take a nap as soon as we arrived at our accommodation. Upon arrival, however, any trace of tiredness completely left us as the beauty of the surrounding landscape overwhelmed us. Put simply: Greece was wonderful, and we had the trip of a lifetime.

The villa we had found, about half an hour from Athens in a small suburb called Neos Voutzas, was absolutely perfect, and less than half an hour away from the site of the Battle of Marathon – the location in which the modern-day marathon was conceived, based on the 26 mile run that a Greek messenger had to complete to get word to Athens from Marathon. Our party of 5, including a geographer, a psychologist, an economist, a mathematician and an English Lit student, were far from classics students, and yet we were still fascinated by the testaments to an ancient culture that we found throughout the city. On the two day-trips to Athens that we managed using the local buses and metro, we visited the Parthenon, the slopes of the Acropolis, the Ancient Agora, the temple of Hephaestus, a number of museums, and took part in a walking tour that included the Olympic stadium and Hadrian's Library. This immersive experience was a real baptism of fire into the wealth of cultural opportunities that Athens has to offer, and it was exhilarating to witness the remnants of antiquity juxtaposed next to the bustling reality of modern day Athenian life.

After such a jam-packed itinerary, we spent a day relaxing on the nearby coast at Nea Makri and tried some of the local cuisine. If anyone is ever in Greece, we can wholeheartedly recommend slouvaki – a Greek speciality that puts Hassan's to shame for sheer number of toppings included at value for money. Chips? Inside a kebab? Yes please.

We also made an excursion to the Marathon museum and site of the Battle of Marathon, which greatly excited Hatty (who competes in Athletics for the university) before going out for a meal in the local town, which greatly excited Amy (who likes food). The photo shows us recreating statues at the Museum of Marathon.

All in all, our trip to Athens was unforgettable, and we all learnt a lot about a culture we would otherwise have had no chance to experience. We are beyond grateful to the Michael Woods Travel Grant for enabling us to undertake such an amazing excursion, and cannot thank college enough for their generosity.
By Katie Sayer - 2nd Year English Student