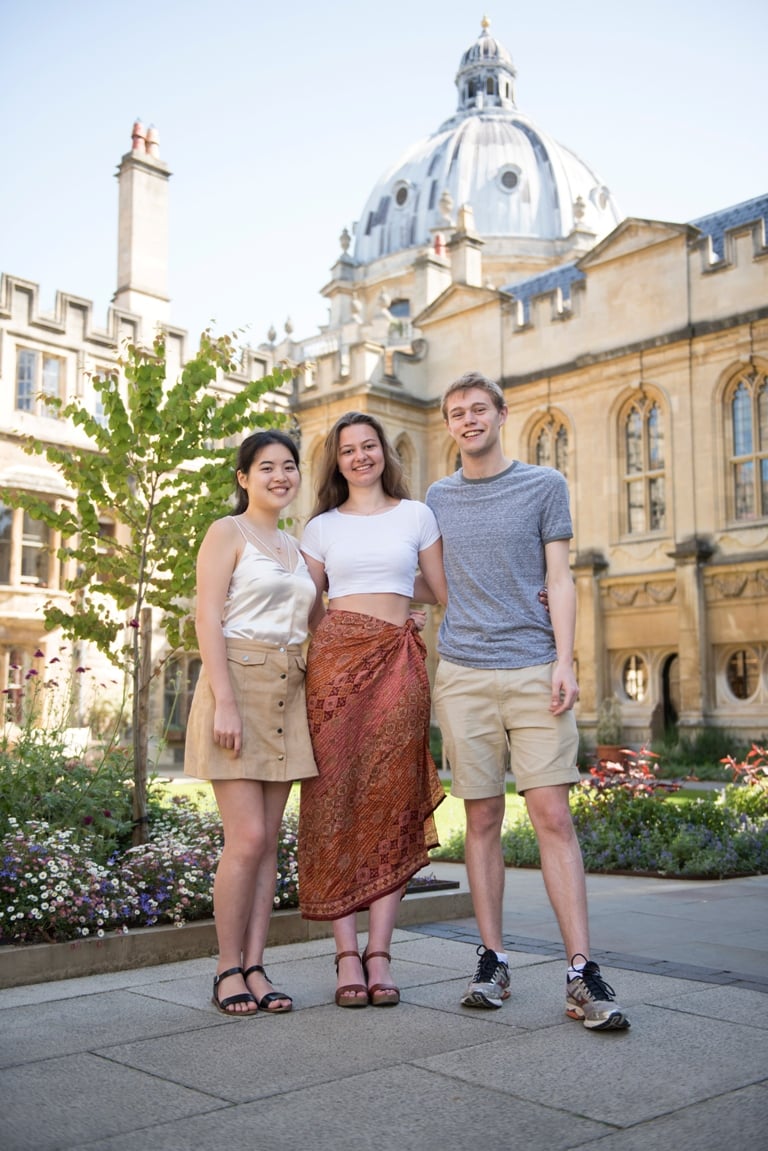 Brasenose College is delighted to announce exceptional results in this summer's finals examinations. Of the 95 students set to graduate in July, 18 women and 20 men achieved first-class degrees, while a further 56 obtained a 2:1 (upper-second). A large number of final year students were also awarded University prizes, topped their class lists, or received special commendation from the Chair of Examiners in recognition of their performances.

Finalists reading Biology, Fine Art, and Mathematics secured a 'clean-sweep' of first-class degrees. Overall subject honours this year, however, can justifiably be claimed by Brasenose's Law students, who garnered an impressive haul of seven Firsts, four upper-seconds, the Wronker Prize (for the best overall performance across Oxford), the Proxime (awarded for the second-best performance), and seven other prizes.

This year's successful cohort is among the most diverse in the College's 500-year history with representatives drawn from all major regions of the UK and beyond. We are grateful to St Leonard's School Durham, South Craven School North Yorkshire, St Joseph's College Stoke, Blenheim High School Epsom, Welshpool High School Wales, Truro College Cornwall, Burgate School Hampshire, Blue Coat School Liverpool, Bandon Grammar School Ireland, Archbishop Ilsley School Birmingham, Scarborough Sixth Form College, Castle School near Bristol, Crossley Heath School Halifax, Hatcham College London, Notre Dame School Sheffield, Queen Elizabeth Grammar School Lake District, Regent House School Northern Ireland, and Judd School Kent – along with the teachers at many other schools attended by our graduating students. Brasenose prides itself in bringing undergraduates from all parts together to form an ever-changing student body.

Principal John Bowers QC commented: "I am delighted with the results that our students have achieved this year. I would like to congratulate the finalists and their excellent tutors and also thank our support staff who help to create such a thriving community. Academic attainment is at the heart of our mission, but we also provide a caring environment in which our students can develop and thrive".

Senior Tutor, Simon Smith, added: "It has been a pleasure to work with this remarkable group of students and their tutors. Everyone at Brasenose is committed to admitting undergraduates with the potential to benefit from what the College has to offer, regardless of background. There is a great support team in place that complements academic provision."

Brasenose is a friendly, close-knit academic community situated in the heart of the University of Oxford. The College offers an exceptional undergraduate experience and welcomes applications from students who are passionate and enthusiastic about their chosen subject. If you are thinking of applying to Oxford this Autumn, please view our prospectus online and consider visiting during our 15th September Open Day.