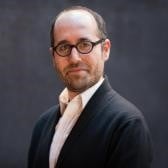 Dr Daniel Lee, British Academy Postdoctoral Fellow and tutor in History at Brasenose College, has won a BBC New Generation Thinkers 2015 award. The award comes from BBC Radio 3 and the Arts and Humanities Research Council (AHRC), and has been announced at the Hay Festival of literature and arts at Hay-on-Wye in Wales. The award is a culmination of a nationwide search for the brightest minds who have the potential to share their cutting edge academic ideas through radio and television. Daniel is amongst ten winners, who were selected from hundreds of applications from academics at the start of their careers, who demonstrated their passion to communicate modern scholarship to a wider audience.
Daniel Lee's research examines the experiences of Jews in France and in French North Africa during the Second World War. He will shortly begin a new project that explores Jewish pimping and prostitution in the Mediterranean, 1880-1940. Commenting on his award, Daniel said; "I was bowled over by the creativity of the other candidates who I met during the selection process, and so I was surprised and very humbled to be named as one of the 10 New Generation Thinkers.
This award reaffirms that there is still a real interest in the Second World War: We don't know everything about it, and there remains much more work still to be done. As a New Generation Thinker, I look forward to greater collaboration with colleagues across the disciplines so that our research and ideas can reach the largest number of people.
There are so many talented scholars in the UK doing ground breaking research on Modern France and Modern European History. I hope this award will allow me to bring attention to some of their research. I am grateful to my students and colleagues at Brasenose, and in the Faculty of History, for doing what they can to provide such a supportive and stimulating environment in which ideas can flourish."
The ten winners will spend one year working with Radio 3 presenters and producers to develop their ideas into broadcasts. They will make their debut appearance on Radio 3's arts and ideas programme, Free Thinking, on successive editions beginning with a special edition of the programme recorded at Hay. All of the New Generation Thinkers will be invited to make regular contributions to the network throughout the year.
Each New Generation Thinker will have an opportunity to develop their ideas for television, making short films for BBC Arts Online. A selection of short films made by the 2014 intake are available at www.bbc.co.uk/arts.
Alan Davey, Controller, BBC Radio 3, said: "BBC Radio 3 is dedicated to nurturing emerging talent across culture and music – and our New Generation Thinker Partnership with the AHRC has proven a fruitful way for broadcasters to work with engaging scholars at the start of their careers."
Matthew Dodd, Head of Speech programming, BBC Radio 3, said: "BBC Radio 3 is about pushing boundaries. We are dedicated to nurturing emerging talent across culture and music, and encouraging new ways of looking at things and surprising audiences. Our New Generation Thinker Partnership with the AHRC has given us access to fresh thinking and new approaches to ideas by scholars at the start of their careers. This helps us as a broadcaster to present fascinating and complex ideas in new ways, and I hope it will give our New Generation Thinkers a huge canvas to make a big impact with their work."
Professor Rick Rylance, Chief Executive Arts and Humanities Research Council, said: "The resounding popularity of the New Generation Thinkers scheme demonstrates the enormous interest the arts and humanities research community has in sharing its knowledge and ideas with a wide audience. The announcement of these ten outstanding winners, with their diverse projects and expertise, illustrates the capacity for research to illuminate our lives and stimulate our curiosity. I am very much looking forward to hearing their contributions to BBC Radio 3 over the coming year."
Peter Florence, Director of Hay Festival, said: "We are thrilled to be welcoming this cohort of New Generation Thinkers who imagine the world in ways that will enrich us all."
Read more about History at Brasenose College