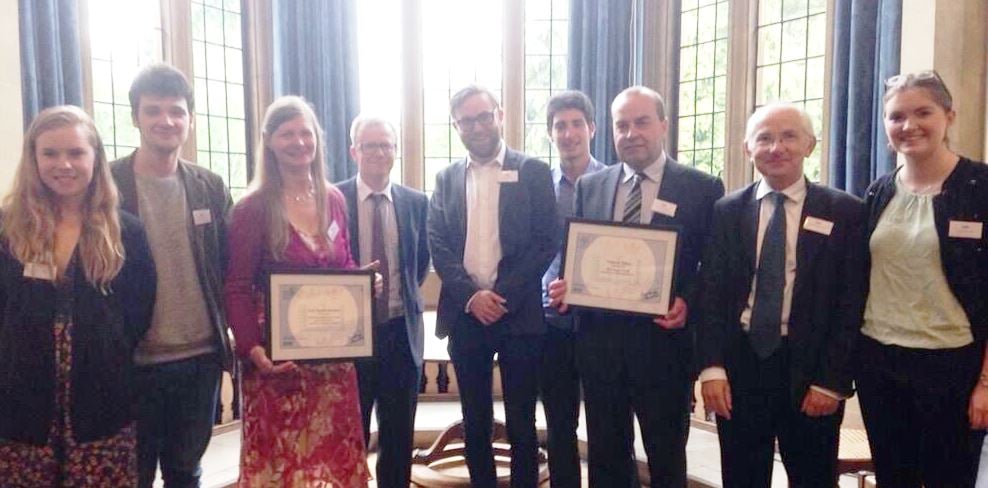 Andrew Talbot (Head Porter) and Professor Elspeth Garman (Nicholas Kurti Senior Research Fellow in Macromolecular Crystallography and Tutor for Graduates) have won awards given by Oxford University Student Union (OUSU).
The OUSU teaching awards involve nominations by students, and are an opportunity to recognise great teaching, and student support in Oxford. Shortlisted nominees were invited, along with any student that nominated, to an awards ceremony held at Rhodes House.
Andrew won his 'Best Support Staff 'award for making a significant difference to the lives of students, whilst Professor Garman won a 'Most Acclaimed Lecturer' prize for delivering engaging, informative, well prepared, coherent and enthusiastic lectures.
Reflected on his award, Andrew commented "Firstly I'd like to thank all those students that took the time to nominate me, and their very kind comments. I am delighted and honoured to receive such a prestigious award and proud to be part of the Brasenose community".
The photo shows (left to right), Rosie Thomas – Second Year PPE, Henry Zeffman – Second Year PPE, Professor Garman, Dr Simon Smith – Senior Tutor, James Blythe – Fourth Year Classics, Nic Koslover – Second Year Medicine, Andrew Talbot, Professor William James - Tutorial Fellow in Medicine, Caroline Greenfield - Second Year Law.
Read more about the OUSU teaching awards and life at Brasenose