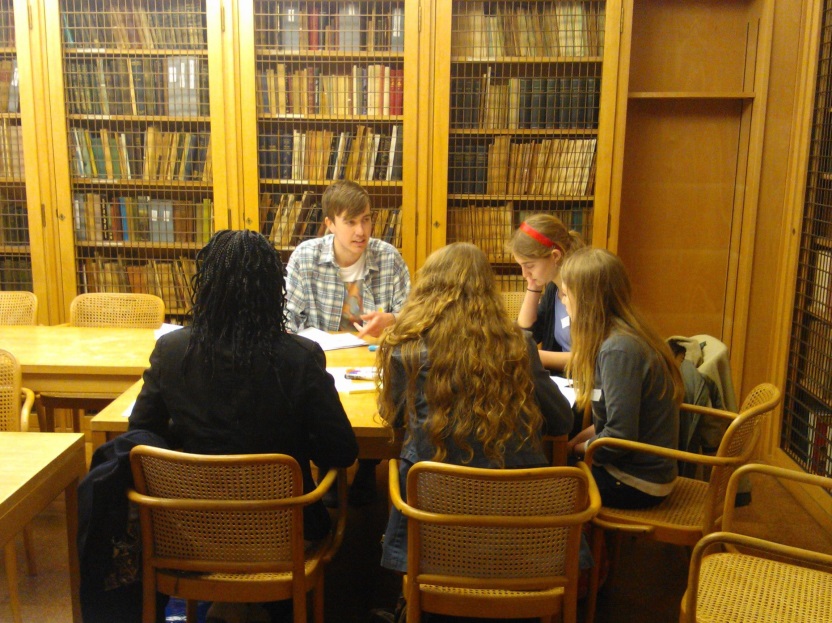 This year we embarked upon a new teaching project, which was co-developed by Liv Robinson in collaboration with her colleague Dr Helen Brookman of UCL. The project investigated how we can use 'creative translation' as a way of engaging our English Language and Literature undergraduate students with studying early medieval English texts at the very start of their university careers. A 'creative translation' is one in which the students are asked to create their own poem in response to a particular early English text. So, rather than producing a 'word for word' translation of an Old English poem, where students might be asking themselves 'what does each, individual word 'mean' in this sentence and how do I string them all together?', we ask students to think much more creatively about responding not just to the meaning but to the content, form, style, and sound of the poem they are translating. We hope that by 'inhabiting' and responding to these features in their own creative writing, students will gain a deeper understanding of how they work in early English texts.
Brasenose College's first year English cohort were the first students to trial this approach. They produced their own creative translations of small sections of a bigger Old English poem, and then critically discussed their creative choices in class, before putting the poem back together and making a new poetic work. They were mentored by some of our second-year English students, who led small group discussions about each person's translation, and helped each creative translator to present the reasons for their particular creative choices to the class.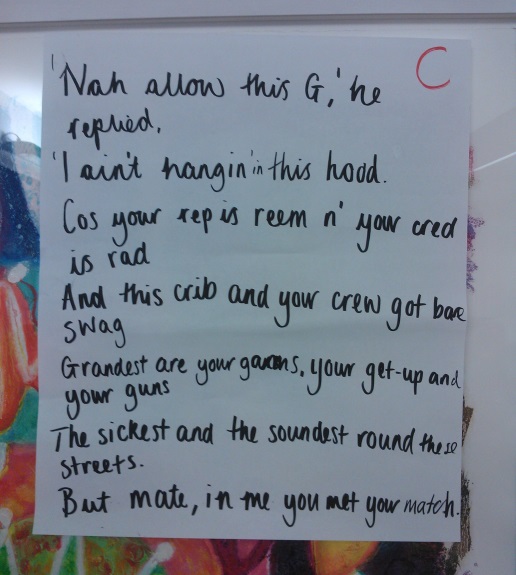 The second phase of the project was a workshop involving sixth formers, which took place in March 2014. We used the fourteenth-century Middle English poem 'Sir Gawain and the Green Knight' and we invited Year 12s who are studying English at A-level. At the workshop the sixth formers read a small section of the poem, with the help of a team of Brasenose College English student volunteers, analysed the artistic choices made by a variety of other translators of this text, and then produced and discussed their own creative translations of their section (see example pictured).
At the end of the workshop, we welcomed Bernard O'Donoghue, who is an Oxford-based poet and a widely published academic, to give feedback on the students' creative translations and to speak about his own experiences translating early English poetry. Our aims were firstly to demystify early medieval literature – which is a key part of the English course here, it's compulsory and is often the thing first years are most daunted by – and secondly to allow students the opportunity to read and engage critically with this fabulous literature before they make choices about University courses.
The whole project, funded by a Teaching Project Award from the Oxford Humanities Division, aims to develop and evaluate a new approach to helping undergraduate students of all backgrounds meet the challenge of learning to interpret literary texts in their original languages. The Year 12s who participated are students at Didcot Sixth Form, Furze Platt School, Langley Grammar School, Edgbarrow School, Windsor Girls School, Charters School and Camden Girls School.
Read more about English at Brasenose.