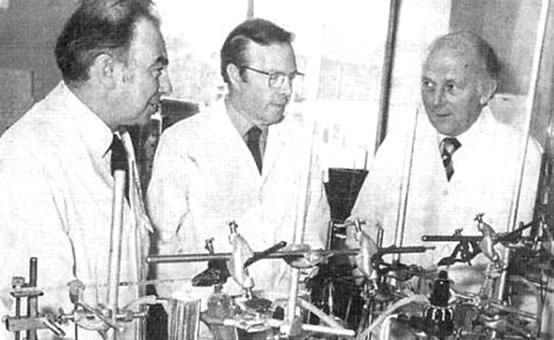 John Stuart Nicholson (1925-1983), a former Brasenose chemistry student, has been honoured with Royal Society of Chemistry National chemical landmark plaque, for his work in developing ibuprofen.
Dr Nicholson attended Manchester Grammar School, and went on to study Chemistry at Brasenose from 1943, and held a College Exhibition (a type of scholarship) of £25 per annum. Following his undergraduate training, he undertook research for a PhD at Oxford, which he gained in 1950. He then went on work as a research chemist with Boots in Nottingham, developing non-steroidal anti-inflammatory drugs for the treatment of arthritis. In 1961 Ibuprofen was patented and Dr Nicholson was listed as joint inventor with Stuart Adams. Ibuprofen went on clinical trial in Edinburgh in 1966 and 'Brufen' (as it was originally marketed as) was launched in 1969 as a prescription only drug. By 1983 it had over the counter approval in pharmacies in the UK, the same year in which Dr Nicholson (pictured, middle) sadly passed away.
The college archives reveal a reference from his school dated February 1943 which states "he should develop into a useful scientist, fully aware of his social responsibilities." This turned out to be an auspicious prediction, since the ibuprofen drug which Dr Nicholson helped develop became a widely available and inexpensive pain killer, providing relief to millions.
Read more about the chemical landmark plaque.