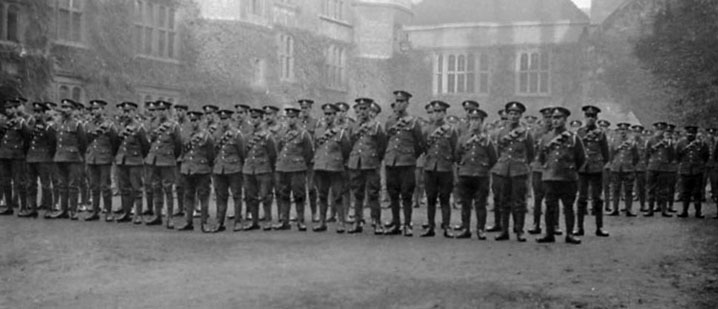 2014 marks 100 years since the start of the First World War. To commemorate this centenary the College Archives will be profiling some of its related collections on the Library and Archives blog. These include photographs, letters, diaries and some other items which relate to war time in the College and some of the personal stories of students and staff who were part of the conflict.
The First World War Centenary was first announced by Brasenose alumnus and Prime Minister David Cameron in 2012 and is intended to help the nation conserve and engage with such material as that listed above, as well as to remember those who lost their lives. In particular we have a very poignant collection of 600 photographs taken by Principal Stallybrass of serving members of College on visits to Oxford 1914-1916.
During the war a few undergraduates did remain in the College but this was side by side with military authorities who were housed here throughout the war. Most notably this included the Royal Flying Corps (later the Royal Air Force) who were here from August 1916 to December 1918. The following, from The Brazen Nose, indicates how student numbers were affected during the war years: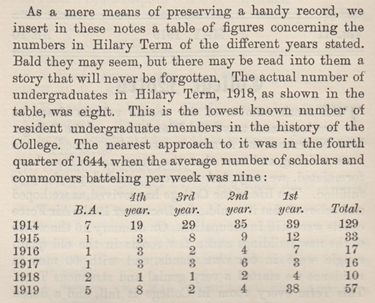 Please visit the Library and Archives blog to keep up to date with the latest from the College Archives. We are always happy to help with any historical enquiries and hope to share a lot more of our vast collections via the blog in the future.
Georgie Edwards
Archives Assistant