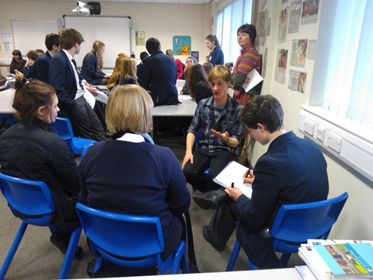 By Dr Joe Organ, Schools and Publications Officer
Schools liaison forms a vital part of Brasenose's central aim to recruit the brightest students, regardless of background. Through visiting schools, hosting college visits, running Open Days and other projects, I aim to give school students the confidence to consider Oxford, and provide them with the support, inspiration and information to put together a strong undergraduate application. Brasenose acts as the 'first point of contact' for two particular regions of the country: East Berkshire and North Yorkshire. To avoiding duplicating effort across the country, other Colleges similarly build relationships with schools in their 'link regions.'
North Yorkshire, the largest county in England, presents a particularly exciting challenge. It is also the link region for Brasenose's 'sister College', Gonville and Caius where my Cambridge equivalent, Jenny O'Hare, is based. The idea of a "North Yorkshire Road Show", run on a shoestring budget, developed after Jenny and I began visiting schools together. The inaugural tour took place in March 2013 and proved highly effective in reaching out to North Yorkshire schools. The week-long trip enabled us to visit up to four schools a day. We were joined by Oxbridge students who helped us reach out to Sixth Formers and younger groups.
The weather in mid-March was, you might remember, atrocious. During the week we battled through torrential rain, heavy snow falls, blizzard conditions, ice, high winds, floods and road-closures. My new assistant (the Sat Nav) took us to down winding single track country lanes with snowed-capped hills all around, but thanks to the wonders of technology we managed to stick to our itinerary. If anything though the conditions enhanced Yorkshire's romantic appeal, and the trip proved exhilarating, exhausting and enormously enjoyable. We hope that our efforts, and those of the student ambassadors, did much to break down any preconceptions of Oxbridge the North Yorkshire students may have harboured, and gave them the information, inspiration, and confidence to apply.
Our trip included visits to Stokesley, Northallerton, Scarborough, Malton, Easingwold, Thirsk, York, Richmond, Wensleydale, Ripon and South Craven, with several schools (such as Lady Lumley's in Pickering) attending locations close to them. Sessions ranged from workshops with a handful of participants to large evening events with several hundred attendees.
Jenny and I are already planning next year's Road Show. In the meantime, I will be returning to Yorkshire later this summer, to call on some of the schools we could not manage to visit this March.
If you are thinking of applying to Oxford this autumn, why not visit Brasenose during the June or September University Open Days?