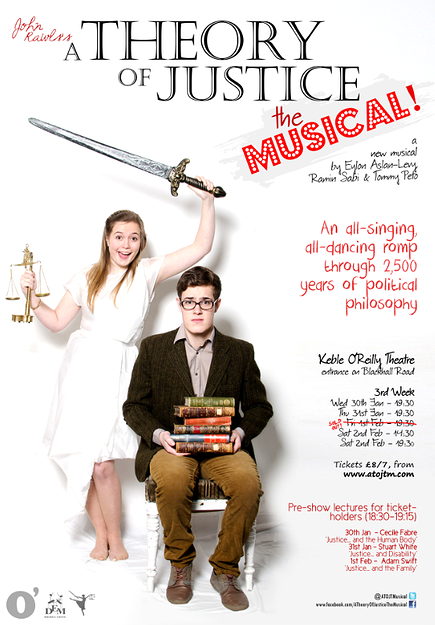 A Theory of Justice: The Musical opened last month at the Keble O'Reilly theatre, written by Brasenose's own Tommy Peto and Eylon Aslan-Levy. It was, as Eylon himself admitted, either going to be a roaring success, or a massive flop. But flop it certainly did not.
Battling off his arch-nemesis, Robert Nozick, who has also been sucked into a time vortex, the Harvard professor John Rawls travels through time, pursuing his student, and love interest (tut tut), Fairness, through history. On the way, he encounters a myriad of political philosophers, who (little do they know it) inspire his magnum opus, A Theory of Justice.
Plato, looking suitably Zeus-like, and his ventriloquist dummy Socrates, were followed on stage by a rap battle between Locke and Hobbes, kitted out in Elizabethan doublets-cum-60s Rockers' leather jackets. Rousseau stole Fairness' heart with his dashing French ways, whilst John Stuart Mill (first year PPEist Henry Zeffman) and his barber shop quartet desperately attempted to make everyone happy. Mary Wollstonecraft (first year English student Florence Brady) was a most defiant feminist, and Marx (Tommy Peto) bumbled around hilariously in his tattered suit covered in what looked like chalk dust. But it was Kant, reincarnated as Rawls' fairy godmother, resplendent in drag, who stole the show.
It was hard not to realise that the musical was happening: a fierce marketing campaign which dominated Facebook and Twitter (whether you liked it or not) caught not only most of Oxford's attention, but also the BBC's (watch this spot... maybe). Arriving at the theatre, it was refreshing not to recognise most of the crowd; for once, it wasn't only the English students and the thesps who'd ventured to the performance. The team had captured a specific market: philosophy students of all years jumped at the opportunity for some 'revision'. And it certainly worked; the show sold out completely, and racked up more stars from the student newspapers than a small constellation. Now we just have to wait for 'A Brief History of Time: The Opera'...
By Amy Lewin - 3rd Year English Student