Positions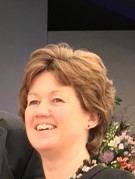 College Accountant
Qualifications
Fellow Member of the Association of Chartered Certified Accountants
BA Administration (Strathclyde University).
Role
The College Accountant is responsible for managing the Finances of the College including preparation of the year end statutory accounts and organising the external audit. The College Accountant manages the Finance Bursary which is responsible for all operational finance including payroll, payroll taxes, customer invoicing, student finances, payments to suppliers, financial and management reports, VAT, tax, gift aid claims, other government returns etc. The College Accountant is the main contact for the Colleges Insurances and liaises with the Colleges land agent. They also manage the investment operations and are the Hardship office.
Background

Gillian started at Brasenose in 2017 following a year at Reading University.
She started her career in Financial Services then moved on to become a Financial controller within a Private Family office. She then spent over 10 years in senior finance roles with a number commercial companies supplying the education sector before moving into the sector herself.
Other
Gillian is originally from Edinburgh, currently lives in South Oxfordshire and is a keen walker.
Email