Position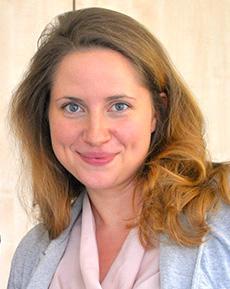 Lecturer in English Literature

Qualifications

BA (Munich)

BA (Goldsmiths, University of London)

MSt, D.Phil (Oxford)

Academic Background and Previous Positions

I have just completed my thesis, which was supported by an AHRC grant. My thesis examined the ways in which Orientalism shaped English and German Decadent writing between 1880 – 1920.

Previously, I trained and worked as a theatre director in Germany before embarking on a BA in English and Comparative Literature at Goldsmiths, University of London, followed by an MSt in English Literature (1830 – 1914) at Oxford. In 2017, I was a visiting scholar at the Humboldt Universität zu Berlin, where I became a member of the international research network 'Writing 1900' led by Prof. Gesa Stedman and Dr. Stefano Evangelista. Since September 2017 I have been Associate Lecturer at Goldsmiths College, where I teach English and Comparative Literature.
Undergraduate Teaching Areas

Victorian, Modern and Contemporary Literature in English (1830 – present).

Research Interests
My research interests focus on Literature and the Arts at the European Fin de siècle, specifically Aestheticism and Decadence; Victorian, Modern and Contemporary Drama and Performance; Literary Orientalism; Comparative Literature and Translation Studies.
Publications

Book chapters:

'Socio-aesthetic Histories: Vienna 1900 and Weimar Berlin', in Decadence and Literature, ed. by Jane Desmarais and David Weir (Cambridge University Press, 2019), forthcoming.

'"Against civilisation": Symons, the Gypsy Lore and politicised Aestheticism', in Arthur Symons: Poet, Critic, Vagabond, ed. by Elisa Bizzotto and Stefano Evangelista (Legenda, 2018).

'Dancing the Image – Sensoriality and kinaesthetics in the poetry of Stéphane Mallarmé and Arthur Symons', in Decadence and the Senses, ed. by Jane Desmarais and Alice Condé (Legenda, 2017).

Book reviews:

Victorian Literary Cultures: Studies in Textual Subversion, ed. by Kenneth Womack and James M. Decker, English Literature in Transition, 1880 – 1920, 61 (2018).

Theatre and Evolution from Ibsen to Beckett by Kirsten Shepherd-Barr, Victorian Network, 7:1 (2016).

E-mail

[email protected]