People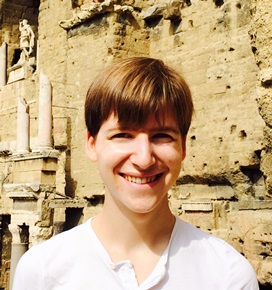 Position
Departmental Lecturer in Early Medieval History at Balliol and Brasenose
Qualifications
BA, MSt (Oxford), PhD (Cambridge)
Academic Background and Previous Positions
I studied History at Merton College, Oxford, before crossing Merton Street to take the MSt in Late Antique and Byzantine Studies at Univ. I then made the (somewhat longer) journey to Cambridge to study for a PhD in Classics. I joined Brasenose in October 2014 for a research fellowship shared with TORCH.
Undergraduate Teaching Areas
Ancient, late ancient and early medieval history. At Prelims, I have taught History of the British Isles I (c. 300-1087), General History I (c. 370-900), Approaches to History: Anthropology, and Historiography: Augustine, City of God. At Finals, I have taught General History I (c. 285-476), Disciplines of History and Special Subject I: St Augustine and the Last Days of Rome, c. 370-430.
Graduate Teaching Areas
As above. I have taught for the MSt in Late Antique and Byzantine Studies.
Research Interests
My research focuses on the cultural and political history of the late ancient and early medieval Mediterranean. I am particularly interested in the intersection of the two major 'transformations of the Roman world': the transition from the Roman Empire to the barbarian successor kingdoms in the west, and the Christianization of institutions, social relationships and patterns of thought across the Mediterranean in the centuries following the conversion of Constantine.
My first book, Being Christian in Vandal Africa: the politics of orthodoxy in the post-imperial West (forthcoming in 2017 with the University of California Press), examines controversy over the definition of Christian orthodoxy in the Vandal kingdom, the successor to Roman rule in the province of Africa (the modern-day Maghreb) from 439 to 533 CE. It argues that disputes between Christians in Vandal Africa retained the sophistication and socio-political consequences evident from the notoriously passionate (and often violent) ecclesiastical conflicts of the later Roman Empire.
For my new research project, 'Forming a Christian state in the late ancient Mediterranean, c. 400-600 CE', I seek to reconsider the longer-term consequences of the Christianisation of the Roman world. My aim is to understand how contemporaries rethought the 'state' in Christian terms, not only in the Eastern Roman Empire and its fragmenting western counterpart, but also in the first successors to Roman rule in the West. I am particularly interested in how service to late ancient states—as a courtier, bureaucrat or general—was recast to take into account Christian ideals.
Publications
'African controversy: the inheritance of the Donatist schism in Vandal Africa', Journal of Ecclesiastical History 65 (2014) 504-21.
'Arianism in Africa', Guido M. Berndt and Roland Steinacher (edd.) Arianism: Roman heresy and barbarian creed (Farnham, 2014), pp. 239-55.
E-mail
Links
https://oxford.academia.edu/RobinWhelan
http://www.history.ox.ac.uk/faculty/staff/profile/whelan.html
http://www.torch.ox.ac.uk/robin-whelan