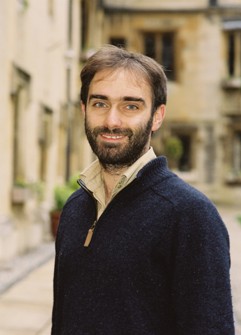 Position
Lecturer in Biochemistry
Qualifications
MA, DPhil (Oxford)
Academic Background and Previous Positions
Joined Brasenose as a Stipendiary Lecturer in 2007.
Pursuing an interest in the interactions of bacteria with the human immune system, in the labs of Dr. Ariel Blocker (2002-2004) and Prof. Susan Lea (2004-present).
Studied Biochemistry at Christ Church, Oxford from 1993-97, followed immediately by a D.Phil. in the Department of Biochemistry, Oxford on the role of autoantigens in Lupus.
Undergraduate Teaching Areas
Molecular and Cellular Biochemistry, Biophysical techniques and data handling, Immunology, Bacterial secretion systems.
Research Interests
My research centres on the use of biophysical techniques, such as X-ray crystallography, to study host-pathogen interactions. Of primary interest are the bacterial secretion systems used to delivered toxins to host cells and the mechanisms by which bacteria hijack the host immune system. Our laboratory recently elucidated the 3-dimensional structure of a prominent Meningitis vaccine component bound to a portion of Complement Factor H, a key regulator of self/non-self recognition. One strand of our current research is focused on using this information to redesign and improve the vaccine proteins.
Selected Publications
Abrusci P, McDowell MA, Lea SM and Johnson S (2014). Building a secreting nanomachine: a structural overview of the T3SS. Curr. Opin. Struct. Biol.25: 111-117.
Jongerius I, Lavender H, Tan L, Ruivo N, Exley RM, Caesar JJE, Lea SM, Johnson S and Tang CM (2013). Distinct binding and immunogenic properties of the Gonococcal homologue of Meningococcal Factor H Binding Protein. PLoS Pathog. 9: e1003528.
Johnson S, Brooks NJ, Smith RAG, Lea SM and Bubeck D (2013). Structural basis for recognition of the pore-forming toxin Intermedilysin by Human Complement regulator CD59. Cell Rep. 3(5): 1369-1377.
Rollauer SE, Tarry MJ, Graham JE, Jaaskelainen M, Jager F, Johnson S, Krehenbrink M, Liu SM, Lukey MJ, Marcoux J, McDowell MA, Rodriguez F, Roversi P, Stansfeld PJ, Robinson CV, Sansom MSP, Palmer T, Hogbom M, Berks BC and Lea SM (2012). Structure of the TatC core of the twin-arginine protein transport system. Nature. 492: 210-214.
Johnson S, Tan L, van der Veen S, Caesar JJE, Goicoechea De Jorge E, Harding RJ, Bai X, Exley RM, Ward PN, Ruivo N, Trivedi K, Cumber E, Jones R, Newham L, Staunton D, Ufret-Vincenty R, Borrow R, Pickering MC, Lea SM and Tang CM (2012). Design and evaluation of Meningococcal vaccines through structure-based modification of host and pathogen molecules. PLoS Pathog. 8: e1002981.
Three-dimensional reconstruction of the Shigella T3SS transmembrane regions reveals 12-fold symmetry and novel features throughout. Hodgkinson JL, Horsley A, Stabat D, Simon M, Johnson S, da Fonseca PC, Morris EP, Wall JS, Lea SM, Blocker AJ. Nat Struct Mol Biol. 2009 May;16(5):477-85.
Neisseria meningitidis recruits factor H using protein mimicry of host carbohydrates. Schneider MC, Prosser BE, Caesar JJ, Kugelberg E, Li S, Zhang Q, Quoraishi S, Lovett JE, Deane JE, Sim RB, Roversi P, Johnson S, Tang CM, Lea SM. Nature. 2009 Apr 16;458(7240):890-3.
A conserved face of the Jagged/Serrate DSL domain is involved in Notch trans-activation and cis-inhibition.
Johnson S, Cordle J, Tay JZ, Roversi P, Wilkin MB, de Madrid BH, Shimizu H, Jensen S, Whiteman P, Jin B, Redfield C, Baron M, Lea SM, Handford PA. Nat Struct Mol Biol. 2008 Aug;15(8):849-57.
Structural basis for complement factor H linked age-related macular degeneration. Johnson S, Prosser BE, Roversi P, Herbert AP, Blaum BS, Tyrrell J, Jowitt TA, Clark SJ, Tarelli E, Uhrín D, Barlow PN, Sim RB, Day AJ, Lea SM. J Exp Med. 2007 Oct 1;204(10):2277-83.
Self-chaperoning of the type III secretion system needle tip proteins IpaD and BipD. Johnson S, Roversi P, Espina M, Olive A, Deane JE, Birket S, Field T, Picking WD, Blocker AJ, Galyov EE, Picking WL, Lea SM. J Biol Chem. 2007 Feb 9;282(6):4035-44.
E-mail
Links
http://www.bnc.ox.ac.uk/about-brasenose/news/1085-research-sketch-biochemistry
https://sites.google.com/site/sleatest/