Bird's Eye Map of Brasenose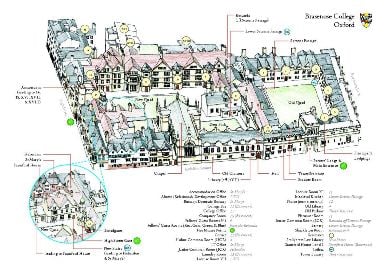 A new bird's eye map of Brasenose College has been created, bringing the main historic site to life. Designed by architects Berman Guedes Stretton, the map was commissioned following improvements made to some of the buildings in College during the recent refurbishment, where new kitchens and dining facilities were installed.
A major challenge with the project was to produce a map that gave a faithful visual impression of main site as a whole, whilst also being a useful navigational tool for visitors and new students to find their way round College. This was no easy task since Brasenose has 500 years of history and architecture spanning several centuries, from the 15th century Mediaeval Kitchen to the brand new Rotunda. The solution was to sketch a bird's eye depiction, taken from the view that might be seen from the spire of the 700 hundred year old University Church, which sits on the south side of the Radcliffe Square, adjacent to Brasenose. The challenge of visualising the complex mishmash of historic buildings around the bottom left section of the College was addressed by creating an inset featuring that area from a different direction.
Brasenose's Bursar, Phillip Parker commented: "I am very pleased with the new map. It will help visitors and our new students find their way round College and feel at home quickly. I think the intricate details, from the windows and chimneystacks to the lawns, capture the beautiful setting we enjoy. I hope the map will help prospective applicants to the College imagine themselves becoming part of our intimate and friendly community."
Read more about applying to Brasenose and view the map